02-23-2013 HDF & Kulsoom Foundation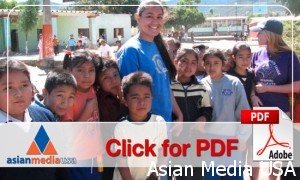 Rolling Meadows, IL: Human Development Foundation (HDF) and Kulsoom Foundation celebrated 'Rahmania For Sonia' on Sat., 23 Feb. 2013 at Meadows Club (2950 Golf Rd, Rolling Meadows, Ill.). Hosted by Kulsoom Foundation and attended by over 400 people, the theme of the evening was 'A girl, A Dream, A Mission'. It was about Sonia Shah who wanted to help poor girls of a small village in Pakistan by building a school but could not complete her mission due to a tragic accident in summer of 2012. The fundraiser included live and silent auction, a dance performance by Sonia's friend Shimoli Shah and choreographed dance performance by Dhrishti Art at A.R. Rahman music, which kept people engage and glued to the stage till mid night. All the proceeds will go to building Sonia Shah Memorial School in village Kangra in rural North West of Pakistan.
Of Pashtun heritage, Sonia lived and studied in four countries, Thailand, England, US and finally graduated a year early from Zurich International School in Switzerland. An honor student she had a thirst for understanding the world around her. In 2011, she was the youngest intern on Capitol Hill and in 2012 among the youngest intern at Obama's campaign headquarters. In his condolence letter President Obama says 'though Sonia was the one of the youngest intern, she was most determined'. Her mother Iram made a passionate speech drawing a picture of girl who loved humanity and wanted to make a difference. She shared what Sonia had said in her college application: 'I want to serve and help others. I want to leave this world knowing that I have changed it in some quantifiable, positive way, no matter how minuscule. I want to make history, instead of just witnessing it'. Iram went on to describe her daughter as someone with innate balance, an ability to see both sides of every issue: proud to be Pakistani Muslim yet all American girl, compassionate yet practical; cosmopolitan but never forgetting her roots'. She was keenly aware of the sacrifices of her grandmother 'Kulsoom' after whom she named the foundation. During her gap year, Sonia prepared everything from the website to logo herself. She knocked at every NGO and presented her case. She raised enough money to buy a piece of land for the school but once the foundation was laid out the tragedy struck. Iram also shared Sonia's blogs when she visited Pakistan. Sonia created a website where she blogged her experiences in Kangra. 'The poorest families do to the utmost to school their sons, but not their daughters'.
Hamza Hayaauddin gave the welcome address, recalling how he first met Sonia at an event and how she left an impact on her. He also read a poem that he wrote for her. After the Quranic recitation by Azhar Gumra, translated by Usra Ghazi and Iram's speech, Dr. Asif Anwar read the Urdu poem he wrote for Sonia right after her death. The English translation was written and read by Danial Noorani, who was a mentor and guide for Sonia specially in her community endeavors. Danial talked about the first time he met Sonia and was struck by her maturity, her ability to achieve so much at a young age of 17….more than anyone can achieve in their entire lifetime. He was also impressed by the various languages that she spoke.
Dr. Mian Arshad Jan the key note speaker recounted how, instead of crying and moping, his younger sister Iram threw herself into Sonia's project. "In the end, it's not the years in your life that count. It's the life in your years," he quipped from Lincoln. He recounted various incidents attesting to Sonia's maturity, spirit of self-sacrifice, and commitment to women's rights and self-expression particularly in the Islamic context, e.g., "why do women have to cover their faces, when they are not allowed to do so during hajj?" Pakistan spends a measly 2.9% of GDP on education and 8 times that amount on defense, thus leaving 7.3M children out of school.
Iram introduced her friend and well-known author Greg Mortenson, who is passionate about girls' education, especially in Pakistan. During a controversy in 2011 about his work, young Sonia had stuck her neck out by writing a letter to his critics. Greg spoke eloquently about Sonia's spirit and her courage and the importance of keeping her legacy alive. He warned that Pakistan's population will double in next 28–32 years without women's education, which is what the rural and illiterate women he personally interviewed want for their children.
Dr. Siraj Ahmed from DCA promote all India and Pakistani cultural event for last 10 years. He donate cricket bat signed by Imran Khan, Basket ball, Base ball and Silk Shawl from India donate for this occasion. Three tables from VIP was also booked for his family and friends to support Sonia's dream.
The Fund raising and live auction was conducted by Dr. Nabeela Rasheed and Dr. Mujahid Ghazi, and was accompanied by a slide show specifying the various levels of investment from water filtration plant for $16000 to building 12 rooms each for $5000 and $1000 for electricity and gas etc. The response to fund-raising request was excellent. In auction, the highlight was a painting named 'Nukta' i.e. starting point painted by 2 artist Sadia Uqaili and Zafar Malik. It was inspired by Sonia and an 'Ode to Sonia' completed this very month in acrylic and gold was sold for $10K. Two sets of autographed memorabilia (bat, ball, and book) gifted by Pakistani cricketer turned politician Imran Khan sold for $1700 and $1650. Other items included a basketball signed by Derrick Rose, unique book of Bulle Shah's poetry, and two iPads raffled at the end. The silent auction consisted of couple of beautiful pieces jewelery, tickets to concert, Red door spa gift certificate and many other items. All were sold.
Program was masterly emceed by Usra Ghazi and Hamza Hayauddin while the R and R event planners Reema and Roohi one more time proved their efficacy in organizing skills.
Kulsoom Foundation and HDF share the commitment to help the disadvantaged in Pakistan. HDF combats extreme poverty by "Helping people help themselves." Their comprehensive holistic model is focused on lasting change in 5 key areas: education, health care, economic growth, social mobilization, and sustainable environment. Fully aligned with Millennium Development Goals, HDF continues to work towards ensuring that by 2015, boys and girls in its program areas have the opportunity to complete primary schooling while eliminating gender disparity in the school system. Together with HDF-USA, the Kulsoom Foundation is working to realize Sonia's dream of economic, social, and political growth and development for the girls of Pakistan. HDF is registered under section 501(c)(3) with Tax ID: 36-4184940. Donations are tax deductible: https://www.facebook.com/KulsoomFoundation
Dinner served by The Meadows Club was followed by thumping Bollywood dances choreographed to a chronology of AR Rehman hits presented by Dhrshti Arts, which thrilled the audience and retained them into the midnight hour.
It was an orgy of dance, music, lights and sound as Dhrishti's presentation Rahmania wowed the audience at the Kulsoom Foundation/HDF fund raiser for the late Sonia Shah.
The tribute to the Oscar winning composer AR Rahman which was narrated by Shebani Kulkarni and scripted by Madan Kulkarni took the enraptured audience through the life and achievements of the maestro with visuals, facts and some originally choreographed dances set to his compositions.
Chicago based duo Megan Hartman and Jessica Beuckman kicked off the show with a spirited choreography set to Rahman's Spirit of Rangeela. This was followed by the popular Barso re Megha megha performed by the MKM Bollystars form California comprising a troupe of very talented choreographers and performers Shivani Thakkar, Joya Kazi, Gloria Lanuza and Erika. The lighting patterns designed by Ryan Williams enhanced the ambience and feel.
Visiting actor and Kathak exponent Aditi Bhagwat then wowed the audience with her dazzling choreography on Rahman's signature tune Manmohana from the period classic Jodha Akbar. She later went on to perform on Rahman's expansive compositions, Mai Albeli from Zubeida and Mai vari vari from Mangal Pandey.
The popular Mukkala Muqabla performed with vigor and skill by Bliss and Erika had the audience up on their feet while the sublime Aur Ho from the movie Rockstar performed by JT Tyler, Joya Nandy Kazi and Shivani, Gloria and Erika was remarkable for its poise and intensity.
Salsa diva Dora Baroti and Chris Manning then unveiled a very skillful and energetic choreography in Salsa and Cha Cha to Rahman's Masakkali from the movie Delhi 6. The grace and flexibility of the pair had the audience in raptures.
The surprise packet of the evening, the hip hop and lock and poppers led by Daniel" Brave Monk" Haywood held sway with their spins, locks, twists and pops to Rahman's chart toppers from Oscar winning Slumdog Millionaire. Along with MKM Bollystars version of Jai Ho they concluded the evening with a crescendo of moves set to Rahman's drums from the latest hit Jab Tak Hai Jaan.
The Group for the event consisted of Five dynamic dancers based out of Chicago who showed a variety of honed special skills including B-boying or Breakin', Popping & Locking. Chicago Performers were Daniel "BRAVEMONK" Haywood, Carolyn "Natural One" Carney, Charles "Popping Chuck" Bledsoe, Maciej "Magic" Smolak and Colin "Flowatious" Smythe. Choreographer, Dancer, Performer Daniel "BRAVEMONK" Haywood, known as BRAVEMONK in the Hip-Hop community, who has traveled throughout the U.S. and Internationally, speaking, judging, hosting, dancing and teaching at many cultural events, served as Artistic Director & coordinator on the two pieces that were performed. BraveMonk is currently a member of Chicago's legendary and internationally recognized breaking crew, Phaze II – Crosstown Crew (Est. 1982). He is also a founding member, active leader, mentor and performer of Awesome Style Konnection (A.S.K.), as well as F.E.W. Collective, an Artist collective that believes in the power of art to engage, educate, and inspire. "All Individuals involved were selected with style, skill & performance as well as diversity in mind. We represent the unique melting pot & incredible talent that makes up our unique Hip-Hop Dance & Culture..!" – Daniel "BRAVEMONK" Haywood
It was an amazing conclusion to event which aimed to supplement the efforts of a bright young girl Sonia Shah who passed away very young at seventeen, but not before she had made her contribution for the betterment of the girl child in a remote area of Pakistan, by preparing grounds to build a school.
The bereaved parents Iram and Mehmood Shah have taken up the mantle of fulfilling the dreams of their bright little girl, by making the school happen with the help of their Kulsoom Foundation, the Human Development Foundation and some generous donors.
"We are privileged to be associated with this cause and were glad that we were able to help in a little way in making this event such a success" said Shebani and Madan Kulkarni, the founders of Dhrishti Arts and the Meadows Club.