12-16-2012 VGS USA Annual Banquet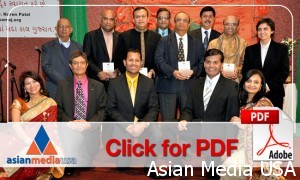 Chicago, IL: From the Mahatma to Modi, Gujarat has seen it all. One of India's fastest growing economies, Gujarat plays an integral part in the very existence of India. Every Gujarati who lives in the Land of Liberty thinks and feel proud about his or her home state. Vishwa Gujarati Samaj USA (VGS USA) Board of Directors & President Naren Patel Celebrated Diwali on Sunday, December 16, 2012 at India House Banquet, 1500 Schaumburg Road, Schaumburg, IL. The event was also attended by VGS members, [the event was complementary to the paid members] invited guests, friends and family. The extravagant celebration began at 5 pm. The celebration was held with much pomp and pleasure of cultural program and Bollywood music. Attendance was house full.
Coordinated by Naren Patel, Vishwa Gujarati Samaj USA President, the moment was also precious as two young entrepreneurs Neal and Raj Patel who are known for their sharp business acumen, a distant vision, sound capital and an ability to bounce back, have actively contributed much for the success of program. Though born and grown in United States , these young honchos are more Indian, who believe in upholding Indian culture and traditions. Beena Patel (Associate Clerk, First Municipal Bureau), Dr Sonal Patel and Kishor Chugh was back bones of this event. The carefully design whole programme so it is extremely enjoyable for audiences.
The evening started with a social hour featuring some tasty appetizers and premium drinks. Masters of Ceremonies for the occasion was performed by Beena Patel and Dr. Sonal Patel.
Beena Patel, looking sensational in a Maroon color sari with Golden Border, endeared herself to the audience with her excellent comparing of the show; she began with " Ladies and Gentleman, Welcome to the 4th Annual Vishwa Gujarati Samaj USA Diwali Celebration. On behalf of VGS USA President Naren Patel and the Board of Directors, I welcome you all". "We are thankful to our sponsors; National Republic Bank, Patel Brothers, and Medstar Laboratory for making this event possible today" she added.
The event kicked off with the Deep Lighting Ceremony with the Chief Guest Dr. Ram Raju, Mr. and Mrs. Naren Patel , the Grand sponsors for today's event Mr. Mafat Patel, Neal & Raj Patel, National Republic Bank representative, Dr. Bharat Barai, Mr. Rishikant Singh, Kanti Patel, and VGS USA Board members. Beena Patel introduce Naren Patel followed by Deep Lighting Ceremony.
Naren Patel began his speech with "Let us have a moment of silence to remember the victims of Connecticut school shooting and Wisconsin Gurudwaras shooting". "Our mission is to preserve and promote our Gujarati culture & heritage and to involve more of the young generations. Naren Patel welcomed the Chief Guest Dr. Ram Raju, Dr. Abha Agarwal, Dr. Bharat Barai, Mafat Patel and invited guest. Naren Patel said that I am pleased to see so many young faces here today. I want to welcome two new board members: Dr. Sonal Patel, and Mrs. Toral Chaudhry. My special thanks to Jayal Amin for volunteering his legal services to VGS USA. Tonight, we are honoring four prominent community leaders who serve our community tirelessly and selflessly. We want to encourage young professionals by setting an example for them to follow. Hard work should be recognized and they deserve this honor. We salute all of you who are leaders and in the forefront of our community. I would especially like to recognize all the VGS board members who are always ready and eager to support and serve" said by Naren Patel. In the end, he especially thanked his sister Beena Patel and Kishore Chugh for their sincerity in putting together such a beautiful program.
Cultural program was from Nrutyakalashree Dance Academy under direction of Guru Shreemati Toralben Chaudhri.
1) Ganesh Stuti
2) Garabo with matlies, thalis and dandiyas " Gheru Gheru Nagaru Bole Che".
3) Bollywood dance- Tumhi ho bandhu
4) Beats of passion- a contemporary twist on Bharatnatyam.
5) Vande mataram
6) Bollywood on beats of Gujarat- rajasthani folk with garabo-raas." Morni baga ma bole aadhi raat ma and dholi taro dhol baje" performed by Sonal Patel's group.
Cultural Program Coordinator – Dr. Sonal Patel, Community Outreach
Nrutya Kalashree Dance Academy – Toral Chaudhary, Choreographer
Award Presentation:
Dr. Bharat Barai – He was recently appointed as President of Medical Licensing Board of State of Indiana, the highest administrative position for a Medical Doctor in any state of USA. He has served on the Medical Licensing Board of Indiana as member, Secretary and Vice President since 2000, as appointee of The Governor of Indiana. (Received award for community services)
Dr. Sanjay Amin – Currently he is Medical Director of Seasons Hospice and is responsible for providing comfort care to nearly 750 patients who are suffering with various life-limiting end stage diseases such as cancer, stroke, heart failure, dementia, and HIV/AIDs. He supervises group of nearly 20 physicians. (Received award for community services)
Dr. Manish Brahmbhatt – Currently holding the position of" Medical Consult Director ".His passion is to serve the " Underserved & Underprivileged ", He has helped over thousands of them during last 20 years. He has received various Community awards from different Indian organizations including Gov. Pat Quinn & Secretary of State Jessie White & FIA. He also has organized over 40 Community Health fair for last 15 years and is a volunteer at BAPS & BAPS Charities. (Received award for community services)
Kishore Chugh – He is a Consulting Pharmacist with Ashco Pharma /Dik Drug Co, a subsidiary of Cardinal Health. He is deeply involved in Community & healthcare services for over 10 years. His vision and Wish is to have a "Garda Ghar" for our community in Chicago land to serve our seniors and underprivileged Indians.
(Received award for community services)
Next, the VGS, USA Secretary Beena Patel was acknowledged for her love, dedication, and commitment to the Indian community. I want to take this opportunity to thank all the board members who participated in planning and preparing for this event. It was an incredible effort by everyone involved and the results reflected the work that was put in. I am truly grateful to have worked with so many of you directly and was able to see, first-hand, your dedication to the success of this event and the success of the Vishwa Gujarati Samaj USA. Special recognition goes to Dr. Beejal Amin, a neuro spine surgeon at Loyola Hospital. Honorable Dorothy Brown wishes you and your family a Happy Diwali, Merry Christmas and Happy New year to All Indian Americans. My special thanks to: Dr. Sonal Patel, Toral Chaudhry, Jayal Amin, Kishore Chugh, Pinal Patel, Hina Trivedi, Dixit Patel, Sonal Shukla, Suresh Bodiwala, Usha Kamaria, Tushar Chotalia and Neeta Piyush Patel.
Introduction of Chief Guest was conducted by Raj Patel, VP of Medstar Laboratory, Inc. Guest Speaker was Dr. Ram Raju, CEO of Cook County Hospital. followed by key note speaker speech Gujarati dinner was served.
Closing Remarks & Vote of Thanks was performed by Mrs. Paulomi Shukla
Entertainment: Live Orchestra by Manpasand – Masti Group of Baroda, India
VGS USA Committee members:
Naren Patel, Mafat Patel, Beena Patel, Kishore Chugh, Jayal Amin, Yashwant Amin, Dr. Sonal Patel, Paulomi Shukla, Tushar Chotalia, Vinod Parikh, Toral Chaudhary, Dinesh Gandhi
About Vishwa Gujarati Samaj
Vishwa Gujarati Samaj is a worldwide organization established about 25 years ago. VGS,USA chapter started with President Naren Patel in 2009. VGS, USA has achieved a great name recognition and growth in a short period. VGS,USA memberships for a couple have been only $100 for 5 years. The members have been reaping great benefits throughout the years due to free shows and events by VGS, USA.