11-10-2012 Gujarati Samaj Diwali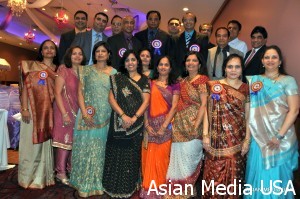 Schaumburg, IL: Gujarati Samaj Chicago organized a Diwali Dinner and Dazzling Bollywood Masti on Saturday, November 10, 2012, at India House Banquet located at 1521, Schaumburg Road, IL Illinois. The event was attended by about 612 guests.
The evening started with social hour with tasty appetizers and soft drinks. MC for the occasion Manish Pandya, who kept the crowd attentive and involved for the total length of the program. Diva lighting ceremony was performed by Chief Guest, Mr. Harshit Patel from NY Life and he applauded the organization for celebrating Diwali festival and conveyed his best wishes to all.
Addressing the gathering, current President Suryakant Patel wished everyone a Happy Diwali and Happy New Year! He said, "Diwali marks the attainment of moksha or nirvana and to rejoice conquering of evil Ravan by Lord Ram. Let us thank, pray, and celebrate for all the blessings of supreme Bhagavan." He outlined the objectives of the Samaj by stating "We are glad to be serving the Chicago Metropolitan area for many years. Our goals are to encourage people to explore and learn about rich Gujarati culture. Together let us keep this light lit for life and joy for many years to come." Suryakant Patel and Manish Pandya also mentioned successful past events organized by Gujarati Samaj like Summer Picnic, Navratri Garba in which the Samaj actively participated and enjoyed Garba music and dance and Mix and Mingle function for youth. Suryakant Patel promised the attendees to look forward to having many more planned successful events in the coming year. He thanked the younger generation for giving their time for Gujarati Samaj Chicago to carry on the good work for the benefit of the community. He also thanked the executive committee and board members (listed below) for working tirelessly to fulfill the function of Gujarati Samaj Chicago. He pleaded with the audience to work as volunteers to serve the Gujarati Samaj. The speech concluded with thanking the event's sponsors. He thanked Chief Guests Harshit Patel and Jaswant Patel.
Dr. Jitendra Patel- Research & Development and President of GOPIO/Chicago was introduced by MC. GOPIO is a Non Profit Organization which does charity work in India, gives Scholarships to Students, including medical students.
MC thanked sponsors- Jasbir and Shital Patel, Tushar Vyas, Maya Patel, Vaibhav Patel, Shree Restaurants, Ravi/India House and Suresh Bodiwala of Asian Media. MC introduced Bollywood Masti Group on the stage. MC Kunwarlal started the program with Ganesh Vandana.
Singer Sunny gave Tribute to Rajesh Khanna and sang 'Aate Jaate Khub Surat Awara, Sadko Pe Kabh Kabhi Ittefaqese…' and continued with many famous songs like 'Rup Tera Mastana, Pyar Mera Diwana…,'; 'Mere Sapnon Ki Rani..'; Jindagi Ek Safar Suhana…' ; Singer Alka started with 'Kantose Khinchke Ye Aanchal…' Morni Bagama Bole Aadhi Ratma…' Singer Kalpesh sang songs like ' Ho Gayi Main Matwari..' ; 'Gulabi Aankhen Jo Teri Dekhi…' ' Vada Karle Sajna, Mein Dhadkan Tu Mera Jiya..' 'Aajkal Tere Mere Pyar Ke Charche, Har Jabanpe, Sabko Malum Hai Aur Sabko Safar Ho Gayi…' ; Badanke Sitare Lapete Hue….' ; Aaja Aaja Main Hun Pyar Tera…'; Hamen Tumse Pyar Kitna…'; Kaise Batayen….' And many more entertaining the entire house. Mumbai Masti Group: Sanket Patel- Octopod and Sampler Player, Mahesh Raval-Key Board Player, Prashant Shirgaonkar-Dholak, Asad Umrani- Drums, Alka Thakor, Sunny Jadhav and Kalpesh Kharava- Singers,
Kanwarlal Vekarya- MC from India. Nupur Sound; Amit Patel, Tapan joshi, Dipak Patel, Umesh Thaker. Gujarati Samaj New Board Memberes: (Incoming) Payal shah, Maulin Parikh, Dakshesh Modi, Umang Shah, Harsh Shah.
Famous Chicago singer Bharti Desai broadcasted for about a week on Radio Chan Pardeshi about this event. Sunny: Popularly known as "Voice of Kishore Kumar", is a very well-known and talented artist. He has performed numerous times in the US and also shared the stage with T.V Stars "Bhoomi Trivedi" and bollywood artists like "Bappi Lahiri" amongst others
Alka: A very versatile singer who has a wide range from Asha, Lata to all recent Singers like Alka Yagnik and Sunidhi Chauhan. Kanwarlal: A true entertainer. Excellent mimicry artist and anchor with a wide range of poetry and shayari's.
Kalpesh Kharwa (KK) (X-Factor Fame): A young and talented singer who can sing all the latest songs of singers like Rahat Fateh Ali Khan, also specializes in Mohammed Rafi songs. The above artists were accompanied by talented musicians who played on the Tabla, Congo, Dhol , Dholak, Octapad and Keyboard.
Manpasand Inc is a USA based event management organization, which promotes Indian culture through Stage and Music. Manpasand gives opportunity to the artists to present their art and rich source of cultural values to the Indian population in America and keeps the younger generation close to our culture. Manpasand is always working hard to bring team of professional artists with exiting entertainment programs from India. Manpasand Inc was formed in 1999 and scaling to new heights year after year. Manpasand is your gateway to the Indian entertainment. Watch as we unfold the world before you The event was concluded with authentic Guajarati dishes.
Executive Committee for 2012 to 2013 are Suryakant Patel (President), Kamlesh Shah (Vice President), Jayesh Parikh (General Secretary), Bhavesh Shah (Joint Secretary), Deepen Modi (Treasurer), Sandip Shah (Joint Treasurer), Manish Pandya (Cultural Secretary), Open (Joint Cultural Secretary) and Board Members are Ashok Shah, Payal Shah, Maulin Prikh, Vidha Dave, Daxesh Modi, Umang Shah and Past President Mukesh Shah
Diwali party sponsors were Money Dart (Prabhakar Patel), Med Star (Naren Patel), Sankalp Restaurant (Alap Patel), Met Life (Dr. Irving Birnbaum), New Life Medical Center (Dr. Manish Pandya), D's Creations (Mr. Monti S: Chirag Patel), Holiday Inn (Maya Patel), Bombay Chopsticks India House (Ravi), Manpasand (Bhavna Modi) and Vonage (Inamdar), Radio Chan Pardesi, Suga builders and Construction.
About Gujarati Samaj Chicago (GSC):
Gujarati Samaj Chicago is glad to be serving the Chicago Metropolitan area. The goals of GSC are to encourage people to preserve, promote, explore and learn about Gujarati culture, literacy, social and academic activities. GSC is one of the oldest organizations who provides a community to find joy in encouraging, promoting, and celebrating the Gujarati culture, especially among 2nd and 3rd generation Gujaratis here. The main activities include but are not limited to the following: Bowling, Summer Picnic, Navratri Garba Raas event, and the Diwali Gala Party. Our Youth Program includes activities that provide networking, fun, and social 'gettogether and know' opportunities such as the Mix and Mingle, outdoor activities, and various other events yet to come. For further detail information visit our website (http://gujaratisamajchicago.com/index.html) and facebook to learn more about the Gujarati Samaj Chicago, a non-profit organization. If you need to contact us, you can do so by phone (630-455-0280), email gujarati.samaj@yahoo.com), or conventional mail (Gujarati Samaj Chicago, 6816 Fieldstone Drive, Burr Ridge, IL 60527)
Photographs and Press release by: Asian Media USA
Suresh Bodiwala
Chairman
Asian Media USA
Bus: (847) 679-8583
Fax: (847) 679-5336
Cell: (847)420-4789
sbodiwala@sbcglobal.net
Copyrights (c) 2010 – Asian Media USA
No one shall download or otherwise duplicate the graphics, images, press release and written content from the PDF without our express written permission. Likewise, no one shall reuse the aforesaid things, as the same are the intellectual property of the Company, we hereby reserve all rights
Disclaimer: – Asian Media USA
"The information in this e-mail and any attachments is confidential and may be legally privileged. It is intended solely for the addressee or addressees. If you are not an intended recipient, please delete the message and any attachments and notify the sender of misdelivery. Any use or disclosure of the contents of either is unauthorized and may be unlawful. All liability for viruses is excluded to the fullest extent permitted by law. Any views expressed in this message are those of the individual sender, except where the sender states them, with requisite authority, to be those of the Asian Media USA