Gujarati Samaj celebrated Navratri with traditional fervor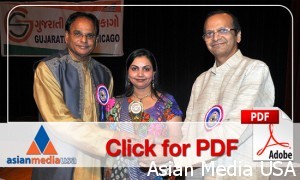 Bensenville, IL: On Saturday, October 27, 2012 the Gujrati Samaj Chicago (GSC) Board of Trustees, members of executive committee and volunteers hosted colorful Raas Garba festivity on the occasion of Navratri. This annual sacred event is celebrated in honor of Godess Durga and Amba Mataji. The event was held at Manav Seva Mandir located at 101 S. Church Road, Bensenville , IL. and attended by over 400 individuals.
Backless cholis, embroidered chania, colorful dhotis and kurtas and a kaleidoscope of saris were all out as Gujaratis in particular and others in general danced to the tune of loud music in Somerset as Navratri began with the usual gusto throughout the United States. The Mahalaxmi hall of Manav Seva Mandir was transformed in to a huge dance floor to accommodate hundreds of bare feet moving in to thunderous drumbeats in swirling circles around deity Hindu Goddess "Durga and Amba Mata".
The celebrations started when darkness fell and continued till the wee hours of the day. Young and old, men and women danced their heart out in front of Amba Mata. Particularly in the Chicago area which is the hub of the Indian and Gujarati population. Musicians from India made it to the shores of the US to make the Indians dance to traditional rhythms mixed with modern beats. Myriad dresses of fantastic colors carrying a hoary heritage draped countless beauties and they blossomed each midnight to the cadenzas of wild music. It all began with the traditional Raas which continued for an hour followed by the Taali Raas. With every song like the `chundi udi udi jai',`mehndi te vavi mandve' `maniyaro', and `bhamariya re lal bhamariya' the steps began to pick up speed and so did the music and the singers stepped up their beat so as to reach the cre-scendo.
The most fascinating was the Dandiya Raas. Colorful Dandiyas, some of them specially ordered from India, had modern looks. While the traditional Dandiyas are made of wood, it is now the age of aluminum and even colorful plastic. Some of the Dandiya s change color with every beat making it all the more fascinating. The nonstop Dandiya for almost 90 minutes not only drains the participants but the musicians also. The viewers are left spell bound by the fast rhythm and pace.
Garba by:
Orchestra: SaReGaMa of Chicago
Singer: Rita Patel & Atul Soni
Keyboard: Aanand Master
Octapad: Kafi Khan on
Percussion: Andy Patel
The beautiful music is one of the most foremost pillars of the Navratri Garba celebration. The drums, dholak and all sort of instruments coming together with melodious voice by group leader and singer Rita Patel & Atul Soni. Music for Navratri festival has to keep balance between devotion and entertainment." said Rita. "We Gujratis, have Garba in our blood" said lead female vocalist singer Rita Patel.
There was overwhelming participation from predominantly young audience enjoyed the memorable evening. Many in the audience, especially ladies and children wore very colorful mesmerizing and dazzling traditional dresses for this special juncture with appropriately matching ornaments and extravagant hairstyles. Navratri Garba is very special for me as it honors Shakti in very rhythmic ways said Nisha Deshpande. Her mother Dina Modi added that "we all love the whole atmosphere of colors, the clothes and of course, the music and then there is always the fun of dressing up". She further explained to Asian American Media that western dress is replaced by Lengha-choli, matching jewelry and foot wear. "Some prefer to wear traditional outfit while others go for modern look" she told Asian Media USA. When asked main purpose of organizing such event, Mr. Suryakant Patel, president of executive board member replied that "this type of organized event promotes Indian culture to the new generation who are born here"
Lead Vocalist and band leader and members of executive board started the program by offering a prayer. This was followed by mesmerizing rhythmic conformist Garba music with equally passionate and energetic performance by the audience of traditional swirling dance around Mataji's heavenly symbolic presence turned in to shrine adorn with flowers and decorations. After the brief break and Arati, the festive music of Dandia- Raas commenced with again enthusiastic participation by audience which lasted till early hours of the morning.
One of the specialty of Navratri is the Prasad, distributed at the end of the Garba (singing devotional songs) to all the people. The word Prasad means the food offered to GOD (after preparation, it will be placed before the idols of Gods and Goddesses without anyone touched or tasted it). Later, after the Puja, it is believed that GOD will shower his blessings on all the people and the food offered to him, making the food as a sacred one. This sacred food is later distributed to people as Prasad, as the mark of the end of Puja for that day. The Navratri special Prasad are varieties of Shiro, Panda, any kind of sweet, and fruits.
Board of Trusty and executive committee members and volunteer's good planning and durable work were evidenced by excellent security safety and parking arrangement.
Sponsors and vendors participated by displaying their Banners and advertisement. Lahni prices were distributed during the event. This multidimensional celebration of such a festive day of Navratri would not have been possible without many sponsors, donors, and advertisers.
The event was sponsored / Honorable contribution by Suryakant & Urvashi Patel, Jayesh & Harshida Parikh, Devang & Rekha Desai, Bavesh & Monal Shah, Jigar Parikh and Gautam Patel and. Current president Surkantbhai thanked the committee heads and volunteers that made the event possible. With entire well organized dedicated Gujrati Samaj Chicago (GSC) team effort with solid work and with Devine blessing from Mataji combined with devotional hard work and enthusiastic support and participation by the community the event was a grand success.
Prizes: There were 16 Trophies awarded for the following categories:
Under 25 Years
Best Costume Male – Kathan Shah
Best Costume Female – Devashi
Best Garba Raas Male – Neel Sheth
Best Garba Raas Female – Nirsha Shah
Over 25 Years
Best Costume Male – Milind Desai
Best Costume Female – Veidehi Desai
Best Garba Raas Male – Jinal Ray
Best Garba Raas Female – Rushil Patel
Photographs and Press release by: Asian Media USA
Suresh Bodiwala
Chairman
Asian Media USA
Bus: (847) 679-8583
Fax: (847) 679-5336
Cell: (847)420-4789
sbodiwala@sbcglobal.net
Copyrights (c) 2010 – Asian Media USA
No one shall download or otherwise duplicate the graphics, images, press release and written content from the PDF without our express written permission. Likewise, no one shall reuse the aforesaid things, as the same are the intellectual property of the Company, we hereby reserve all rights
Disclaimer: – Asian Media USA
"The information in this e-mail and any attachments is confidential and may be legally privileged. It is intended solely for the addressee or addressees. If you are not an intended recipient, please delete the message and any attachments and notify the sender of misdelivery. Any use or disclosure of the contents of either is unauthorized and may be unlawful. All liability for viruses is excluded to the fullest extent permitted by law. Any views expressed in this message are those of the individual sender, except where the sender states them, with requisite authority, to be those of the Asian Media USA