Amanat Ali Khan Astounding Concert Thrilled Chicagoans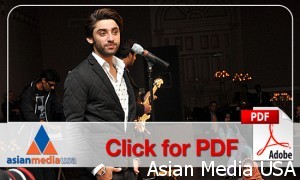 Chicago, IL: On Saturday, October 13, 2012 the Hamdard Center for Health and Human Services held its 20th Annual Gala at the Donald E. Stephens Rosemont Convention Center in Rosemont, IL. It was a celebration of 20 years at with special guest, Khaleel the comedian as the Master of Ceremony. Evening highlights included a high couture Cultural and royal fashion show produced by Sahil and featuring the Royal Bride Collection by Umang Hutheesing, wonderful, live music with Singer Amanat Ali, and an extremely entertaining live auction presented by Michael Espe of Zaffarano Auctioneers. Theme fashion show was of Jaipur, Rajasthan. 750+ people from the South Asian and American Community attended the program.
Featuring Musical Guest Amanat Ali was a Pakistani singer who was one of the finalists on Sa Re Ga Ma Pa Challenge 2007. He placed third in the competition and garnered 34,314,257 votes in the final two weeks. Choreographer Farah Khan and Indian ghazal singer Jagjit Singh heralded him as a "great discovery". Amanat once performed with Nusrat Fateh Ali Khan, who paid him five hundred rupees for his performance. Amanat is the son of singer Nazakat Ali. Amanat sand the "Khabar Nahi" song for the 2008 film Dostana. He performed the opening act for the "Unforgettables" concert, which showcased the Bachchan family, Preity Zinta and other Bollywood actors. His new album, Kohram, was released by Fire Records Pakistan and digitally by 2 Republic Music Group USA on June 14, 2009.
At the Hamdard Gala, Amanat was a treat for the audience. Amanat is one singer who can sing songs of many genres and he did just that at the Hamdard Gala in front of a huge audience. He sang popular ghazals, rock songs, hindi movie songs, classical songs, sufi songs with complete command. The best part was his rendition of famous Pakistan and Indian songs. He kept surprising the audience by combing songs and then having the audience sing along with him. The lovely part was that his band was in sync with his antics on the stage; they knew exactly when to increase the tempo and when to let Amanat go unplugged.
Amanat entertained requests from the audience and conversed with the audience at regular intervals. He read poetry in between songs and entertained the crowd with his witty jokes and one liners. He came to have fun and entertain the crowd and after witnessing his performance, it is pretty safe to say that he achieved just that. People wanted more of him. There were chants of "Once More" on many of his songs, especially when he sang his rendition of the song "Tujh se Naraz Nahin, Zindagi Hairaan Hoon Mein" from film, Masoom, written by Gulzar. He told the audience that this song changed his life and explained the deeper meaning of this song. When he sang this song, everybody in the audience was in a "zone" ; he really captivated the audience with this number.
Amanat is relatively new in the singing arena, but he knows that he is talented and he doesn't shy away from flaunting it. He has all the qualities of being a rock star. We will see a lot more of him in the future for sure. His performance at the Hamdard Gala 2012 will always remain memorable as he was able to entertain the crowd of young and old folks alike, which had people from both Pakistan and India. After his performance, he received accolades from the audience and also gave opportunity to his fans to take a picture with him, which saw many uncles and aunties lining up for him along with the usual young folks.
Photographs and Press release by: Asian Media USA
Suresh Bodiwala
Chairman
Asian Media USA
Bus: (847) 679-8583
Fax: (847) 679-5336
Cell: (847)420-4789
sbodiwala@sbcglobal.net
Copyrights (c) 2010 – Asian Media USA
No one shall download or otherwise duplicate the graphics, images, press release and written content from the PDF without our express written permission. Likewise, no one shall reuse the aforesaid things, as the same are the intellectual property of the Company, we hereby reserve all rights
Disclaimer: – Asian Media USA
"The information in this e-mail and any attachments is confidential and may be legally privileged. It is intended solely for the addressee or addressees. If you are not an intended recipient, please delete the message and any attachments and notify the sender of misdelivery. Any use or disclosure of the contents of either is unauthorized and may be unlawful. All liability for viruses is excluded to the fullest extent permitted by law. Any views expressed in this message are those of the individual sender, except where the sender states them, with requisite authority, to be those of the Asian Media USA