Hamdard Center's 20th Annual Benefits Gala Funds the Wellbeing of Humanity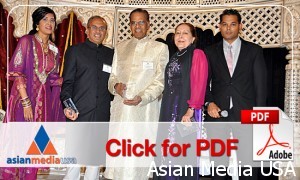 Chicago, IL: On Saturday, October 13, 2012 the Hamdard Center for Health and Human Services held its 20th Annual Gala at the Donald E. Stephens Rosemont Convention Center in Rosemont, IL. It was a celebration of 20 years at with special guest, Khaleel the comedian as the Master of Ceremony. Evening highlights included a high couture Cultural and royal fashion show produced by Sahil and featuring the Royal Bride Collection by Umang Hutheesing, wonderful, live music with Singer Amanat Ali, and an extremely entertaining live auction presented by Michael Espe of Zaffarano Auctioneers Theme fashion show was of Jaipur, Rajasthan so audience encouraged to dress up. 975 people from the South Asian and American Community attended the program.
Over $275,000 was raised for good cause.
Beside all Business and professional people, Prominent community leaders there were dignitaries included Bosnian Consul General Elden Kajevic and Pakistani Consul General Zaheer Pervaiz Khan who attended this event. The target was to raised $200,000 however Hamdard Center raised $275,000 of which will go towards their seven programs including the domestic violence division, transitional housing, senior services, youth services, primary and mental health services, and case management.
Master of Ceremony: Khaleel the comedian.
Khaleel Farooqie (a.k.a) Khaleel the comedian. He has been on 2011 and 12 TBS Just for Laugh comedy fest, also he been mentioned in N.Y times, Chicago Red Eye, Urdu Times, and appeared alongside Dean Abudal from Axis of Evil comedy tour. Most recently he performed with, Sarah Silverman & Jeff Garlin from HBO comedy series Curb Your Enthusiasm. Chicago's very own Khaleel.
The evening started with a warm welcome from Khaleel the comedian. This was followed by a cocktail hour in the lobby area, which was shared by over 18 exhibitors and vendors created a small Bazaar ambiance by displaying their beautiful products such as Indian Clothing, jewelry and paintings. Some of the participants were Sanyaz Photography, Makeup Iglam, I.Khanic, and Brown Hub, Allstate Insurance, Insure with us, Professional Party Planners, KM Exclusives, Avantique Jewellery Designs, Aisha Collections, Sofiana, Yoomna's, Adaa Fashions and numerous others, who participated in making the Gala a successful event.
The admission fee for the event was $150.00 per person and $1,500 a table additional support came from the over 200 sponsors as well as over 15 ad sponsors and an auction which took place during the evening.
Mohammad Hamid Co-founder and Chairman message via Video
Tonight we celebrate the 20 anniversary of the Hamdard Center with a special tribute to its co-founder, the late Farzana Hamid. I believe the best tribute we can pay to Farzana is to shed some light on her legacy as a community activist. Farzana was an exceptional individual. I was privileged to be her life partner and had high regard for her and for what she did and believed in. Tonight, Farzana's legacy lives on through each
one of us, including the individuals and families she touched.
There are many men and women in our communities who have impacted the lives and well being of individuals and families. Farzana's impact, however, was different. She pursued a dream of empowering the women and elders of our communities. She strived throughout her personal and professional life to reduce, if not eradicate, domestic violence, child abuse and elder abuse in our communities. There are literally thousands of men and women who benefited from her personally and through the institution she established, the Hamdard Center. I believe leaving a legacy that has positive impact is an act of responsibility.
Farzana inspired us to reflect upon how each one of us can use our skills to effect social change, change that can set in motion the development of healthy relationships. I truly believe that part of what makes us good and honorable people is having a foundational part of our lives based on the goal of leaving a legacy. Her vision of the agency continues to extend and guide us. She knew from experience that if she set her mind to a well-defined goal, she could achieve it. Today's Hamdard and its comprehensive services continue to remind us that to lead change you have to be different and willing to take risks. That she did!
Evening Includes a Special Tribute to the Late Dr. Farzana Hamid, Co-Founder (Video plays)
Farzana of Hamdard Community services Award Recipients
Syed Anwar, M.D.
Arif Azam, M.D.
Firdaus JaJri, D.D.S.
Fund-A-Cause 2012
$10,000 – Expand vitally needed program space for the influx of immigrants and refugees through the rehab of 6,000 square feet of the Chicago site
$5,000 – Prepare 400 freshly-prepared meals weekly to seniors by modernizing kitchen facilities
$2,500 – Provide 40 underprivileged elementary students with an educational summer program
$1,000 – Provided 20 refugees with supportive counseling, case management and advocacy services for one month
$500 – Upgrade computer lab with serves seniors, children, and victims of domestic violence
$250 Provide children enrolled in the after-school youth program with school and art supplies
$100 – Fulfill the immediate need and provide 15 victims of domestic violence with groceries and basic necessities for one week
Live auction presented by Michael Espe from Zaffarano Auctioneers.
Live Auction Items
Package One – Maharaja For A Day
Package Two – The Jungle Book Four Seasons Weekend
Package Three – Fly the World in Luxury with Eithad Airways
"Thank you Ladies and Gentlemen and welcome to Hamdard 's 20th annual gala . An organization that since 1992 has served over 40,000 clients and serves clients both nationally and internationally. Hamdard was the first agency to have opened a culturally specific domestic violence shelter in Dupage county and remains a beacon of light for many survivors of violence. Tonight we share one of those stories with you – Her name is Priya and here is her story of hope" said Michael Espe.
Fashion show
Theme: "Mogul Royalty"
For 200 years a single family dominated India and astonished the world. A family known to history as The Great Moghuls. On Saturday, October 13, 2012 Sahil Exclusive presented "Moghul Royalty". An evening to come join their royal court, view the elegant styles and experience Moghul Royalty. Sahil presented two unique collections; a 2013 collection designed exclusively for Sahil by Shefali Hedge and feature collection by Umang Hutheesing.
Sahil CEO: Bhavesh Patel
Designer: Umang Hutheesing
Designer: Shefali Hegde
Runway Producer: Pranav Tailor
Stage Design: Dream Occasions
Models: Factor Model Management, Megha Rao, Puja Bhagwaker & Ruchi Ray
Make-up Artist: Candace Corey and team
Dance: Kalapriya Dance Company with special thanks to Pranita Jain and Priya Narayan.
Music: Dj Sohbash
Photo/Video Team: Studio Seven
Special, special thanks to all the back stage helpers!
The evening ended with the renowned SA Re GA MA PA finalist Amanat Ali performing his hit songs and delighting the crowd. Hamdard Center would like to thank its sponsors and supporters for this year's gala that
included Northern Trust, Exelon, Etihad, and Endangered Species Chocolate. Hamdard Center fund raised over $275,000 for good cause to support its seven programs, Domestic Violence which includes the transitional housing program, Senior services, Youth services, Primary and mental health services, and Case management. Hamdard Center would like to thank the dozens of volunteers that made the 20th Annual gala so successful.
Board of Directors
Mohammad Hamid, Ph.D., (Chairman), Syed Hashmat Anwar, M.D. (Vice Chairman), Kathryn Siddiqui, M.S.W., M.A., (Secretary), Adnaan Hamid, M.D, (Treasurer), Aisha Jaleel, M.D, (Treasurer), Irfan Sufi, M.A.,
Robert Cook, M.A. and Amitabh Kejriwal, M.B.A.
About Hamdard: (Joining hand, Changing destiny)
Hamdard Center for Health and Human services is a not-for-profit health and social service agency whose mission is "to promote the physical and emotional health and psychological well-being of individuals and families by offering hope, help, and healing." Hamdard was established by co-founders, the late Dr. Farzana Hamid and Dr. Mohammad Hamid, in 1992 as a proactive response to address the critical mental health needs of the South Asian and Middle Eastern communities. Hamdard's philosophy is to meet the needs of the under-served through its new paradigm of care, which includes a comprehensive service model to provide culturally-sensitive and linguistically-appropriate services to families. Hamdard serves minorities of different ethnicities and faiths. Most under served populations feel comfortable coming to Hamdard because the staff recognizes the importance of cultural sensitivity. Hamdard's uniqueness is demonstrated through its programming of in-language services provided to the communities of the greater Chicago Metropolitan area. All of Hamdard's programs and services are licensed and/or protocol-compliant. Hamdard staff can deliver in-language services in the following languages: Arabic, Bosnian, Gujarati, Hindi, Persian, Punjabi, Serbo-Croatian, Spanish, Telegu, and Urdu. Please visit www.hamdardcenter.org / Hotline: 1-866-305-3933
Photographs and Press release by: Asian Media USA
Suresh Bodiwala
Chairman
Asian Media USA
Bus: (847) 679-8583
Fax: (847) 679-5336
Cell: (847)420-4789
sbodiwala@sbcglobal.net
Copyrights (c) 2010 – Asian Media USA
No one shall download or otherwise duplicate the graphics, images, press release and written content from the PDF without our express written permission. Likewise, no one shall reuse the aforesaid things, as the same are the intellectual property of the Company, we hereby reserve all rights
Disclaimer: – Asian Media USA
"The information in this e-mail and any attachments is confidential and may be legally privileged. It is intended solely for the addressee or addressees. If you are not an intended recipient, please delete the message and any attachments and notify the sender of misdelivery. Any use or disclosure of the contents of either is unauthorized and may be unlawful. All liability for viruses is excluded to the fullest extent permitted by law. Any views expressed in this message are those of the individual sender, except where the sender states them, with requisite authority, to be those of the Asian Media USA