Amrit Varsha, Discourse on Cruise by Acharya Sudhanshuji Maharaj Ji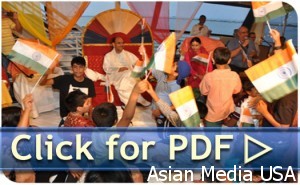 Chicago, IL: Kanan Cruises, Chicago's newest and largest private Charter Vessel Boat was the venue for a very special program on August 12, 2012. Over 250 devotees boarded on Kanan Cruise at Navy Pier Lakefront to participate in Amrit Varsha a discourse by Shri Sudhanshuji Ji Maharaj. It was rarest of the rare opportunity to feel soothing effect in this course that was given on Sunday Aug.12, 2012 in sailing voyage in Lake Michigan.
Amrit Varsha-a discourse by Shri Sudhanshu Ji, which was followed by Maha Prasad (Dinner). All devotees were inspired motivated and uplifted among the calm water & stunning Chicago Sky Scrapers. The festivity was eventful as boarding started at 5;00 p.m. at Navy Pier. All devotees boarded first & then his Holiness Sudhanshu Ji Maharaj entered the ship. The Program started at 6.15 p.m. by humble devotee MC Anju Lal. Her pious voice captured the devotees right away. The entire voyage discourse comprised of devotional Bhajans by renowned artists Narendra Vashishtha, Anju Lal, Neha Rathi, Mr. Kohli and Tarikhbhai Parikh Ji. It was accompanied by Puran Yyas JI on Tabla, Anilbhai on Manjira and Narendra Ji on Harmonium & Surinder Ji on dholak.
Narendraji started the evening with Bhajan 'Ganga Tera Pani Amrit', Anju Lal sang 'Jo Ram naam nahi Gaate'. Neha Rathi a young devotee came from Boston sang 'Tan Ke Tamboore me jo'. Mr. Kohli sang 'Tera Jeevan Hai din chaar, jhukale sir Guru ke dwar'. Before the arrival of Guru Ji Tarikhbhai Parekh recitated a bhajan 'Ya vidhi Manko Lagaye Prabhu'. All the bhajans were carefully selected & presented to offer a very poignant flavor.
Dr. Sudhir Kumar welcomed Guruji with Flowers. Representative from Divya Bhaskar and India Post, Shri Ramesh Sopariwala welcomed with flowers bowing down to Guruji's Charan. Indra Mohanji, Alok Suri from Shree Restaurant and Suresh Bodiwala,Chairman Asian Media also welcomed Guruji. Parekhji sang a song on the eve of Independence day of India, 'Aao Bachcho Tumhein Dikhaye Zhankhi Hindustanki' and made the atmosphere patriotic. All the kids were brought forward for taking blessings from Maharajji. There were flags of India all around and people sang Vande Mataram with great excitement. Narendraji sang another patriotic song, 'Hai Preet Jahan Ki Reet, Sada Main Geet wahan ke Gata Hun' Bharat ka Rehnae wala Hun, Bharat ki Baat Sunata Hun.' Meghna Bansal presented Shlok recitation by kids"Twamev Mata Cha Pita Twamev".
Then Guruji started his message reminding everyone the beautiful moments we were witnessing. He emphasized that those who sacrifice their whole life for the good of others are entitled to Moksh-Sadgati. Those who feed the hungry and safe guard the interest of the nation will live happily eternally. People, doing Tapas in Himalayas also deserve good luck. He gave an example of Maharana Pratap and his love for the nation. The atmosphere was very sensitive and all were very emotional The poem by Shital Bhatt was recited, Paghdi Mukine Shir Zuka Diya.. Aapki Paghdi Zukne Nahi Diya….'
The evening continued with a delicious dinner spread, excellent music and wonderful socializing. Though downtown Chicago is absolutely stunning from any viewpoint, perhaps the most beautiful view was from the top deck of the "boat". Shortly after the boat set sail, the beautiful Chicago Skyline was set ablaze with bright, colorful fireworks. Simply put, the evening was extraordinary. "Service to Humanity Imparts Richness to One's Life."
With feelings of joy, excitement, happiness and pride, VJMNA had announced that His Holiness Shri Sudhanshuji Maharaj , along with His daughter Dr. Archikaji successfully graceed the Chicago land, from August 9 – 12, 2012. It was a rare and divine opportunity to seek his blessings and be in the close presence. Discourses were arranged at Hindu Mandir of Lake County, 2044, W Peterson Rd. Grayslake, IL 60030 on Thursday, August 9,2012 from 7-00 pm to 9-30 pm and at Hindu Temple of Greater Chicago, 10915, Lemont Road, Lemont IL on Friday, August 10,2012 and Saturday, August 11,2012 from 7-00 pm to 9-30 pm.
Meditation- Empowerment Workshop by Maharajji and his daughter Archika ji were arranged at Hindu Temple of Chicago, Swamy Vivekananda Spiritual Center in English on Saturday, August 11, 2012 from 7-30 to 10-30 am. And at Arya Samaj Center, 700 Hillview Ave., West Chicago on Sunday, August 12, 2012 from 7-30 to 10-30 am.
Vishwa Jagriti Mission is a charitable and social welfare organization which was founded by His Holiness Sudhanshuji Maharaj with a Mission to nurture, guide and invoke the inner strength of all human beings equally and to feel the presence of God. The Mission strives to take the suffering humanity from sorrow to bliss, disharmony to harmony and self-service to serving the humanity irrespective of religion, caste and creed. Mission is trying to free the society and harassed humanity from antipathy, animosity, malice, hatred, violence and revenge.
VJM – North America is a branch of this gigantic tree of Vishwa Jagriti Mission. The noble idea of starting Vishwa Jagriti Mission was conceived by humble devotee Praveen Verma & Vijay Verma. Now along with them Sudhir Kumar, Hari Gupta & Krishna Bansal's hard work and devotion brought this organization to a different level.
The VJMNA has been moving forward spreading the love and light along with the golden principles of His Holiness Sudhanshuji Maharaj. It has become engaged in several missionary activities for the citizens of our community including Humanitarian Services, Child and Youth Education, Spiritual camps, etc. here in the North America.
The aim of the mission is to kindle the bright flame of human welfare through various projects by inculcating high felling such as love, faith, affection and fellow-felling, co-operation and charity, self-study, simran, sadhana, and a deep sense of spirituality and god in the hearts of all. His Holiness felt that a heavenly environment should be created in the whole society so that the lotuses of joy blossom forth in every courtyard, and the senior and old persons, mentors (gurus) and teachers are always respected by all. Children should offer happiness, respect and honor to their parents, the youth should realize their duties and responsibilities, and utilize their energy in furthering the cause of religion, culture and human values and in building in their nation. Every sector of society should respect women and every child should discover the path of progress under the begin love of his mother and father. No one should be called an orphan on this earth of lord Jagannath. And mankind should scale the highest peaks of divinity through peace, brother hood, co-operative, non-violence and harmony spread all over the globe.
His Holiness Sudhanshuji Maharaj has become a personality to reckon with throughout the sub-continent. His profound messages, deep thoughtfulness, and magnetic personality, imbued with his nectar of wisdom have already captivated the hearts of millions in India. The sheer enigma of his personality has helped him draw millions of devotees from all parts of the world who are now his staunch disciples. His mission of spreading the ancient yogic and philosophical sciences of India across the globe, have caught the imagination of people far and wide. Every day, people from different parts of the country receive his blessings and gain wisdom from his pragmatic discourses.
Vishwa Jagriti Mission is a social and cultural organization engaged in reviving the spiritual and cultural richness of India. His Holiness Sudhanshuji Maharaj is the Patron-in-Chief and founder of the mission. Activities of the mission are conducted by an elected board of trustees. It is registered as a social, cultural, and religious society in Delhi, India.
Shri Sudhanshuji established the "Vishwa Jagriti Mission" on March 24, 1991. His Holiness founded the mission to ensure human devotion to God and to grace the world with the sacred heritage of Indian sages. The mission is based on the golden principles of service, devotion, contentment, meditation, co-operation, dedication, tolerance and sympathy. With the inspiration of Swami Sadanand and Swami Muktanand, meditation, yoga, and devotional prayers were included in the curriculum of the Mission.
As of 2012, Vishwa Jagriti Mission is a 21 year old organization. There are millions of devotees of the mission worldwide who keep faith in the religious leadership of His Divine Grace Sudhanshuji Maharaj. People flock in millions to listen to Him and the other millions listen to Him through electronic media. The Mission has 65 branches and 22 Ashrams in India and Abroad.
His Holiness Sudhanshuji Maharaj was born on 2nd May 1955 in Himalayan valleys of Saharanpur district of Uttar Pradesh, India. The child christened 'Yashpal', by his devout parents, later to be known as Sudhanshuji Maharaj, grew up amidst the lap of Mother Nature with the heart of a profound seeker. He would sit for hours in solitude chanting the holy name of the Lord. From the passive depths of pensive contemplation developed a personality that was young, zealous, and was impregnated with divine wisdom.
After the 'light of realization' dawned upon him, he felt the urge to explore the cultural and spiritual richness of India. He travelled across the length and breadth of the country to find the culture even more fascinating than he had ever thought. It seemed like a divine call for him to spread the spell-binding depth of Indian spiritual thought to every corner of the world.
And from his vision to enrich mankind with the pearls of India's great spiritual heritage, Vishwa Jagriti Mission was born on March 24 1991. He has meticulously explored the intricacies of the Vedas, Upanishads, Bhagwat Gita, and Puranas. His Holiness has a serene innerness, which is concealed behind his pleasing and cheerful demeanor. His compassion is not only restricted to humans but also to every part of nature which provide him immense pleasure. The soft whisper of the gentle air, the chirping of birds and the humble submission of a little pet inspire him to create great musical and philosophical compositions.
His love for books and knowledge are evident from his profound and meticulous research on every aspect. His knowledge of Sanskrit and the ancient Vedic sciences provide him the authority to explore and rediscover the weaning spiritual thought of India. The most striking aspect of his personality is his marvelous 'gift of the gab' as His Holiness possesses the uncanny ability to establish an instant relationship with the listener. His discourses attended by thousands seem to address individual problems and questions with great ease.
Chicago's visit of his Holiness Sudhanshu ji Maharaj & his daughter Archika Ji at various venues in Chicago land impacted and indelible memories for ever.
In the entire planning the prominent role played by devotees namely Praveen Verma, Vijay Verma, Dr. Sudhir Kumar & Dr. Seema Kumar, Hari Ji & Amita Gupta, Krishna & Meghna Banal and all the devotees. Anju lal played a great role of being anchor for all the programs & they need to be acknowledged.
The program during his visits to different venues meticulously planned to elevate the standard and to match the spiritual server.
Photographs and Press release by: Asian Media USA
Suresh Bodiwala
Chairman
Asian Media USA
Bus: (847) 679-8583
Fax: (847) 679-5336
Cell: (847)420-4789
sbodiwala@sbcglobal.net
Copyrights (c) 2010 – Asian Media USA
No one shall download or otherwise duplicate the graphics, images, press release and written content from the PDF without our express written permission. Likewise, no one shall reuse the aforesaid things, as the same are the intellectual property of the Company, we hereby reserve all rights
Disclaimer: – Asian Media USA
"The information in this e-mail and any attachments is confidential and may be legally privileged. It is intended solely for the addressee or addressees. If you are not an intended recipient, please delete the message and any attachments and notify the sender of misdelivery. Any use or disclosure of the contents of either is unauthorized and may be unlawful. All liability for viruses is excluded to the fullest extent permitted by law. Any views expressed in this message are those of the individual sender, except where the sender states them, with requisite authority, to be those of the Asian Media USA