Thousands gather for Sikh temple shooting memorial in Wisconsin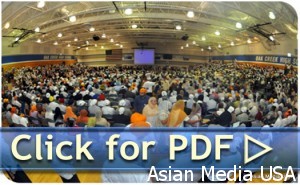 Chicago IL: On Sunday, August 5, a lone gunman and home grown terrorist Wade Michael Page, 40 who was neo-Nazi allegedly shot six Worshiper at a Gurudwara in south of Milwaukee. Page's downward spiral ended when he shot himself after a shoot-out with police. Dead were five men and one woman, Sita Singh, 41; Ranjit Singh, 49; Prakash Singh, 39; Paramjit Kaur, 41; Suveg Singh,84; and Satwant Singh Kaleka, 65, the temple's president. This massacre happened just after about three weeks following killing of scores of victims by another lone gunman in a movie theater in Colorado. In this killing spree victim included a 6 yrs. old girl.
Somber, tearful mourners, most wearing scarves on their heads in the Sikh tradition, greeted victims' family members with tears and hugs at the Oak Creek High School gymnasium. Family members stood near the six wooden caskets that were each draped with a white cloth. The caskets were lined up under the gym's basketball net, below a huge screen that flashed images of the victims whose stories were told in this interactive vedio Behind each casket was a large portrait of the victim adorned with flowers.
About 5000 mourners attended the memorial service. The long line of people to get into the gym stretched around the high school reaching into the parking lot to pay homage to six worshipers who were killed.
"To day we are all Sikh" said the United State Attorney General Mr. Eric H. Holder Jr. who along with delegation and personal representatives from President Obama paid homage to the victims. "This week our friends and neighbors in the Sikh community have shown us the best way to respond is with love and not hate," "Today we mourn with you, we pray with you, we support you, "said Scott Walker, Governor of Wisconsin who was among the local government officials. Sikh religious leaders and representatives of the victims' families also gave tribute during the service. One of the most in-depth, passionate and memorable speech was given by Indian Ambassador to the United States Nirupama Rao. She grieve with the families of the victims of the worst massacre of Sikhs in US history. The permeating theme she kept hearing, she said, was that this atrocity by white supremacist Wade Michael Page, 41, was an aberration, and should in no way define the community's relations with the American people. besides meeting with the families of the victims, Rao also met with the city's Mayor Steve Scaffidi, Chief of Police John Edwards, and Teresa Carlson, the Federal Bureau of Investigation special agent in charge, who briefed her on the investigation into the shooting and assured about the security measures that would be put in place.
The ambassador, of the Indian Embassy said, 'conveyed her appreciation for the prompt action by Oak Creek police and the heroic role of Lieutenant Brian Murphy who was shot several times by the assailant…. The ambassador also raised the concern of the families for early release of the bodies of the victims.' August 7 evening, Rao also addressed a large gathering at National Night Out, where a vigil and a memorial service was conducted. Wisconsin Governor Scott Walker was present at the vigil, held on the grounds of the Oak Creek Community Center. Rao further asserted, 'Just as President Obama said in his message of condolence that the Sikhs are so much a vibrant part of the fabric of your country, similarly in India, they are so much an intrinsic part of our lives in India. We've had, yes, in the 1980s, there were certain happenings certain incidents and a sequence of events that caused troubled relations with the Sikhs. But, we are over that now there's been a process of healing and a process of coming together once again, and that is really the story of India.
Also present were large community of Sikh from overseas especially from Canada, and U. K. Many came from Midwest and rest of the U. S. Also in attendance were friends, and mourners from all walks of life. Just like many others in different part of this country and abroad, Kuldeep Chahal, 35, a Sikh teacher from Toronto, arrived at the temple on Friday with several other people after driving for 12 hours. He brought banners and cards that temple members in Canada had signed for families of the victims. "The reason we came down is because we definitely want to show the community how much we support them," Chahal said.
Prabhjot Singh, co-founder and trustee of the Sikh Coalition, traveled from San Francisco to Oak Creek. He said it was important that so many people showed up for the service. People of all races and ethnic backgrounds filled the gymnasium. "It validates that we are all Americans," Mr. Singh said. "Hate and the killer were not successful. This maniac wanted to divide and completely opposite happened. We have come together. "
Anti-defamation league and others have warned of rising threat, but "it is very difficult for police to prevent a lone offender from going out and committing a shooting spree" said Pitcavage of ADL.
Indian Community reaction:
The community bleeds, mourns, prays and stands together in solidarity, after the tragic loss of innocent Sikhs members six days ago at the Oak Creek Gurudwara, in Wisconsin. Members of the community expressed their heartfelt thoughts and sentiments on this tragic incident. Ajit Singh, General Secretary of the Gurudwara at Crown Point, IN expressed his dismay over the killings by a coward and a crazy white supremacist. He said that it was not a random act of violence by a madman but it was a hate crime pre-meditated by Page.
Ajit Singh organized a candle light vigil at the Gurudwara on Aug 7, 2012 where many elected officials of Indiana expressed their sorrow and solidarity with the Sikh community. The Gurudwara committee will be taking the decision soon to install security cameras in their facility.
Balwinder Kaur, a regular attendee at Crown Point Gurudwara said "it is not an attack against Sikhs. It is a violation of human rights of Freedom to live and express and pray as desired." In her view she doesn't understand why people can't see beyond the beard and the turban. Sikh religion is a religion of peace. Sikhs honor one God, focus on humility and service to others and view all people as equals, as there are many paths to the same God. Though she expressed her concern over security and condemned hate crimes, she herself is a victim of violent crime, and these senseless killings leave many families devastated. She proclaimed that Satwant S Kaleka gave his life to save others as he was holding and fighting with the gunman and trying to take him down. Kaleka kept the spirit and martyrdom tradition of Sikhism. She wondered as Page was on watch list and on radar for more than 10 years, why he was let loose and allowed to roam armed in the community.
Balwinder Singh, President of Gurudwara Sahib at Devon Ave, Chicago organized a prayer in their congregation on Aug 8 where people from various faiths assembled and expressed their solidarity and shock. Jan Schakowsky, US Congress Woman, Ira and Debra Silverstein, Joe Moore, Larry Shefani, Iftekhar Shareef, Sher Rajput, Babu Patel, Sewa Singh and other elected officials were present. The condolence messages from the office of Mayor of Chicago and Nancy Pelosi were read. Balwinder Singh stated this tragedy as an isolated crime, but expressed his satisfaction because Chicago Police squad cars have been guarding the Gurudwara on prayer days as a precautionary measure. Balwinder Singh emphasized although the killing have been traumatic, Sikhs being a warrior community and peace loving, will overcome the sorrow and stand together in solidarity. He proclaimed that Sikh religion is an open door religion and they have no near future plans to install heavy security gadgets. He thanked all the elected officials and community members for their support. Jan Schakowsky, congress woman informed the congregation that FBI doesn't have any specific data on hate crimes against the Sikhs in America. More 90 senators signed a memorandum to make an act and have a clear report and data on crimes against Sikhs.
Suresh Bodiwala Chairman of Asian Media had the opportunity to conduct an interview regarding the attack which took place at the Sikh Gurdwara in Oak Tree, WI, last Sunday, August 05, 2012. He spoke with prominent community leader and CEO of Lake Land Dental Center, Dr. Harjinder Khaira, DMD who expressed his deepest condolences to all the Sikh brothers and sisters in Oak Creek, Wisconsin. He offered his prayers to the families and friends of the diseased, and prayed to God Almighty for the departed souls to rest them in peace. He commended the bravery and heroism of the members of the congregation and the Oak Creek Emergency Responders. "Incidents like the attack on the Gurdwara are very tragic, especially when it happens in a place of worship. This is a senseless Act of violence targeted at a religious place, he said.
Although the shooter has been identified, the motive is yet to be determined,and authorities are investigating the possibility of a hate crime as well as domestic terrorism. Since 9-11, several incidents have occurred in which the Sikhs were targeted across the nation. During past one year itself, two Sikh men in Sacramento were brutally murdered, a Gurdwara in Michigan was vandalized, a Sikh man was severely bashed in New York, and now this dastardly act was committed. The initial reports indicate that it seems to be a hate-crime and must be stopped. USA is Nation committed to freedom and liberty: freedom of expression and liberty to practice religion of our choice are two fundamental rights of US Citizens.
The Sikh community across the US demands that the Obama administration take some concrete steps to curb this kind of domestic terrorism against Sikhs who were mistaken for Afghani and the Talibani Muslims, because of their appearance and dress code. We are proud to say that the Sikh Community in USA has been very enterprising, highly educated, honest, hard-working, peaceful and has contributed a lot to enrich the values of this country as enshrined in the US Constitution.
It is crucial that the Department of Justice, through the FBI collect and provide more detailed statistics on incidents against the Sikhs so that policymakers and law enforcement authorities are better equipped to combat hate crimes.
It is a matter of shame that in the most developed, educated and prosperous nation in the world such gruesome incidents have been occurring at regular intervals. It is high time that the laws allowing possession of dangerous weapons must be amended. US lawmakers must restrict an individual to legally buy so many weapons and ammunition. We urge all law enforcement authorities to take appropriate steps to ensure the protection and safety of all Sikhs in USA.
We would like to recognize the heroic acts of two Oak Creek police officers, Sam Lenda who shot Wade Michael Page in the stomach and Lt. Brian Murphy, who was injured in the line of duty trying to stop Wade Michael Page from committing the massacre.
God bless all the innocent victims. We strongly urge everybody to donate funds to assist the victim's families. The following websites are accepting donations.
We Are Sikhs donation website
wearesikhs.com
Support the Milwaukee Shooting Victims website
indiegogo.com/Milwaukee-Sikh
Photographs and Press release by: Asian Media USA
Suresh Bodiwala
Chairman
Asian Media USA
Bus: (847) 679-8583
Fax: (847) 679-5336
Cell: (847)420-4789
sbodiwala@sbcglobal.net
Copyrights (c) 2010 – Asian Media USA
No one shall download or otherwise duplicate the graphics, images, press release and written content from the PDF without our express written permission. Likewise, no one shall reuse the aforesaid things, as the same are the intellectual property of the Company, we hereby reserve all rights
Disclaimer: – Asian Media USA
"The information in this e-mail and any attachments is confidential and may be legally privileged. It is intended solely for the addressee or addressees. If you are not an intended recipient, please delete the message and any attachments and notify the sender of misdelivery. Any use or disclosure of the contents of either is unauthorized and may be unlawful. All liability for viruses is excluded to the fullest extent permitted by law. Any views expressed in this message are those of the individual sender, except where the sender states them, with requisite authority, to be those of the Asian Media USA