A Colorful Enchanting Teeyan Da Mela organized by Punjabi Americans Organization, Chicago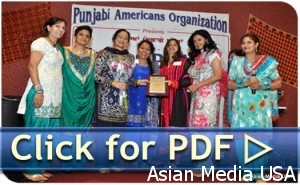 Chicago IL: Punjabi American Organization organized a very entertaining event "Teeyan Da Mela Family Style" on Sunday, August 05, 2012 at India House, 1521, Schaumburg Rd. IL 60194. More than 500 families attended this event from Wisconsin, Indiana, and Michigan. The event hall was packed with family members, Gents, Ladies and Children dressed in colorful Indian clothes. This was their 8th 'Teeyan Da Mela".
Punjabi Americans Organization aims to promote unity and progress of all Punjabi Indian-Americans. To promote cultural and religious values to their children and make the mainstream aware of their rich cultural heritage, to serve the community through seminars, discussions, forums and to address various issues faced by the different generations collectively. Main purpose of organizing this type of event is to expose women by bringing them out to the outside world from their routine house hold work, offer an opportunity to meet with the community and pass time with amusement and joy, wearing dresses of their choices. It is a great festival in the Punjabi Culture that exists for the young married woman who go to their maiden homes and go on the swings, buy new clothes and go to the festival. Families from Chicago land, Indiana, Milwaukee and Illinois attended in large number and enjoyed immensely.
Organizers of this event decorated the event hall with Punjabi dupattas, saris, and other traditional Punjabi dresses as well as with colorful clothes, flowers, and garlands. It appeared like a rainbow spread across everywhere in the event hall. Various traditional Punjabi music instruments at the entrance presented a view of traditional Punjab back home. The gathering of huge crowds around the stalls of henna, bangles, facial makeup, and Indian dresses really gave the feeling of traditional Indian fair. As soon as attendees entered the event hall, the decorated swing caught the eyes of every one and reminded them of their beautiful past. There were different stalls for Mehndi, Jewelery, Gift Items, Punjabi Suits and Kurtis in addition to Gidha, Dholki, Singing and Dancing with live DJ. Delicious Indian snacks were served with hot tea for event attendees. Event attendees also enjoyed a delicious gourmet lunch at this event.
On behalf of Organizing Committee, Ms. Minni Multani and Ms. Sukhi Singh welcomed the audience and thanked all the sponsors for their generous donations. Neha Singh a young girl of only 17 took over as MC at the beginning portion of the event and she handled it nicely without any stage fright. The event started with the traditional Open Dholki where the audience came up to the stage to participate in singing Punjabi Songs. Thereafter the program went on to present other cultural performances such a dance from the Manhani Girls from Indiana and a solo dance performed by 23-year-old Navroop.
Then Pamy Gill took charge of MC in promising manner. there were songs sung by Mrs. Pooja Daliwa from Indiana. It followed dance from Sujata Garg and Dipti Gupta. Then followed a beautiful dance from girls of Lasyette De Shan Group.
Then Pammi Gill took charge as MC in a promising manner. There were songs sung by Mrs. Pooja Daliwal from Milwaukee. It was then followed by a dance by Dr. Sujata Garg and Dr.Dipti Gupta. Then followed a beautiful dance by the girls of Lafayette De Shaan Group, a group from Indiana. There was also a Gidha performance by the Kudiyaan Punjab Deeyan, a gidha group by girls between ages 7 to 13.
Then there was a song by Kanchan Ji M.B.A. who has been engaged in research and manufacturing of automated External Defibrillator, a life saving device, which is portable, easy to use and now available for home and professional use. She said in her interview that she is engaged in this business with a mission to help those who suffer from Sudden Cardiac Arrest, as she could not save her own mother in the past because it was not available. She is the CEO of General Medical Devices Inc. This was followed by Gidha by Kudeeya Punjabi Diyan.
There was a live show by Satwinder Bitti and she performed beautifully along with Tarique Khan, as the Sound Engineer, Ajay Randhawa on the Key Board 1,and Narinder Kumar on Key Board 2, Bitto Devgan on Electronic Drums, Sherlock on Dhol and Gopal on Tabla. Satwinder Bitti who is known as the premier female artist who has worked with numerous artists including Safri Boys, Bally Sagoo and Bhupinder Babbal amongst others. At the climax of this event, all ladies and girls who attended "Teeyan Da Mela" performed "Gidha" and dance was a truly enjoyed by everyone.
Proceedings of 'Teeyan Da Mela' were going on in full swing, when suddenly the news of the attack by a white gunmen at the Gurdwara in Wisconsin began to spread and the tempo of the event quickly perished and was only continued for the purpose of finishing the event. They immmediately cancelled the award function where they were going to give awards to various personalities. A moment of silence was observed as well and the event was concluded about two hours early.
Asian Media USA (Suresh Bodiwala Chairman, Dr. Chandrakant Modi President and Jyotikumar Chokshi Chairman President Editor) offer their deepest condolences to all Sikh sisters and brothers in Oak Creek, Wisconsin. With our common heritage and history, American Sikhs and Hindus share a unique bond unlike any other two religious communities. We pray that the souls of the deceased find peace. We commend the bravery and heroism of the members of the congregation and the Oak Creek first responders. Our thoughts and prayers are with the injured and the families of all the victims, and we hold our hands out to our sisters and brothers in their time of need. We are enormously saddened by this incidence in which six persons were killed. It is really a brutal attack on innocent people. We condemn the attack on the Gurdwara. Incidents like this are very tragic, especially when it happens in a place of worship. This is a senseless Act of violence targeting a religious place of worship.
Vendors
Khazana: 659 N. Case Ave., Westmont, IL 60559 ph.630-655-2220 and 630-915-9667 Store Closing Designer Sarees, Latest suit collections, Stylish Kurtis, Bridal Lenghas, Ethnic and Contemporary 22K Jewelry & 18 K Diamond Jewelry.
Mehndi(henna) Art: Shamima Patel- ph.; 630-830-3335 and 630-456-8302; Hnover Park IL 60133
Bridal Mehndi Packages for Mehndi Parties Temp. Henna Tattoos and all other occasions
Bombay Jewelry.Com: Pammi Vohra and Satish Vohra; Ph. 847-836-2683 email; ;
Jhas family has had a similar retail business in India for 40 years, so opening up shop here was natural. The Jhas teamed up with Indian friends Dipti and Hitesh Shah to open the Shaumburg store, which has been in business for three years. The owners plan to expand both in the suburbs and the city.
"One of my best customers is an American," Priti Jha says. "She prefers the sets and says it makes it easier to match." Jha adds that American customers also like bangles – bright bracelets that are worn by the wrist full, and that the long, jeweled earrings are popular. She's quick to point out how many of the Indian fashions have become trends in American dressing.
The boutique carries mostly women's party clothing from Juniors to plus sizes, but has a selection for children and a corner of traditional menswear. There's a large selection of 1 grm. gold plated jewelry and "bindi" decals behind the counter.
Dealers in Exclusive Imitation Jewelry: Kundan Jewelry, Polki Sets, Jhumar Bangles, Chandellier Earrings, Bridal Collections and much more
Bombay Boutique: Priti Jha; 1955 Brookside Lane, Hoffman Estates IL60169 e mail;
Jasbir Suga of Suga Builders, attended as the "Chief Guest" of this event.
The Golden sponsors of this event were Suga Builders-Jasmeet and Jasbir Suga, Prabhjot and Manjinder Bhambra, Amrita and Paul Dandona, Pan-Ocean Eng. Co. Inc.- Minni and Gulzar Multani,
The Silver Sponsors of this event were: Farmers Insurance-Amardeep S. Lamba, Alpine Cleaning Equipment-Ruby Kular, Remax Showcase- Jesse Singh
Sponsors: General Medical Devices,Inc.-Ms. Kay K. Lal, Nitu and Balwinder (Nick) Singh Gilijian, Kalsi Construction- Balwinder and Bhajan S. Kalsi, Ocean Mist Trucking- Navjot and Jatinder Kaler, Punjabi sports Club of Chicago, Punjabi Sports Club of Midwest, Sant Baba Premsingh Cultural Soc. Indiana youth club, Kamal and Baljit sidhu, Balwinder and Gurbachan Pappu, Indiana, Dilip Patel, Nick Gakhal.
Board of Directors of Punjabi Americans Organization: Chair Person- Jasbir Suga, Managing Director-Gulzar S. Multani, President: Jagmeet Singh, Vice President: Sukhwinder S. Hunjan, Executive Secretary: Savi Singh, Finance Secretary: Devinder Singh;Event Planning Director: Naiha Walia; Youth Affair Director: Sonia Kular, Media Director: Indermohan Singh; Public Relation Director: Jeevanjeet Kahlon and Jagmeet S. Mann; Interstate Director: Kuldeep S. Tanda; Cultural Affairs Director: Harman Singh and Rahul Gill and Board Members: Jaswinder S. Dhillon, Sat Verma, Harkirat singh, Sonia Kular, Navjot Bajwa, Harvinder Singh, Paul Dandona, Vandana Walia Sukhi Singh; Pinki Walia; Minni Multani; Naina Singh; Amrita Dandona; Jasmeet Suga; Kamal Hunjan
Photographs and Press release by: Asian Media USA
Suresh Bodiwala
Chairman
Asian Media USA
Bus: (847) 679-8583
Fax: (847) 679-5336
Cell: (847)420-4789
sbodiwala@sbcglobal.net
Copyrights (c) 2010 – Asian Media USA
No one shall download or otherwise duplicate the graphics, images, press release and written content from the PDF without our express written permission. Likewise, no one shall reuse the aforesaid things, as the same are the intellectual property of the Company, we hereby reserve all rights
Disclaimer: – Asian Media USA
"The information in this e-mail and any attachments is confidential and may be legally privileged. It is intended solely for the addressee or addressees. If you are not an intended recipient, please delete the message and any attachments and notify the sender of misdelivery. Any use or disclosure of the contents of either is unauthorized and may be unlawful. All liability for viruses is excluded to the fullest extent permitted by law. Any views expressed in this message are those of the individual sender, except where the sender states them, with requisite authority, to be those of the Asian Media USA