Legend Gurdas Maan, Enormous and all Natural, Rocks Chicago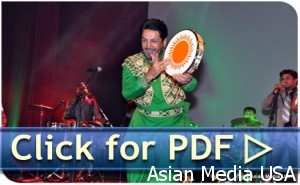 Chicago IL: Award-winning Punjabi music icon and actor Gurdas Maan, considered one of the most notable figures in the world of Punjabi music, performed in Chicago on 21st July 2012, Saturday at Copernicus Center 5216 W Lawrence Ave, Chicago, IL 60630. 'Live2u' presented the concert. Gurdas Maan, known to be the legend of Punjabi Folk music and Bhangra wooed the audience with his versatility. His rendition ranging from the foot tapping Bhangra to the serenading Punjab folk songs was indeed a musical delight for Chicago audiences.
Live2u is an Entertainment Power house Specializing and Conceptualizing Live Shows, Concerts and Plays in USA and Canada featuring the most sought after Celebrities in the Indian and Pakistani Entertainment Circuit. A group of Young Enthusiastic personalities came together with over a decade of experience in providing World Class Quality Entertainment to Community comprising of Karl Karla and his team.
With international hits like Dil Da Mamala and Apna Punjab Hove, and numerous successful albums to date, there is no question that Gurdas Maan is one of the most-respected and talented Punjabi music icons of all time. Having toured the globe and entertained audiences with his lively performances, Gurdas has taken Bhangra music from a regional level to an international stage with his own inimitable style.
Punjabi singer Gurdas Maan 55-year-old legend, plans to belt out songs from his new album "Roti" during his US tour that started on Saturday in Chicago. "I can never sing my old songs. They come as a special demand from my fans. In fact, a lot of time I don't get a chance to sing anything new because my listeners love my old tracks a lot. But I have prepared a new album 'Roti' and I will sing some of the new tracks of the album," Maan said in a statement. He exactly did that.
It was a rare opportunity to witness the liveliest show full of Vigor and Energy. He presented array of songs, of course Punjabi but it was easy to understand by any layman and enjoy it. Audience was on galore throughout the presentation on subjects interwoven with life, in such a beautiful manner that he made the whole atmosphere throbbing action packed crowd pleasing action of more than 1500. His songs were reminder of real live Punjabi stance making the stage and theater. Gurdas Maan touched realistic aspects like, cycle, love, marriage etc. in his own unique style, Throughout the songs, dance, music and laughter, light system was praise worthy and really making the performance more lively adding colors. Occasionally glimpses of his Bollywood songs also were released in fine manner.
Global superstar Gurdas Maan, known for giving Punjabi Music a face, has received numerous awards and honors for his contribution to Punjabi Music and Indian Entertainment Industry. Now Mr. Maan will be honored with a Doctorate in World Music from The University of Wolverhampton on 7th September 2010, in United Kingdom, thus adding yet another feather to the cap of the man who is known as the Institution of Music by the
Punjabis, all around the World.
Mr. Maan will now be amongst those few artists in the world that have had the privilege of being worthy of a Doctorate in Music. Others include Sir Paul McCartney, Bill Cosby and Bob Dylan. "I am both touched and thankful for this recognition and I will continue entertaining my audience like always." says the legendary singer.
After tonight performance in Chicago he will perform in Cleveland July 22; Bakersfield July 28; Fresno July 29; Sacramento Aug 4; Salem on Aug 5; San Francisco Aug 11; Houston Aug 12; Washington DC Aug 17; and finally New that will witness the finale Aug 18. Mann, known for giving Punjabi Music a global face, started his career with his hit number "Dil da maamla hai" in 1981 and there was no looking back. He gave hits like " Akhiyaan udeek dian" and " Chaklo chaklo". These are some of the sponsor organizations that helped concert more pleasant and successful. Dr. Harjinder Kheda thanked all those helped making this successful which include Puransinghji, Alum Hassan, Happy ali, Combined All, Punjab Times Radio Chan Pardesi, Jasbir Suga, CEO Suga Builders & Construction Inc., American Business rokerage, Inc. and Stacy L, Punjabi Dhabha 2525, Desiclub Helped
Gurdas Maan Profile
Gurdas Maan a Sikh was born on 4th January, 1957 in Giddarbaha, Muktsar District, Punjab, India. His song "Dil Da Mamala Hai" brought him to national attention in India in 1980. He has recorded over 34 albums. Gurdas Maan was formally educated in Malout. After completing his education, he with his parents moved him to Patiala for further studies. He joined the N.I.S and gained a Masters Degree in Physical Education.
He took part in singing, acting athletic events and won medals including a bronze at the National Championship. He is also a black belt in Judo. He competed in many stage play and was seen by a producer of a Jalandhar TV station, who then approached him for a TV recording of his song, which Gurdas reluctantly agreed to. When the song was aired on December 31, 1980 it stormed the nation and Gurdas Maan became a household name. The overwhelming success of the song grabbed the attention of HMV who wanted to record the song and from this came his first album in 1982.
He has produced over 34 albums and has written over 250 songs. He also wrote and directed TV programs like POP Time for Doordarshan Delhi. As a solo performer Gurdas Maan started his career as a solo artist. He has toured the globe and charmed audiences with his versatile performances.
Singer, Songwriter, Choreographer, and actor, Gurdas Maan is often credited with raising Punjabi folk music from a regional level mostly in the Punjab to gain international recognition. His album Apna Punjab won Best Album at the 1998 Asian Pop and Media Awards held in Birmingham. Maan won Best Song for the title track and Best International Artist the same year. In addition to these awards, Maan more recently won three music awards of Best Lyrics ("Kudiye"), Best Song ("Heer"), as well as Best Singer of the Year at the ETC Channel Punjabi Music Awards on 6 March 2005. Maan performed at the Royal Albert Hall for two nights in April 2011 as part of his UK tour. This was the first time Maan performed at the Royal Albert Hall, an opportunity that very few artists come across. On other fronts, Maan has starred in blockbuster Bollywood films and has received numerous awards, including the Jury's Award, presented to him by the president of India in 2005.
In 2009 he won "Best International Album" at the UK Asian Music Awards for Boot Polishan. In 2007 he won the National Award for Best Male playback singer for his songs titled "Couplets of Heer" for the movie Waris Shah – Ishq da Waris. In 2011 PTC Punjabi Film Awards, He won Critics Award for Best Actor in a Movie Sukhmani. Gurdas Maan is best known as an actor for his performances in two films: Waris Shah-Ishq Da Waaris (2006), which was nominated as India's selection for the Academy Awards, and Shaheed-E-Mohabbat (1999), the film which tells the real-life story of Boota Singh. Gurdas appeared in the hit film Shaheed Udham Singh (2000), in which he played the role of Bhagat Singh. He made a special appearance in Veer-Zaara with Shahrukh Khan and Preity Zinta.
As a singer Maan has worked with legendary music directors such as Laxmikant Pyarelal, Bappi Lahiri, Anu Malik, Nadeem Sharvan, Amar Haidipur, Charanjeet Ahuja, and Jaswant Bhanyra.
He starred alongside Juhi Chawla in the epi Des Hoyaa Pardes (2004), an emotional film illustrating the tragedies faced by the people of Punjab in the 1980s. He adopted the role of a son of a well-respected Jatt (bilingual separatist) Gurdev Singh Somal. He falls in love with a high-ranking police officer's daughter. Before the wedding, the father was murdered by separatists. This tale soon twists in to the inevitable demise of Gurshaan (Gurdas Maan). This movie was based on actual events. Aside from singing in Punjabi, he is fluent in Hindi, Bengali, Tamil, Haryanvi and Rajasthani languages.
Photographs and Press release by: Asian Media USA
Suresh Bodiwala
Chairman
Asian Media USA
Bus: (847) 679-8583
Fax: (847) 679-5336
Cell: (847)420-4789
sbodiwala@sbcglobal.net
Copyrights (c) 2010 – Asian Media USA
No one shall download or otherwise duplicate the graphics, images, press release and written content from the PDF without our express written permission. Likewise, no one shall reuse the aforesaid things, as the same are the intellectual property of the Company, we hereby reserve all rights
Disclaimer: – Asian Media USA
"The information in this e-mail and any attachments is confidential and may be legally privileged. It is intended solely for the addressee or addressees. If you are not an intended recipient, please delete the message and any attachments and notify the sender of misdelivery. Any use or disclosure of the contents of either is unauthorized and may be unlawful. All liability for viruses is excluded to the fullest extent permitted by law. Any views expressed in this message are those of the individual sender, except where the sender states them, with requisite authority, to be those of the Asian Media USA