Soham Dance Space celebrates 5th Anniversary at Spectacular Spring Fest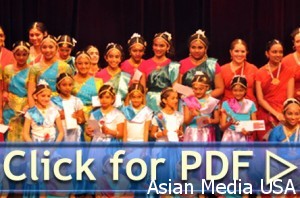 Chicago IL: Soham Dance Space, an Indian dance studio on a pioneering mission, hosted Spring Fest, a Launch Pad Event featuring an Open House and Performance at the Vittum Theater in Noble Square, 1012, N Noble Street, Chicago IL between 1-00 pm to 6-00 pm on Sunday, May 5, 22012. Spring Fest seeks to expound on the unique vision of Soham Dance Space and invites art supporters to join the cause of launching this Community Arts Endeavor to new heights as it builds toward its 5th Year Anniversary in September and incorporates as a Not-For-Profit Organization.
Anjal Chande is an accomplished dance artist and founder of Soham Dance Space. She has trained herself under Smt. Hema Rajagopalan of Natya Dance Theatre and later studied under renowned gurus of India: Bhagavatula Sri Seetharma Sarma of Kalakshetra, Smt. Jayanthi Subramaniam, and Smt. Bragha Bessell. She is an exceptional performer and innovative dance-maker, having performed worldwide and received numerous awards and critical acclaim. As an educator, Anjal wishes to instill in students a curiosity for India's profound culture, a passion for the arts, and the creative capacity to live a dynamic life.
At the open house, attendees could register for Classes, participate in Interactive Stations for Children and Adults, and contribute their ideas for the future of this Organization. The performance spotlight Anjal Chande, Founder and Director of Soham Dance Space, as well as dances by youth and adult students. Other highlights included Tasty Food catered by Curried and Live Music by local artists, Satya Alliance & Desibels A-Cappella comprising of Reema Starr, Neelima Kartha, Ram Natarajan, Amit Vaishampayan, Arjun Venkataswamy, Samarth Bhaskaran. They started their program with National anthem of India and continued with beautiful songs. This was one-of-a-kind chance to witness a creative community on the rise and support art education at large.
Soham Dance Space is a pioneering studio that seeks to uphold the practice, appreciation, and development of Bharatanatyam, a Classical Indian Dance form, in the diverse locality of Chicago. Founded by Dance Artist Anjal Chande, a 2nd-generation Indian-American Bharatanatyam Practitioner and Passionate Advocate for arts education, Soham Dance Space is dedicated to nurturing culture, creativity, and well-being. Offering a long-term curriculum for children as well as an inviting forum for adults, Soham Dance Space aims to meaningfully engage a broader community with this art through educational and artistic initiatives.
Program Schedule:
Student Recital: Ganesh Stotram
Pushpanjali
Genie Albina, Tina Lulla and Ruella Rouf
Namaskaram
Cecilia Berkey, Tara Cochrane, Tara Madhavan, Anokha Nathan, Vandana Patel, Asha San Juan and Sophia Srivastava
Nrittanjali I
Tara Duggal, Meera Duggal,Diva Harsoor, Rhea Harsoor, Pravalika Lingareddygari, Avanti Ravanam
Nrittanjali II
Leela Chaloemtiarana, Mehr Chug, Samrutha Kamatala, Asha Lee, Arya Prachand, Aasha Puri, Kaavya Shriram, Shayla Thambi
Alarippu Thishram
Anjali Prachand, Ashna Satpathy, Isha Sharma,
Jathiswaram
Stephanie Carl, Ritu Jain, Mili Joseph, Angela Papa, Shana Price and Sini Ramanandan
Shabdam
Nikitha Gade, Deepthi Gajjela, Nikita Menta, Rupa Palla and Ashley Polachira
Kavuttwam
Deepti Mangla, Rajni Parthasarathy and Sonya Sachdeva
Alarippu— Misrachapu
Nikitha Gade, Deepthi Gajjela, Nikita Menta, Rupa Palla and Ashley Polachira
Thillana
Savitha Chelladurai, Lynn Jerath and Sangeetha Nadarajah
Performance by Anjal Chande
Presentation of Certificates to all participants
About the Art Form: Bharatanatyam is a Classical Dance Form of India that uses Geometric Movement, Rhythmic Footwork, Codified Hand Gestures, and Subtle Facial Expressions to create vibrant dances and tell colorful stories. It is rooted in a movement and expressional technique that serves to bring about Rasa, a shared uplifting emotion experienced by both the Performer and Audience. At once Traditional and Contemporary, Bharatanatyam's tremendously rich vocabulary lends itself to infinite applications.
About Desibels
Desibels is a vocal performance group that draws inspiration from both South Asian and Western approaches to music. The group was founded by Amit Vaishampayan in Fall 2011, through a desire to extend the vibrant South Asian A cappella scene past its collegiate roots. All the members are young professionals of South Asian origin who are deeply passionate about music. The group includes classically trained Hindustani, Carnatic and Western musicians, with each member averaging two decades of experience in their respective areas.
If you are interested in booking Desibels for a performance, please contact Amit Vaishampayan at vaishampayana@gmail.com
About Soham Dance Space: Soham Dance Space is a center for Indian dance in Chicago, Willowbrook, and Palos Park, offering Adults and Children instruction in the classical form of Bharatanatyam. Soham Dance Space is dedicated to promoting 1) Arts education, 2) Innovative performances exploring contemporary applications of Bharatanatyam dance, & 3) A Broadening of the audience base and community that appreciates and supports classical and contemporary Indian dance. More Info: www.sohamdancespace.org/springfest
Upcoming event
This September Soham Dance Space 5th Year Anniversary Celebrations! We will officially have incorporated as a not-for-profit organization by then and will be announcing our board of directors!
Soham Volunteers Team
Deepak Chande, Sujata Chande, Tejal Chande, Savitha Chelladurai, Charmaine Ho, Lynn Jerath, Varun Kaushal, Tina Lulla, Neel Mansukhani, Pooja Merai, Samir Mirza, Ralph Monteath, Sangeetha Nada, Hemali Patel, Suraj Patel, Amit Paul, Avanti Paul, Vidhya Ramasami, Priya Shah, Rutvi Shah, Kylie Springman, Jeannette Srivastava, Shailee Tanna, Ryan Tsang, Mariam Usmani and Sylvia Vadakara
Photographs and Press release by: Asian Media USA
Suresh Bodiwala
Chairman
Asian Media USA
Bus: (847) 679-8583
Fax: (847) 679-5336
Cell: (847)420-4789
sbodiwala@sbcglobal.net
Copyrights (c) 2010 – Asian Media USA
No one shall download or otherwise duplicate the graphics, images, press release and written content from the PDF without our express written permission. Likewise, no one shall reuse the aforesaid things, as the same are the intellectual property of the Company, we hereby reserve all rights
Disclaimer: – Asian Media USA
"The information in this e-mail and any attachments is confidential and may be legally privileged. It is intended solely for the addressee or addressees. If you are not an intended recipient, please delete the message and any attachments and notify the sender of misdelivery. Any use or disclosure of the contents of either is unauthorized and may be unlawful. All liability for viruses is excluded to the fullest extent permitted by law. Any views expressed in this message are those of the individual sender, except where the sender states them, with requisite authority, to be those of the Asian Media USA