Punjabi Heritage Organization Celebrates Vaisakhi with Traditional Punjabi Flavor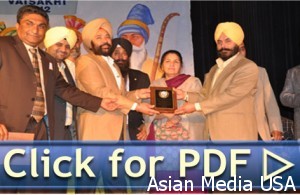 Chicago IL: Punjabi Heritage Organization celebrated "Vaisakhi 2012" highlighting the traditional Punjabi culture. People dressed in Punjabi suits and colorful turbans, and kids wearing colorful costumes added to the grace of this cultural gala, which was held from 5:00 pm onwards on Saturday, April 28 2012 at TAFT High School, 6530 West Bryn Mawr Avenue, Chicago, IL. Kids of all ages and adults participated in this mega cultural event which were highlighted through 22 performances of popular Punjabi dances, Punjabi songs, comedy and ofcourse world famous Bhangra and Gidha. This program was a pure representation of Punjab and Punjabi community in USA with primary focus on keeping up with their traditions, values, heritage and glory. Participants and spectators from all over Midwest attended this cultural gala and enjoyed every bit of it. The entire program was nicely coordinated and the audience of more than 500 enjoyed the whole program until finish.
Vaisakhi also known as Baisakhi, is an ancient harvest festival celebrated across the northern Indian subcontinent, especially in the Punjab region by the Sikh nation as this day commemorates the establishment of the Khalsa. The beginning of the Harvest Season and birth of Khalsa usually 1st. of Vaishakh (Usually 13th April). Since agriculture is the backbone of the Indian sub-continent, it provides livelihood to the majority of people in the rural areas of the country. The festival of harvest is given special importance in the calendar of events. Vaisakhi/Baisakhi is one of the important festivals celebrated with fun and fervor by the people living in the northern parts of the country. Apart from being a harvest festival, it holds religious significance too.
Punjabi Heritage Organization also held a Musical Program "A tribute to Kuldeep Manak" performed by Akashdeep. The program started with an introduction by Teji Minhas, followed by a Religious prayer and later energetic and dynamic performances were presented one after the other receiving thunderous applause. The audiences were mesmerized with the quality and energy level of the talented performers who focused on preserving their roots and traditions abroad.
The program was anchored by Gurmukh Singh Bhullar and Dr. Harjinder Singh Khaira. The entire program was divided in two parts and for the first part, MC was Gurmukh Singh Bhullar and he started with a spirited speech which was in Punjabi. Deafening music beats and rocking performances built the mood at this most waited evening in Chicago. An amalgamation of myriad colors of youthful spirit and breathtaking performance by participants marked 'Vishakhi 2012', the welcome celebration for Vaisakhi (Spring) festival.
Cultural performances of local and Milwaukee participants were presented by Punjabi Youth Club, Milwaukee. Program was dedicated to legendary Punjabi folk singer, Kuldip Manak. Guest singer from California, Akashdeep capped the program with most popular songs of late Kuldip Manak.
The Chief Guest of this year's show were Dr. Navdeep Kaur Sandhu & Harjinder Singh Sandhu of Sandhu Petroleum and Guest of Honor, was Beant Singh Boparai and Grand Sponsors were Rajinder Singh Bains, Dr. Yogi Bhardwaj and Punjabi American Youth Club of Schererville Indiana. PHO Board members honored them with plaques.
Program Order:
1. Shabad: (5 Minutes)
3. Simply Punjabi Kudiyan (Duration 5 minutes)
Directed by: D J Saini, Dilpreet Grewal
Participants: Karina Saini, Supreet Kaur, Jasleen Kaur, Saachi Grewal, Ajooni Grewal, Seerat Dhindsa, Sejal Dhindsa, Devina Sharma, Esha Singh, Sukhmani Bhinder
4. Punjabi Mutiyaaran (Duration 6 minutes)
Directed by: Amrit Thind, Novejot Sandhu
Participants: Tanveer Sandhu, Harmanjit Dhillon, Amanjeet Dhillon, Amrita Anand, Amrit Gakhal, Manpreet Bhalla, Simran Bhalla, Gurpreet Dhaliwal, Anmol Dhaliwal
5. Poem: Vaisakhi (Duration 5 minutes)
Poet: Satinder Singh Susana
6. Song: Gal Tere Matlab Di (Duration 5 minutes)
Singer: Parminder S Multani
7. Song: Chitte Suit Te Daag Pe Gae (Duration 5 minutes)
Singer: Jagmeet
9. Gidday Diyan Raniyan (Duration 9 minutes)
Directed by: Sukhvir Kaur
Participants: Paramjot Dhillon, Arleen Dhillon, Simran Kaur, Sehaj Kaur, Emmanpreet Gill, Prabhjit Clair, Gurinder Clair, Baninder Clair,Rajni Kaur, Baani Kaur
10.Yaarian (Duration 5 minutes)
Directed by: Gurkaran, Jeevan Gill
Participants: Anmol Sandhu, Armaan Sandhu, Irvin Bhathal, Tejbir Kahlon, Gurbir Bhullar, Waris Walia, Sahil Aulakh, Gurpal Kahlon
11. Giddha (Duration 11 minutes)
Directed by: Sukhwinder Kaur & Rajpreet Dhaliwal
Participants: Rajpreet Dhaliwal, Gurpreet Dhaliwal, Anmol Dhaliwal, Sukhvir Dhillon, Paramjot Dhillon, Devina Sharma, Puneet Grewal, Harkirat Kaur, Sonia Lallie, Pooja Lallie, Amrita Thind, Sukhwinder Kaur, Suman, Gia Dhaliwal, Jasmeen K Dhillon
12. PYCM Junior Bhangra (Duration 7 minutes)
Directed by: Prabh Singh, Kanwal Singh (Vicky),
Participant: Prabhdeep, Sundeep, Arsh, Micky, Baljinder, Aayush, Abhijeet, Manpreet
(MC Dr. Harjinder Singh Khaira)
13. The Folk Groove (Duration 4 minutes)
Directed by: Ajay Randhawa
Partcipant: Ajay Singh Randhawa, Bikrum Singh Kahlon, Jorawar Singh Kahlon
14. Song: Dooron Dooron Saanu Tarpande O (Duration 6 minutes)
Singer: Tejinder Minhas
15. Song: Toli (Duration 4 minutes)
Singer: Vicky Singh
Directed & Music by: Ajay Randhawa
16. Song: Tribute to Kuldip Manak
Singer: Akashdeep
17. PYCM Senior Bhagra (Duration 7 minutes)
Directed by: Kanwal Singh (Vicky), Kamal Saini
Participant: Sukhi Singh, Ricky Singh, Parwinder Singh, Ashveer Singh, Peter Callaghan, Kamal Singh, Raja Singh, Navjot Singh, Arunjit Dhillon, Prabhjot Randhawa
18. Nanka Mel (Duration 15 minutes)
Directed by: Sukh Kahlon
Participants: Jaspreet Kaur, Mandeep Kaur, Puneet Kaur, Harleen Kaur, Darshi Kaur, Amrit Kaur, Navjot Kaur, Herman Kaur, Novejot Kaur, Shikha Kaur, Avnit Kaur, Kiren Kaur, Rupy Kaur, Navjeet Singh, Gurpal Singh
19. Depaul University Bhangra (Duration 7 minutes)
Directed by: Irnjyot Sanghera
Participants: Irnjyot Sanghera, Amar Pandya, Andrew Johar, Elizabeth Varghese, Gurveer Raju, Harita Joshi, Prabjot Khera, Sahrish Moyeed, Gagan Multani
20. Milwaukee Giddha (Duration 12 minutes)
Directed by: Beant Virk
Participants:Navaljit Virk, Khushbeen Virk, Amanpreet Sekhon, Harjot Sandhu, Rajwinder Brar, Shelly Bhardwaj, Tandeep Gill, Navpreet Sandhu, Monica Dhaliwal, Jaskarn Kaur, Sukhpinder Sandhu, Ravena Rani, Aleksandra Kubas, Harjot Mahesh, Preet Mahesh
21. PYCM Malwai Gidha (Duration 15 minutes)
Directed by:Kamal Saini, Kanwal Singh (Vicky)
Participant: Sukhi, Parwinder, Kamal, Raja, Navjot, Prabh, Kanwal, Prabhjot, Prabhdeep
22. Akhara: Akashdeep
Singer: Akashdeep
Music by: Narinder Bagga
Vaisakhi -2012 Sponsors
S.Harjinder Singh Sandhu & Dr. Navdeep Kaur Sandhu , Beant Singh Boparai, Rajinder Singh Bains, Nick Gakhal, Balwinder Singh (Choice Carpet), Hardial Singh Deol, Dr. Gurdial Singh Basran, Dr. Hargurmukh Pal Singh, Dr. Sarabjit Singh Bhandal, Davinder Singh Rangi, Harjit Singh Sahi, Sarwan Singh Tiwana, Mandeep Singh Bhura, Yogi Bhardwaj, Jasbir Singh Sahota, Lakhveer Singh Sahota, Dr. Harjinder Singh Khaira, Jaidev Singh Bhathal, Micky Kahlon, Khushminder Singh Cheema, Amritpal Singh Sangha, Satnam Singh Aulakh, P.S. Maan, Parminder Singh Walia, Jagjit Singh Dhindsa, Swarn Singh Sidhu, Swarn Singh Sekhon, Manjit Singh Dhanoa, Ajmer Singh Pannu, Jasbir Singh Suga (Suga Builders), Gian Singh Searha, Jasbir Singh Palia, Harbir Singh Virk, Amar Carpet, R.K. Carpet, Bikram Singh Sidhu, Lally Sidhu (Milwaukee), Ranjit Singh Mudhar, Satinder Singh Susana, Darshan Singh Basraon, Shan Photography, Mohinderjit Singh Rakalla, Universal Accounting, Nilesh Topiwala, Happy Heer, Narinder Singh Sran, Lovedeep Singh Dulat, Santokh Singh D.C., Baldev Singh Gill, Baldev Singh Raju, Gurmukh Singh Bhullar, Satnam Singh Sandhu, Dr. Balwant Singh Hansra, Onkar Singh Lall, Gurcharan Singh Jhaj, Col. Nirmal Singh Singha, Charat Singh Mahal, Satawnt Singh Attal, Bibi Sukhdev Kaur Ghuman, Kuldeep Singh Jhattu, Jatinder Singh Sangha, Lakhwant Singh Komal, Harkirat Singh Sandhu, Himmat Singh Ahuja, Bhupinder Singh Bindra, Narinderpal Singh Marwaha, Bharat Oza, Harwinder Pal Singh Lail, Tarlochan Singh Dhillon, Jatinder Singh Bedi, Shormani Akali Dal (Amritsar).
Supporting Organizations:
Punjabi Youth Club Milwaukee, Punjab Sports Club Midwest, Punjab Sports Club, Sher-E-Punjab Sports & Cultural Club, Punjabi Culture Society Chicago, Punjabi American Organization Chicago, Punjabi American Youth Club-Indiana, Lions Club Chicago
About Punjabi Heritage
Punjabi Culture is the culture of the Punjab region. It is one of the oldest and richest cultures[citation needed] in world history, dating from ancient antiquity to the modern era. The Punjabi Culture is the culture of the Punjabi people who are now distributed throughout the world. The scope, history, sophistication and complexity of the culture are vast. Some of the main areas include, Punjabi Philosophy, poetry, spirituality, education, artistry, music, cuisine, science, technology, military warfare, architecture, traditions, values and history. PHO is a nonprofit community organization dedicated to promote Punjabi Cultural heritage, Sports and Social events. For more information please email us at info@phochicago.org or visit us at www.phochicago.org
Photographs and Press release by: Asian Media USA
Suresh Bodiwala
Chairman
Asian Media USA
Bus: (847) 679-8583
Fax: (847) 679-5336
Cell: (847)420-4789
sbodiwala@sbcglobal.net
Copyrights (c) 2010 – Asian Media USA
No one shall download or otherwise duplicate the graphics, images, press release and written content from the PDF without our express written permission. Likewise, no one shall reuse the aforesaid things, as the same are the intellectual property of the Company, we hereby reserve all rights
Disclaimer: – Asian Media USA
"The information in this e-mail and any attachments is confidential and may be legally privileged. It is intended solely for the addressee or addressees. If you are not an intended recipient, please delete the message and any attachments and notify the sender of misdelivery. Any use or disclosure of the contents of either is unauthorized and may be unlawful. All liability for viruses is excluded to the fullest extent permitted by law. Any views expressed in this message are those of the individual sender, except where the sender states them, with requisite authority, to be those of the Asian Media USA