Hand in Hand USA holds a successful fund raising event in Chicago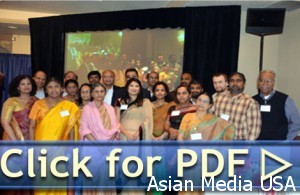 Chicago IL: Hand in Hand USA, a non-profit organization for humanitarian aid celebrated their 10th anniversary with a program that comprised great inspiring speeches along with good entertainment and excellent food. Over 250 people enjoyed this event held at Ramada Inn in Glendale Heights on Saturday, April 28. Entering guests were treated to some delightful hors d'oeuvres after the registration. The program started on time with a prayer song "Jyoth se Jyoth Jalathe Chalo" by Ms Shaila Khedkar followed by introductory remarks by Mr. Puneet Mansharmani, Master of the Ceremony and Smt. Durga Chunduri, President of HIH USA.She gave a brief report about the Organization and their current humanitarian projects in India which are Balashram, Outreach Medical Programs, Health clinics, Disaster Relief and.. so on. It was mentioned that the Balashram in Orissa started with 40 children initially in 2004 and has gradually grown to 360.
Dr. Gopal Lalmalani, mayor of Oak Brook who delivered an inspiring keynote speech and encouraged the guests to give charitably their time and money. He started with an eloquent message, "Give, give and give. One who truly gives – lives," re-instated wisely the privileged message he brought from his Master Dada Vaswani in Pune, India in regards to developing the habit of giving – "How much can one give?" when asked, his master profoundly responded, "Son, you have not given enough till it hurts you a little." Also he quoted an old Chinese proverb that says – if you want to be happy for an hour then take a nap, if you want to be happy for a day then go to a picnic but if you want to be happy for the entire life, then serve others – again stressing the importance and joy of giving.
Dr. Rani Chintam did the main presentation of the evening regarding the organization and the work that is being done in India. Combining facts with great humor, she made sure that the guests were paying attention to her slide show. She said Orissa was chosen for the Balashram because of its low literacy rate, high infant mortality, economic backwardness, and high maternal mortality rate among others which are emblematic of a poverty stricken state. Balashram is a fully functional school for extremely poor and impoverished children in rural Orissa that provides serene and healthy environment for the development of young minds. The ashram is located in Arua, an eastern district of the state. Other projects by Hand in Hand through the channel of Hariharananda Healthcare Centers include permanent health centers and Mobile Clinics in rural Orissa and Bengal, health camps and seminars that make people aware of burning health issues and emergency relief in the form of food, medical support and money in different regions across the globe. The emotional appeal made by Dr. Chintam and the previous speakers must have resonated well with the guests as generous donations started pouring in.
Dr. Chintam's presentation was followed by the children of Ankur parading across the hall, waving the flags of different countries and singing the song "we are the world" by Michel Jackson in the spirit of true international friendship. After the song, the kids chanted the peace mantra – "Om Sarve Bhavantu Sukhinah". Ankur is a Sunday school located in Joliet for children, ages 3 and 14 that foster creativity, capability and talent of each child through life of integrity, service and courage. Ankur kids emptied their kiddy banks as they learn"to serve and share "from early childhood. Students of Hema Rajagopalan of Natya Dance Theatre Ensemble later entertained the guests with brilliant Bharatha Natyam style performances that included "Murugan Kavutuvam, a prayer", "Adavallan, a cosmetic dance in praise of Lord Shiva" and "Brochevarevarura, a devotee singing parises of Lord Rama ". Following the dances, the guests were treated to a scrumptious dinner provided by Priya restaurant of Schaumburg.
The evening came to an end with enchanting Bollywood music provided by Shaila Khedkar of Sur Sangeet who reeled out such all time hit numbers and a few melodies from Hindi movies in a voice reminding of Sur Samragni 'Lata Mangeshkar like "Yeh Sama Hai Pyar ka" from the movie "Jab Jab Phool Khile", "Aei Mere Humsafar" from movie "Qyamat se Qyamat Tak" and "Ruk ja Raath Tehere Jare Chanda" from "Dil ek Mandir" and many more. The entire program was praised by the guests for its admirably high quality and noble cause it represents. Mr. Mihir Dash who proposed vote of thanks praised the volunteers for their stellar coordination and all round help in making the program a huge success that can be gazed through the funds it raised – it was well over $90,000.
About Hand In Hand USA
Hand In Hand USA is a US based 501(3) non-profit humanitarian organization which works with Prajnana Mission in India to support a number of humanitarian projects in rural India and also in other parts of the world. Hand In Hand USA's main focus is to care for the neediest of the needy in terms of Health, Education, Medical outreach and Disaster relief.
The following are some of the main projects:
Balashram: A fully functional residential school for extremely poor and impoverished in rural Orissa, India, that provides a serene and healthy environment for the overall development of young minds. The school admits 40 new students each year and currently has 323 children enrolled. As of this week – we admitted 40 more children totalling 360plus.
Health Care A number of charitable permanent health centers and mobile clinics are operated by HIH USA in rural Orissa and Bengal in India, providing much needed health care to people who least can afford it.
Medical Outreach: Heath camps and seminars are routinely organized in far flung centers making people aware of burning health issues.
Emergency Relief: Reach out during natural catastrophes and provide emergency relief in the form of food, medical support and money in different regions across the globe examples of which include the earthquake in Haiti and Pakistan.
As of today, health and educational projects benefit countless poor in the far flung regions of India and are slowly spreading the activities with generous support to create further amenities for better serving the poor and the underprivileged of this world. Hand In Hand USA organizes fund raising dinner events in many cities within the US, also conducts walk-a-thons and other events to raise funds. HandInHand USA is completely run by volunteers from all walks of life who dedicate their time for the sole purpose of making a positive change and impact in lives of many. HandInHand USA office is located at 710 St. Joseph's drive, Oak Brook, IL 60523. To find out more about HandInHand USA, please visit www.handinhandusa.org or reach at 630 323 2376.
Photographs and Press release by: Asian Media USA
Suresh Bodiwala
Chairman
Asian Media USA
Bus: (847) 679-8583
Fax: (847) 679-5336
Cell: (847)420-4789
sbodiwala@sbcglobal.net
Copyrights (c) 2010 – Asian Media USA
No one shall download or otherwise duplicate the graphics, images, press release and written content from the PDF without our express written permission. Likewise, no one shall reuse the aforesaid things, as the same are the intellectual property of the Company, we hereby reserve all rights
Disclaimer: – Asian Media USA
"The information in this e-mail and any attachments is confidential and may be legally privileged. It is intended solely for the addressee or addressees. If you are not an intended recipient, please delete the message and any attachments and notify the sender of misdelivery. Any use or disclosure of the contents of either is unauthorized and may be unlawful. All liability for viruses is excluded to the fullest extent permitted by law. Any views expressed in this message are those of the individual sender, except where the sender states them, with requisite authority, to be those of the Asian Media USA