Pankaj Udhas sizzles in a memorable Dhrishti concert at The Meadows Club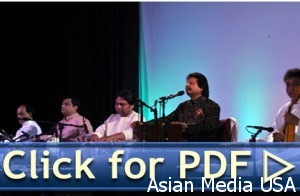 Rolling Meadows, IL: Dhrishti presented "The Legend Returns" a live music concert by Pankaj Udhas. This event began at 8:30 PM on Friday, April 27, 2012 at the elegant Meadows Club Grand Ballroom located at 2950 W Golf Road, Rolling Meadows, IL. Celebrating 30 years of his musical journey, it was an unforgettable performance. Legendary Ghazal singer Pankaj Udhas mesmerized an audience of 912 in a sizzling five hour program. In a concert which was memorable both for its quality and content, Pankaj Udhas changed the content of the concert to include several light classical and older renditions of his, to cater to a very animated audience. The concert which finished at 1.30 pm drew repeated standing ovations from the attendees.
Sajni Entertainment, founded by Mayur Ganger has been bringing world class entertainment year after year to the audience of Midwest region. They have been enthralling millions of people over the years with sold out shows. Sajni Entertainment has brought some of the biggest names in the Indian and Pakistani entertainment industry to Chicago. This year they organized Pankaj Udhas show in Chicago.
Pankaj Udhas is an Indian singer, credited in the Indian music industry, along with other musicians like Jagjit Singh and Talat Aziz, with bringing the Ghazal style to the realm of popular music. Udhas rose to fame for singing in the 1986 film Naam, in which his song "Chitthi Aayee Hai" became an instant hit. Following that, he has also performed as a playback singer for numerous films. He has recorded many albums since then and toured the world as an accomplished ghazal singer. In 2006, Pankaj Udhas was awarded the 'Padma Shri', India's fourth Highest Civilian Award. On 30th March, 2012 a grand program titled, "Moments with Pankaj Udhas", was celebrated where great celebrity Actor Dilip Kumar Launched a DVD of the program shot at the Gateway of India. Success has been a constant companion of this supremely gifted singer from Gujarat. Did his first Ghazal concert in 1978 and the world of ghazal knew that a new star has arrived (This was hailed by famous Amin Sayani in his famous Binaca geetmala too). Since then, the ghazal maestro has consistently scaled new heights in his pursuit of excellence. He has traveled to almost every country in the world, performed at nearly all prestigious venues on the planet and has entertained millions of ghazal lovers everywhere. It has been a long journey for a boy who stunned a mammoth crowd with 'Ae merey watan ke logo' at the tender age of 11
years. Today has 39 top selling albums to his credit and has won countless awards and felicitations including the biggest of them all – the Padmashri – in 2006. In 1986, Pankaj won millions of hearts with his ever popular 'Chitthi Aayi Hai' from the movie Naam. This song struck a chord with every Indian living overseas and is still one of the most requested songs in concerts. It was judged as one of the 100 best songs of the Millennium by a BBC Poll. For the last five generations of music lovers, Pankaj has given an astonishing number of hit ghazals with amazing consistency.
The Program started at 8-30 pm with 'Wo log tumhe Gulab Kahate Hain or Jane Shaba Kahate Hain' Diwanose ….Achhe Lagte Hain, Ham Bhi Diwanose Dil….' Ab to Itni Bhi Nagri Mitti Hai… jitni Ham Chand Diya Karte The…', Wo Dilki Masti Hai Jo Rang Lati Hai Wo Dilki Masti Hai Sabko Malum Hai…'' Duniya Wale Kuchh Bhi Kahe….Apni Majburi Hai….' Jiyo To Aise Jio Kaise Bin Aapke, Lagta Nahi dil Aapke Bina…', Maza Lena Hai Maza Lena Hai Maza Lena Hai Pineka…..' Sagarse Surah Takrati, Badalko ……' ' Jaisa Rang Tera, 'Chandi Jaisa Rang Tera Sona Jaisa… Tumhi Dhanwan Baki Sab Kangal…' and many more keeping the audience spell bound.
After Interval, the first song was a duet sung by Sajni- daughter of Mayur Ganger, the National Promoter of Pankaj Udhas Concerts and she is fond of Music since childhood and has received many Certificates and Awards at school level. This is her first program in public and that too with none other than Ghazal Maestro Pankaj Udhas himself. The song was 'Kabhi Aansu Kabhi Khushiyan Kabhi Nagme …….' This was received well by the appreciative audience. Thereafter Pankaj Udhas Sang his most famous Ghazals like Chitthi Ayi Hai Ayi Hai……..' 'Ghunghru Tut Gaye. There was a great deal of requests from the audience for personal 'farmaish' demanding various Ghazals. In view of large numbers of requests in limited time, he performed a medley comprising of few lines of each song thereby tried to give full justice to all farmaishes from the
audience.
The quality of the accompanying artistes was also evident as some outstanding interludes were performed by Naveen on Flute, Rajendra Singh on Violin, Nasir Sajjad on Mandolin, Pallav Pandya on Key boards, Pawarji on Dholak and maestro Rasid Mustafa on the tablas. These instruments added a lot of pizazz and quality to the maestros performance. Special mention is due tp Bimal Joshi for Lights and Stage arrangement and Sanjay Rane for the Sound system. The whole team performed so beautifully that the audience applauded them time and time again.
The audience were welcomed by host and emcee, Ms. Shebani Kulkarni, who hailed the contributions of the maestro to the art of Ghazal singing. She credited Pankaj Udhas in bringing the art of the Ghazal from the classes to the masses along with the recently departed ghazal maestro Jagjit Singh. "Listening to him truly takes us back to the fabulous years we spent at school and college with his evergreen tunes" she said.
As a token of appreciation and respect a shawl was presented right after the intermission to Pankaj Udhas by the hosts Madan and Shebani Kulkarni, the founders of Dhrishti and the Meadows Club. Dhrishti has been involved in bringing some high quality concerts, performances, literary and artistic events to Chicago for over 12 years. The hosts have also launched a Foundation in India which is aimed at unearthing, nurturing and promoting talent in the field of music, dance and other art forms especially in the rural and economically backward areas of India. The capacity audience also enjoyed some tasty offerings from the food and cash bars of the Meadows Club before and during the concert.
About Meadows Club
The Meadows is a classy award-winning facility with elegantly styled banquet rooms furnished with state-ofthe- art sound, video and lighting technology and upscale convention and banquet facility catering to the corporate, social and artistic segments of the society in and around Chicago. Their client list includes the who's who of the above segments and the Club enjoys a very customer satisfaction rating amongst its clients. For information on Dhrishti's upcoming concerts one may contact Madan Kulkarni at 815-404-3473 or Viresh Champaneri at 847-566-2029.
Photographs and Press release by: Asian Media USA
Suresh Bodiwala
Chairman
Asian Media USA
Bus: (847) 679-8583
Fax: (847) 679-5336
Cell: (847)420-4789
sbodiwala@sbcglobal.net
Copyrights (c) 2010 – Asian Media USA
No one shall download or otherwise duplicate the graphics, images, press release and written content from the PDF without our express written permission. Likewise, no one shall reuse the aforesaid things, as the same are the intellectual property of the Company, we hereby reserve all rights
Disclaimer: – Asian Media USA
"The information in this e-mail and any attachments is confidential and may be legally privileged. It is intended solely for the addressee or addressees. If you are not an intended recipient, please delete the message and any attachments and notify the sender of misdelivery. Any use or disclosure of the contents of either is unauthorized and may be unlawful. All liability for viruses is excluded to the fullest extent permitted by law. Any views expressed in this message are those of the individual sender, except where the sender states them, with requisite authority, to be those of the Asian Media USA