New paradigm North American tour visits Chicago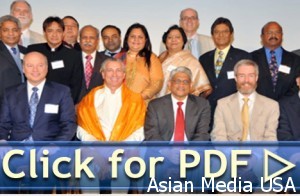 Chicago IL: A team of leading scientists, artists and business leaders currently touring 10 North American cities this spring, delivered a series of cutting-edge presentations entitled "A New Paradigm: Veda, Consciousness, the Ramayana, and the Self." The tour includes visits to San Diego; San Francisco; Vancouver; Fairfield, Iowa; Chicago; Toronto; Montreal; Boston; New York; and Washington, DC. www.newparadigmtour.org
The Chicago New Paradigm presentation took place at The Meadows Club in Rolling Meadows, (Chicagoland area) and featured a pre-event social hour. A dinner followed the presentation. Thousands of people were notified of the event, which sold out quickly. Even though 650 registered, hundreds more continued to stream in at various stages throughout the evening.
The event explored the meeting point of science and spirituality by presenting pioneering research that reveals the Veda and the Ramayana as blueprints of our body and the entire universe. Extensive research on these breakthrough discoveries has also documented collective benefits for society, including the potential for creating world peace. The event featured a video presentation of 1,000 Vedic Pandits in Maharishi Vedic City, Iowa, chanting the Veda.
The speakers at this event come from diverse backgrounds. Tony Nader, M.D., Ph.D., neuroscientist and researcher, headlined the event as the keynote speaker with his presentation, "Embodying Totality". Dr. Nader received his Ph.D. in the area of Brain and Cognitive Science from the Massachusetts Institute of Technology (MIT) and completed post-doctoral work at Harvard Medical School.
Dr. Nader's desire to gain a deeper understanding of the human mind and body—of consciousness and physiology—led him to the study of Vedic Science under the guidance of the Vedic sage Maharishi Mahesh Yogi, founder of the worldwide Transcendental Meditation movement (TM) http://www.tm.org. Dr. Nader's discoveries have inspired medical doctors and scientists throughout the world by demonstrating the effectiveness of Vedic sound to heal mind, body and society (for example: Enlivening the Healing Ability of the Body through Maharishi Vedic Sound).
John Hagelin, Ph.D., is a world-renowned Harvard-trained quantum physicist, educator, public policy expert, and leading proponent of peace. Winner of the prestigious Kilby Award, Dr. Hagelin was recognized for his achievements as a scientist in the tradition of Einstein, Jeans, Bohr and Eddington. He is Chairman of the Physics Department at Maharishi University of Management (www.MUM.edu). Dr. Hagelin's more technical presentation was on "Consciousness and the Unified Field," and how the practical outcome of large groups of people meditating together can create world peace.
Ramani Ayer was the first Indo-American CEO of a Fortune 100 company. He was Chairman of the Board and CEO of Hartford Financial Services Group for 13 years, retiring in 2009. Mr. Ayer spoke on "Enlightened Leadership and World Peace."
For more information on the speaker profiles see: http://www.newparadigmtour.org/speakers.html
The Chicago event was successfully organized by Vandana Walia of Vchilli events.For more information see: www.Vchilli.com or call : 888.479.9119
Special Hollywood and Bollywood guests
Joining these speakers via videoconference were special guests, Hollywood director, David Lynch, and the Sagar family, of Ramayana fame, from Mumbai. David Lynch is acclaimed as one of the most creative minds in film, art, and music today. He is also the founder of the David Lynch Foundation www.davidlynchfoundation.org. Ramanand Sagar created the original epic Ramayana series in 1987, inspiring all of India while preserving Vedic values in the culture. The next generation of Sagars—Prem, Anand, Shiv and Shakti of Sagar Arts—created the 2008 remake of this timeless saga.
Themes
The speakers explored three primary themes in the presentation. The first theme explored the cosmic nature of the individual. The sounds of the Veda have been found to be blueprints that structure the physiology on every level. The brain, the heart and the whole physiology are seen from this perspective as a replica of Veda and the Vedic literature. The practical application of this has been documented by original research conducted by medical doctors and scientists that demonstrates the effectiveness of these Vedic sounds for creating brain coherence and for the treatment of chronic disorders.
The second theme explored the applications of this discovery on the collective level of society. The presentation reviewed evidence that large groups of thousands of peace-creating Vedic pandits are capable of changing the destiny of mankind by applying Vedic technologies of consciousness from the deepest level of consciousness—the common unified source of both science and religion.
Demonstrating the effectiveness of this approach, the Global Peace Initiative has already established 1000 Maharishi Vedic Pandits in Maharishi Vedic City in Iowa, and 2500 at the center of India in Madhya Pradesh. www.vedicpandits.org.
Ramani Ayer explained how many teachers there are throughout India teaching the thousands of young Pandit boys, who then take further training at the main center in India, some of whom later come to Maharishi Vedic City in Iowa. He delineated the monthly and yearly costs per Pandit for such training in India and USA, and invited well-wishers to partner with GPI in helping to create world peace with this scientifically-proven Vedic approach.
The third theme covered Dr. Nader's latest book, "Ramayan in Human Physiology," which was released on this tour. It describes the profound correlation between the characters, details and happenings of the Ramayana with every part of the human physiology. "It will serve as a revelation to those who desire a greater understanding of the unity underlying all that makes us human," says Gary P. Kaplan, M.D., Ph.D., Clinical Associate Professor of Neurology at Hofstra University School of Medicine. http://www.newparadigmtour.org/ramayan
The presentation was very well received as the audience listened in wrapped attention. At one point the appreciative crowd gave Dr. Nader a standing ovation for sharing such profound knowledge so close to their hearts, yet with added scientific insight never before imagined. People came away saying how proud they were of their Vedic tradition. Copies of the book quickly sold out.
Ramayan in Human physiology seminars
In addition to the 'New Paradigm' presentations, Dr. Nader also offers an "Introductory Seminar on the Ramayan in Human Physiology" at each of the locations for those who desire a more in-depth treatment of the correlations between the eternal story of the Ramayana and the structure and function of the human physiology. Seventy-five signed up for the Chicago Seminar held at the same location that afternoon. http://www.newparadigmtour.org/seminars.html
Oprah, TM, Fairfield and Vedic Pandits
Oprah Winfrey and her staff all practice Transcendental Meditation. For Oprah's Next Chapter, she visited Fairfield, Iowa, America's Most Unusual Town. She also went to Maharishi Vedic City to see the Maharishi Vedic Pandits. Oprah and her crew were the first ones allowed in to film the Vedic Pandits chanting.
Oprah completed her visit by meditating with the ladies in their Bagambhrini Golden Dome of Pure Knowledge. "It was a powerfully energizing yet calming experience. I didn't want it to end." You can see a photo of Oprah meditating in the dome with over 400 ladies and read what she had to say about her experience in the February issue of O Magazine in her column "What I Know For Sure."
Event sponsors, co-sponsors, and steering committee
Maharishi Foundation and the Global Peace Initiative of Maharishi Vedic City, IA were the sponsors of the event. Co-sponsors included: Arya Samaj Mandir, Hari Om Mandir, Manav Seva Mandir, Shirdi Sai Baba Mandir, and Vaishnav Samaj Mandir. In addition, AIPHA, FIA-Chicago, MAFS and IAMA-CF were co-sponsoring organizations. Media Sponsors included Asian media USA, Desi Talk, Hi India, India Tribune and Desi Junction.
The Steering Committee was very supportive and active in putting together this incredible event. Headed by Bhailal Patel, members included: Narender Patel, Bharat Barai MD, Sudarshan Soni MD, Mafat Patel, Moti Agarwal, Ravi Rawat, Harish Bhatt, Anil Agarwal, Babu Patel, Kanti S. Patel, Dr. Indrajit Patel, Dhval Joshipura, Subramanyjam Vemuri, Santosh Kumar, Vandana Jhingan, Amrish Mahajan, Bhagwan Sharma, Iftekhar Shareef, Anil K. Agarwal, Prasad Yalamanchi, Amar Upadhyay, Ajai Agnihotri , and Sham Sheth.
Event Managed by Vchilli:
Vchilli is a premier Multicultural, Global, Chic event specialist company that organizes and spearheads numerous Festivals, Fairs, Galas, Not for Profit events, Corporate,Celebrity, Social and Political events on a local and global level. Vchilli is known for their luxury weddings and opulent events. Vchilli plans and manage your event from concept to actual realization of your goals. Their unique events always reflect the clients sensibilities.Vchilli ensure's that every element of your event has to reflect the Vision and Objectives of your Business, your personality and Lifestyle. It is Vchilli's role to be this unifying vision in articulating your event.VChilli designs from the most simple yet elegant events to the most exciting, edgy, innovative, technologically advanced events that can also be environmentally and socially friendly. For additional information please go to www.Vchilli.com or call:888.479.9119
Vchilli is the only south asian event management firm specialize in creating "Eco friendly" green events – where there is an "Afterlife" – after the event is over the decor lives on……..
Photographs and Press release by: Asian Media USA
Suresh Bodiwala
Chairman
Asian Media USA
Bus: (847) 679-8583
Fax: (847) 679-5336
Cell: (847)420-4789
sbodiwala@sbcglobal.net
Copyrights (c) 2010 – Asian Media USA
No one shall download or otherwise duplicate the graphics, images, press release and written content from the PDF without our express written permission. Likewise, no one shall reuse the aforesaid things, as the same are the intellectual property of the Company, we hereby reserve all rights
Disclaimer: – Asian Media USA
"The information in this e-mail and any attachments is confidential and may be legally privileged. It is intended solely for the addressee or addressees. If you are not an intended recipient, please delete the message and any attachments and notify the sender of misdelivery. Any use or disclosure of the contents of either is unauthorized and may be unlawful. All liability for viruses is excluded to the fullest extent permitted by law. Any views expressed in this message are those of the individual sender, except where the sender states them, with requisite authority, to be those of the Asian Media USA