Successful Fundraiser of IAMACF for free healthcare clinic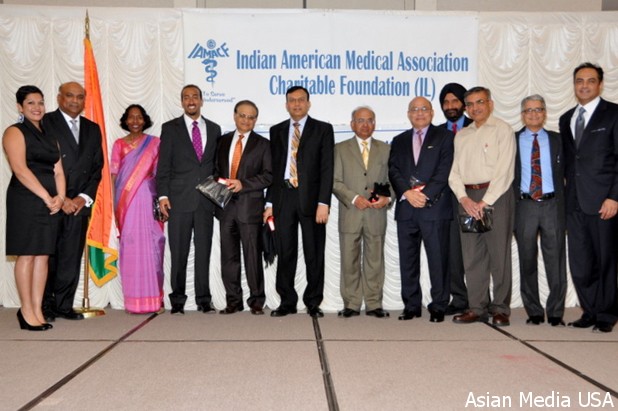 Chicago IL: The Indian American Medical Association's Charitable Foundation, which operates a free community health clinic in Chicago's West Ridge community, hosted a Fundraising Dinner and Semi Annual Meeting on Saturday, April 21, 2012 at the Waterford Banquet, 933 S. Riverside Drive, Elmhurst, Illinois. Money raised will benefit the clinic, which is run by Volunteers, Doctors and Providers of Medical Services such as Free Lab Tests and Free Medication. The event was well attended by physicians, politicians, Chicago's prominent businessmen, community leaders and general public. Fundraising Target was $100,000 however despite the country's challenging economy, more than four hundred members participated in the event and generously pledged donations totaling $75,000.
The Chief Guest of this program was Pat Basu, M.D., M.B.A. Chief Medical Officer: Virtual Radiologic, White House Fellow 2010-2011 and Dr. Raju Ramanathan-Cook County Hospital, Chicago CEO. Dr. S. waminathan, past president of the Illinois State Medical Society, Mafatbhai Patel, CEO of Patel Brothers, Hiran Patel (National Republic Bank), Mr. Naren Patel, Chairman of Medstar Laboratory Inc. and President of AIA and Care and Share, Beena Patel Chief Deputy Clerk Cook County and many more attended this program.
Booth: Seasons hospice, Yoga & Veda- Ramayana spiritual booth, NLVS medical student and Direct express tours.
The event started with social hour at 5:00 PM, followed by the main event at 7:00 PM. The function started with Welcome Speech by Dr. Sanjay Amin followed by the singing of American national anthem by Dr. Aniita John MD, followed by Indian national anthem performed by Indrani Mukerji. Next, a brief business meeting was conducted by Secretary Elect of IAMA Dr. Raj Aurora. Chri Zala and Anupy Sinhla- TV Personality, did excellent job as Masters of the ceremony. Both repeatedly requested the audience to "open your heart, open your wallet". Their request was rewarded by a generous contribution totaling $ 75,000.
Aruna Vade, MD President IAMA in her speech said she was honored to serve as the President of Indian American Medical Association of Illinois. She stressed the importance of developing comprehensive and strategic objectives and organizing a platform in order for the organization to grow. She encouraged everyone to join IAMA, to participate, get involved and volunteer in the various IAMA functions. She pointed out that IAMA Charitable Foundation's free clinic has made a big difference in many unprivileged lives. She urged members to generously donate their money as well as their time at this free clinic.
Dr. Sanjay Amin, MD, Chairman IAMA in his speech thanked all the volunteers for the remarkable support they have provided in 2011 to IAMA-CF which has helped in providing free health services to an ever growing under-served population. "As IAMA continues to make progress in the areas of wellness and medical care through its clinic which is critical for disease prevention and health management of the under-served population, we will be focusing on three core principles, he said.
Philanthropy- IAMA will be seeking foundations, corporations and young professionals to invest in their innovative model free health clinic. They have set up an endowment fund to help sustain and grow by expanding their current services and bring new services to their patients.
Volunteerism – As the clinic is volunteer based, they are able to provide primary health care services to the economically disadvantaged and predominantly uninsured patients. Last year, volunteer physicians donated a total of 600 + hours of their time to serve those who are needy. 2,700 patient visits were recorded during 2011. IAMA will continue to recruit more physicians to expand their clinic services.
Partnership- They are continuing to reach out to area not-for-profit organizations to serve their patients. As a result, their clinic now has a vibrant and quite diverse geographic and ethnic representation. They joined Illinois Association of Free and Charitable Clinics as one of the founding members to advocate for healthcare policy which will benefit citizens who do not have access to government or private healthcare insurance.
Chief Guest and Keynote Speaker Dr. Pat Auveek Basu, who is a White House Fellow reminisced about his grandfather who had raised 13 children in a poor village in India. He had died of myocardial infarction before he was born so he had never met him, but his ethics, his values, and his spirit certainly had a profound effect on his own life. He reflected on the American dream, which so many of us have successfully turned into a reality. "It is because of our own sacrifices and the heavy sacrifices made by our parents, we are today in a position where we can serve others and make this world a better place not just for our children but for all children, not just for Americans, or Indians but for all patients who enter our doors", he added. He attributed all of his successes to the influences and experiences with a vast number of people in his life such as his friends and family, his teammates and his classmates, his patients and professors, and most certainly the medical community and the Indian American community. He referred to an inscription written by Albert Pike which says: "What we have done for ourselves alone dies with us, what we have done for others and the world remains and is immortal." He closed his remark with a quote made by Mahatma Gandhi. "Happiness is when what you think, what you say, and what you do are in harmony." "This clinic is a mark of that harmony", he concluded.
The following people received an award for their outstanding dedicated selfless volunteerism to advance the goal of the organization. Dr Brij Malani, Dr Rambha Radhakrishnan, Dr Sudha Velamati and Dr. Annita John for their leadership, vision & hard work in running the free health clinic.
The following represents a summary of donations received at the event.
Partial list of total pledged contribution $75,000.
· Harisha koneru- Haigh–$11,000
· National republic bank – $5000
· Rajesh kalpana chotalia – $ 5000
· Naren patel medstar- $ 2500
· Seasons hospice sanjay amin $ 5000
Total patients visited in the year 2011 = over 2750 (about 1350 male & 1400 female)
Total patient seen/total number of hours the clinic was open = 3.4 patients/ hr
American Airline tickets were raffled and won by Miss Malani.
Sponsors of the event were Seasons Hospice -Main sponsor and National republic bank, American Airlines & Medstar. Dr Manish Brahmbhatt MD presented a vote of thanks and that concluded the event. Next delicious dinner was served by Waterford Banquets catered by India House
Rest of the evening, the audience enjoyed DJ and music Saahil. The entire program was successfully accomplished with the support from volunteers plus members of the executive committee of IAMA.
The Free Health Clinic serves senior citizens, under- privileged & under-insured people of Illinois. They need generous support & monetary contributions to carry on the humble task of providing free healthcare services.
Executive Committee IAMA: Sanjay Amin—Chairman; Manish Brahmbhatt—-Secretary
Rambha Radhakrishnan—Director; Kishore Chugh—Treasurer; Brij Malani—Ex Director
Photographs and Press release by: Asian Media USA
Suresh Bodiwala
Chairman
Asian Media USA
Bus: (847) 679-8583
Fax: (847) 679-5336
Cell: (847)420-4789
sbodiwala@sbcglobal.net
Copyrights (c) 2010 – Asian Media USA
No one shall download or otherwise duplicate the graphics, images, press release and written content from the PDF without our express written permission. Likewise, no one shall reuse the aforesaid things, as the same are the intellectual property of the Company, we hereby reserve all rights
Disclaimer: – Asian Media USA
"The information in this e-mail and any attachments is confidential and may be legally privileged. It is intended solely for the addressee or addressees. If you are not an intended recipient, please delete the message and any attachments and notify the sender of misdelivery. Any use or disclosure of the contents of either is unauthorized and may be unlawful. All liability for viruses is excluded to the fullest extent permitted by law. Any views expressed in this message are those of the individual sender, except where the sender states them, with requisite authority, to be those of the Asian Media USA