Hari Om Mandir Celebrates Ram Navmi with Devotion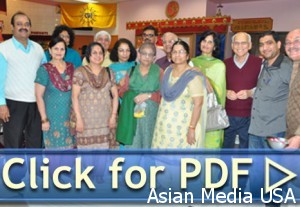 Chicago IL: Hari Om Mandir, celebrated Ramnavami Mahotsav whole heartedly on Sunday, the 1st. April, 2012 at 6N020 Medinah Rd, Medinah, IL. Prayers started on Saturday, 11:00am onwards and Ramayan Path reading was undertaken from 11:00am. Bhog Ceremony was on April 1st, 2012, when Ramjanam was celebrated at 12:00pm with Ram Dhoon 'Shri Ram Jai Ram Jai Jai Ram' and Bhajans. Aarti was done at 1:30pm and Ladoos were distributed to celebrate the occasion. Then all the devotees took Mahaprasad and dispersed chanting Shree Ram Jai Ram Jai Jai Ram. Rajan and Aarty Singla, Sanjay and Shelly Gandhi, Raj and Meenu Jeethi, Hemant and Indhu Bhalla along with Tangri family did a wonderful arrangement for the Prabhu Ka Bhandara which went on for 24 hours.
Ramnavami was celebrated on April 1st this year to proclaim the birth of Shree Ram, the seventh incarnation of Lord Vishnu. A major festival lasting 9 days will be celebrated all over India with many special events filled with religious fervor and gaiety. The most notable being the day-long readings of a 1,000 page poem from the Ramayana, a book about Shree Ram's life. Other practices such as singing of hymns, reciting of Ramraksha Stotra (verses in praise of Shree Ram), distribution of holy sacrament or Prasad, processions and offerings of fruits and flowers also form part of this festival honoring a supreme individual with ideal characteristics.
Shree Ram is the ultimate follower of righteousness. He observed all the codes of conduct as prescribed by Dharma. His well-known attributes are always honoring his word, needing only one arrow to find his mark and having only one wife. He was the perfect example of an ideal king, son, husband, friend and enemy. He set the example for everyone to follow as to what an ideal human being should be like. Thus He is called Purushottam or the most ideal of men; and His kingdom, the ideal place to live, was called Ramrajya or the kingdom of Ram. If we think about it the real kingdom of Shree Ram dwells within oneself. We can experience it through the absolute control over the five sense organs, five motor organs, mind, subconscious mind, intellect and ego by the Shree Ram principle (Atmaram – the soul principle).
On this auspicious and joyous occasion, devotees of Hinduism are encouraged to aspire to emulate the ideal virtues of Lord Rama and chant 'Shree Ram Jai Ram Jai Jai Ram' so as to get the most benefit from the principle of the Deity as well as helping one to worship the Deity on a continuous basis for furthering spiritual growth and experience.
In these celebrations Mitesh Patel, Saurabh Shrivastava, Ram Verma, Anupam Mishra, Anju Bharel, Kaushal Kishore, Tangri family, Madhu Salwan, Madhu Kalia and lot many other selfless volunteers took turns to read the Ramayana continuously for 24 hours. Priest Yogesh Pandyaji, Dinesh Sharmaji, Manager Natwarbhai along with team of volunteers did a splendid job of decorating the temple. Mrs. Rama Kapoor, Subhash Sharma ands lot of other volunteers recited Bhajans in their Melodious voice. Ashish Kapoor, Mitesh Patel, Babu Sarkar and Priest Yogesh ji accompanied them on Table and Dhal. The Board of Trustees and Executive Board are thankful to all those have helped, some of them worked Day and night to make this auspicious occasion successful.
Upcoming events:
Hanuman Ajanta with Sunder Kind at 6:30pm on Friday, April 6th.
About Hari OM Mandir
Hari Om Mandir located at Dupage County in the heart of Chicago land. The Mandir has statues of all major North Indian Gods & Goddesses. Every Sunday there is a Havan and general congregation followed by Aarti and Bhojan Prasad. On every first Saturday of the month we have Devi Jagran from 7 – 10pm. Every Monday there is Shiv Puja and every Tuesday we have Hanuman Chalisa Path. There are two learned priests available in temple, for Poojas, Havan, Kathas etc in the temple and at home. Please visit Hari Om Mandir at 6N020 Medinah Rd, Medinah, IL. Phone: (630)980-0900, www.hariommandir.org.
Photographs and Press release by: Asian Media USA
Suresh Bodiwala
Chairman
Asian Media USA
Bus: (847) 679-8583
Fax: (847) 679-5336
Cell: (847)420-4789
sbodiwala@sbcglobal.net
Copyrights (c) 2010 – Asian Media USA
No one shall download or otherwise duplicate the graphics, images, press release and written content from the PDF without our express written permission. Likewise, no one shall reuse the aforesaid things, as the same are the intellectual property of the Company, we hereby reserve all rights
Disclaimer: – Asian Media USA
"The information in this e-mail and any attachments is confidential and may be legally privileged. It is intended solely for the addressee or addressees. If you are not an intended recipient, please delete the message and any attachments and notify the sender of misdelivery. Any use or disclosure of the contents of either is unauthorized and may be unlawful. All liability for viruses is excluded to the fullest extent permitted by law. Any views expressed in this message are those of the individual sender, except where the sender states them, with requisite authority, to be those of the Asian Media USA