Jaswinder Singh Spectacular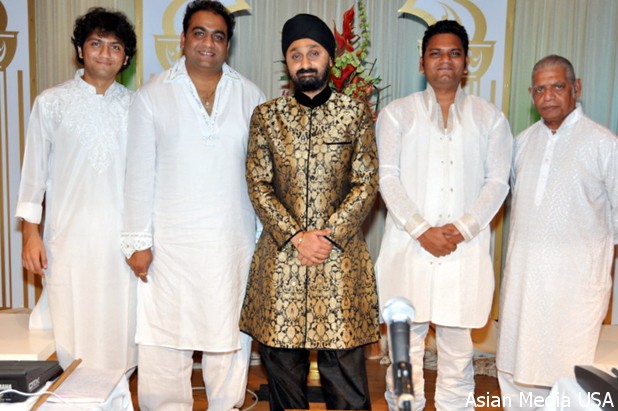 Chicago IL: Live 2 you organization Presented "A Tribute to Jagjit Singh" was held on March 23, 2012 at The Meadows Club, 2950 Golf Road, Rolling Meadows, IL. Jaswinder Singh, Young Ghazal Maestro has enthralled audiences. Jaswinder Singh literally mesmerized the enthusiastic crowd of more than 800 plus listeners for about 4 hours. Jaswinder Singh sang Ghazals and many Panjabi songs which rocked the crowd. Tickets rated from $30, $50 and VIP.
The event was stunning as the classical music played by the trio was accompanied by applause for a considerable amount of time while they played. The audience was not only pleased with the performance, but appalled by the very elegance of each word sung, each note hit, each pounding of the Tabla, and each keystroke. Each member of the audience knew what to expect, but received much more than what they originally planned. Weather was very good on this sunny day and audiences started gathering right from 7:30 pm at The Meadows Club. Many prominent community leaders were present at this entertaining play. Sunil & Rita Shah, Noor & farida tejany, Mujeeb Ahmed, Dr Siraj Ahmed, Ketki Parikh, Mukarram Mahmood, Mohammed Nadeem, Sami Ahmed, Ramesh & Bharat Vitha, Mayur Ganger, Anu Sikri, Neeti Gupta,Dinesh Gandhi, Sunny Gabhawala, Vandana Walia, Manoj Patel, Ajay Anihotri, Tariq Junejo, Raja Bankapur, Vinod Patel, Ashok Shah, Romi. Rinki Talati, Ankur Chaudhari, Chirag Patel, Moti Agarwal and Suresh Bodiwala from Asian Media USA.
To-day, every person is busy in Earning Money, Different Amenities, Respect, lots of Bank Balance, but one thing which is missing or a person is lacking behind is a peace of mind. None has time to think about the Morals, think about the Emotions and to think about Peace. In this running life of ours, one thing which can give us Peace of Mind and Soul is Music. It is a way through which a person can sit and relax for a while. There are different kinds of Music and one of them is Ghazal that we all know and it is the choice of many people who want to be still in life for some times and relax. To-day's music has been changed a slow soothing tracks have been taken away by irritating loud music having no sense most of time but among this music a unique style of presenting yourself that is Ghazal is still alive and lots of people love to listen and cherish Ghazals.
Ghazal music usually revolves around a few common themes. Ghazals are woven around unreciprocated love, madness, mystical reflection and even social commentaries ridiculing and highlighting religious orthodoxy. But the most important theme of Ghazals is unrequited love. The traditional Ghazals are similar to the Hindustani classical music forms such as "Dadra" and "Thumri". Then there are some Ghazal forms that are similar to Qawwali. India has produced some of the exceptional talents in the field of Ghazal singing like Begum Akhtar, Jagjit Singh, Pankaj Udhas, Talat Mahmood and Manhar Udhas. Ghazals were originally written by Mirza Ghalib in the 17th century. Beauty of words expressed in Ghazals takes you out of this world into another dimension. There are many types of Ghazals but the most famous categories are Romantic Ghazals and Sharabi Ghazals, Sad Ghazals and Madhosh Ghazals. Some of the Ghazals from popular Indian films are 'Tum Itna Jo Mushkar Rahe Ho ……'. Singer Ghulam Ali's famous Ghazal featured in a Bollywood movie. His Ghazal "Chupke Chupke Rat Din…..' can be heard in the movie Nikah. It is said, it is not possible to get a full understanding of Ghazal without at least being familiar with some concepts of Sufism. A Person needs to have intense emotions and feelings and the knowledge of Urdu Words to understand the depth of Ghazals. Jaswinder Singh was born in Punjab to legendary composer Kuldip Singh, composer of ghazals such as Tumko dekha to ye khayal aaya, movie Saath-Saath and Itni Shakti Hame De Na Daata, movie Ankush. He is trained in classical singing by Dr Sushila Pohankar and Pt Ajay Pohankar.
Artist Profile:
Jaswinder Singh was born in Punjab to legendary composer Kuldip Singh, composer of ghazals such as Tumko dekha to ye khayal aaya, from the movie Saath-Saath and Itni Shakti Hame De Na Daata, from the movie Ankush. He is trained in classical singing by Dr Sushila Pohankar and Pt Ajay Pohankar. Jaswinder Singh is the most promising Ghazal Singer of this generation with Soft and Silky voice and has proved his mettle as an artist who has Ghazals in his blood. Literally so, as he is the son of famous Music Director Kuldip Singh of Saath Saath (Tumko Dekha to Ye Khayal Aya….) and Ankush fame (Itni Shakti Hamen De Na Data…….). Jaswinder Singh learned music under the watchful and selfless guidance of his father. He got initial training in Classical Vocals from Pandit Ajay Pohamkar and continued under Dr. Shushila Pohamkar. Ghazal Maestro Jagjit Singh has also given lots of encouragement and has inspired Jaswinder's work. After years of fine tuning, he has
perfected the nuances of Ghazal singing that differentiates the ordinary from the rare. He was awarded the Best Singer title and as he stood first in TVS Sa-Re-Ga-Ma, the popular musical programme on ZEE TV.
He was also awarded 'The Young Ghazal Maestro' award by Indian Music Academy. This title was presented by Pt. Hariprasad Chaurasia in the presence of the former President of India, Dr APJ Abdul Kalam. He was awarded the Trophy of Outstanding Singer by Eminent Maestros like Pandit Vilayatkhan Saheb, Pandit Shivkumar Sharma, Smt. Girjadevi, Pandit Ramnarayan, Shri Anil Biswas and Ustad Zakir Hussain. He has also sung for various tele serials and films such as "Train to Pakistan and Amritsir". TIPS has released his solo Ghazal Album "Yours truly" all over the world. He has travelled all over India for his concerts and also has toured extensively to Canada, U.K., Australia, Singapore, Malaysia and Middle East.
This is the first solo tour of USA by Jaswinder Singh. In 2006, he came with Shabana Azmi and Javed Akhtar for the theatrical production of "Kaifi Aur Main". He is accompanied by talented musicians, Vishal Dhumal, one of the fastest key board player and Ojas Adhiya, a Limca book of awards winner for Tabla. His Ghazals full of Romance, Love and Melody touched the hearts of music lovers at "Ishq-2012".
He was inspired by none other than Ghazal Samrat Jagjit Singh whose death has created a vacuum in the Ghazal world and it was he who let the world know what Ghazal is. Jaswinder Singh got inspiration and support from his father Kuldip Singh, who had the good fortune of composing famous tunes for Jagjit Singh, one of them is the most famous 'Tumko Dekha To Ye khyal Aya ……..'. Jaswinder Singh humbly states, he is nothing before the Great Jagjit Singhji but confident that he will bring glory to Ghazals amongst all generations, particularly amongst youngsters and teenagers with his silky voice and a mixture of variety included in his program.
Jaswinder Singh sang following Ghazals
Tum ko dekha toh ye Khyal Aaya form film Arth.
Woh Kagaz ki Kashti, woh barish ka pani.
Dama dum mast kalander.
chithi aayi hai.
hotho se choo lo tum,mera geet amar kardo.
Karl and his team have put in a lot of effort to make this concert most memorable. They are the national promoter and are organizing big shows in different states of USA. Within 45 days, they are organizing approximately 18 to 20 "Ishq 2012" concerts for Jaswinder Singh.
Photographs and Press release by: Asian Media USA
Suresh Bodiwala
Chairman
Asian Media USA
Bus: (847) 679-8583
Fax: (847) 679-5336
Cell: (847)420-4789
sbodiwala@sbcglobal.net
Copyrights (c) 2010 – Asian Media USA
No one shall download or otherwise duplicate the graphics, images, press release and written content from the PDF without our express written permission. Likewise, no one shall reuse the aforesaid things, as the same are the intellectual property of the Company, we hereby reserve all rights
Disclaimer: – Asian Media USA
"The information in this e-mail and any attachments is confidential and may be legally privileged. It is intended solely for the addressee or addressees. If you are not an intended recipient, please delete the message and any attachments and notify the sender of misdelivery. Any use or disclosure of the contents of either is unauthorized and may be unlawful. All liability for viruses is excluded to the fullest extent permitted by law. Any views expressed in this message are those of the individual sender, except where the sender states them, with requisite authority, to be those of the Asian Media USA