Chicago Consulate General Mr. Zaheer Khan Celebrates Pakistan National Day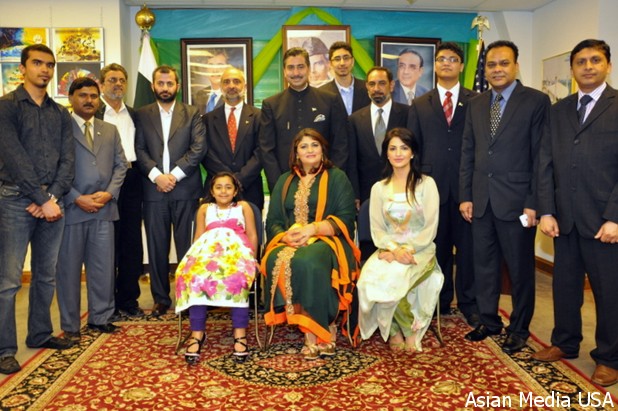 Chicago, IL : Honorable Consul General of Islamic Republic of Pakistan Mr. Zaheer Pervaiz Khan celebrated National Day of Pakistan On Friday, March 23, 2012 with leading Chicago land entrepreneurs and citizens to honor the sacrifices of their freedom fighters who have fought and to remember the work of their Founding Father Jinnah, for giving to them a country where dignity and individual freedom is assured. Consulate General of Pakistan is located in the heart of downtown at 333, N Michigan Ave. This event was held between 6:00 to 8:00 pm.
As usual a large number of Prominent Pakistani community Leaders Businessmen, Journalists, Citizens, Americans Politicians and invited guests gathered to celebrate Pakistan's National day. This event was also attended by Ms Samreen Khan, Senior Policy Advisor, Office of the Governor, Ms. Vriti Jain, Representative of Office of Chicago Mayor and Ms. Pat Michalski from the Office of Cook County Treasurer, Maria Pappas as well as many members of the diplomatic community in Chicago, including Mrs. Mukta Tomar Counsel General of India.
The event began at 7:00PM with welcoming speech, followed by Recitation from the Holy Qur'an (Mr. Mubasher Feroze). The Honorable Consul General saluted the Pakistan Flag. National Anthems of Pakistan and USA were recited. Mr. Zaheer Pervaiz Khan was the perfect host and it radiated with his hospitality, courtesy and humbleness along with his wife and the entire Consulate General team. He covered every aspect in his speech that described Pakistan's advancement and their achievement despite some obstacles. Concluding his address, the Consul General thanked everyone for attending the National Day of Pakistan Celebration. Consul General closed his speech by reading messages from the President and Prime Minister of Pakistan.
Honorable Consul General of Islamic Republic of Pakistan, Mr. Zaheer Pervaiz Khan in his speech recalled the historic Lahore Resolution which was passed on this day, 72 years ago at a park in the city of Lahore.
This resolution gave an idea to form a separate nation for the Indian Muslims and united them for the attainment of a shared objective. It was an epoch-marking event, which changed the course of history for the Indian Muslims. It was due to the leadership of Muhammad Ali Jinnah, a separate country for the Muslims of the Indian Sub-continent emerged as a reality in 1947.
Consul General of Islamic Republic of Pakistan read the message sent by the President of Pakistan, Mr. Asif Ali Zardari which stated "Our founding fathers had resolved to carve out an independent state where there will be democracy and where constitutionalism and rule of law would rein supremacy. Unfortunately, successive dictators unsuccessfully tried to stifle the democratic aspirations of the people. On the eve of Pakistan Day this year, it is reassuring to realize that the parliament has successfully removed the vestiges of dictatorship and restored the democratic Constitution of Pakistan".
Meanwhile Prime Minister of Pakistan, Syed Yousaf Raza Gilani said in his message, "The present democratic government is committed to preserving our great cultural heritage, civilization and identity in following the vision of "Quaid-e-Azam" Muhammad Ali Jinnah, Shaheed Zulfikar Ali Bhutto and Shaheed Mohtarma Benazir Bhutto. We are making our earnest efforts to bring about economic and social revolution in keeping with the spirit of the Pakistan. The current elected Government has just completed its fourth year in office and the success of a coalition government owes itself to the policy of reconciliation and consensus espoused by Shaheed Mohtarma Benazir Bhutto".
Mr. Zaheer Pervaiz Khan also added "On this auspicious occasion, we pledge to uphold the supremacy of democracy and rule of law at every cost. We need to strengthen the principles of mutual tolerance, brotherhood and reconciliation to foster unity in our ranks. We have to strengthen our national security and Independence in accordance with our national aspirations."
"This day demands of us to revive the spirit of Pakistan Movement in its entirety. I pray to Allah Almighty to enable us to protect Pakistan and put it on the rails of progress and prosperity" he concluded. He recognized the hard work done by the consulate staff, the staff of Holiday Inn Skokie and Mr. Mansoor Lakhani, a renowned member of the Pakistani community for making this celebration successful.
Delicious snack items and soft drinks were served during the celebration. At the time of dinner, mouth watering Gulab Jamun and Carrot Halwa were served with Egg Fried Rice and a variety of Chutneys along with an assortment of Pakistani dishes including lamb and chicken curry, vegetarian items and soft drinks.
The Consulate Team members, Asad Hayauddin-Consul (Trade & Commerce), Saqib Nisar- Accountant, Maliha Khan- Personal Secretary to the Consulate General with other associate team members were present to celebrate this occasion. It was a cheerful event cherished by all.
Dr. Chandrakant Modi MD, President of Asian Media USA and Jyotikumar Chokshi, Editor had an opportunity to find out Mr. Zaheer Pervaiz Khan's perspective on the National Day of Pakistan. He conveyed his warm Greetings to all and wished everyone a very Happy National Day of Pakistan to the entire South Asian Diaspora. He further commented that "On this significant day, we would like to encourage compassion, nonviolence and goodwill, which may always flow in unison".
Photographs and Press release by: Asian Media USA
Suresh Bodiwala
Chairman
Asian Media USA
Bus: (847) 679-8583
Fax: (847) 679-5336
Cell: (847)420-4789
sbodiwala@sbcglobal.net
Copyrights (c) 2010 – Asian Media USA
No one shall download or otherwise duplicate the graphics, images, press release and written content from the PDF without our express written permission. Likewise, no one shall reuse the aforesaid things, as the same are the intellectual property of the Company, we hereby reserve all rights
Disclaimer: – Asian Media USA
"The information in this e-mail and any attachments is confidential and may be legally privileged. It is intended solely for the addressee or addressees. If you are not an intended recipient, please delete the message and any attachments and notify the sender of misdelivery. Any use or disclosure of the contents of either is unauthorized and may be unlawful. All liability for viruses is excluded to the fullest extent permitted by law. Any views expressed in this message are those of the individual sender, except where the sender states them, with requisite authority, to be those of the Asian Media USA