India TV (USA) in festive mood to celebrates 51st Gujarat Din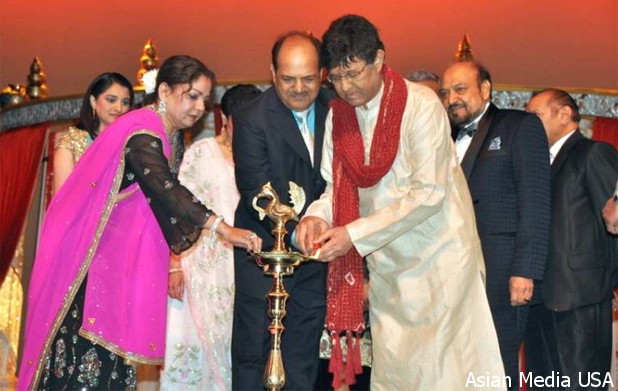 Chicago IL: Mahatma to Narendra Modi, Gujarat has seen it all. One of India's fastest growing economy, Gujarat plays an integral part in the very existence of India. Every Gujarati who lives in the Land of Liberty thinks and feel proud about his or her home state. Last year Naren Patel, President of Vishwa Gujarati Samaj USA, celebrated the Golden Anniversary of state of Gujarat or 'Swarnim' Gujarat on May 31, 2010 at Waterford Banquet. Following Naren Patel's celebration, various other Gujarati organization also celebrated Swarnim Gujarat in Chicago.
This year, India TV (USA) celebrated 51st Gujarat Din at The Hemmens Cultural Center, 45 Symphony Way,Elgin, IL on Sunday, May 15, 2011. Whole Program was effectively accomplished with the support from Chicago's Gujarati community and Various Associations, volunteers, renowned physicians, Politicians, Prominent businessmen, Community leaders and public at large took part in the making the event a grand success. In all, more than 900 people attended the program. Apparently, it was a moment of great excitement for NRI Guajarati living in USA. The celebration was held with much pomp and pleasure organized by well known TV entertainer Mina-Kishore-Kruti-Shilp Purohit, owners/director of 'India TV (USA)'. Personal Commitment and community support made this program very successful. Decoration was performed by Bandhan Rentals & Decoration, Bartlett, IL. Delicious testy Gujarati food was catered by Mr. Jain, Owner of Ashyana Banquets Downers Grove, IL
Emceed by Mina & Kishore Purohit the program started at 5:00 PM with social hour. Delicious Gujarat dinner was served during social hours. Chief Guest was Shri Naren Patel CEO Medstar Laboratories. Guest of Honor were Shri Bhagubhai Patel, CEO Amitron Corporation, Dr. Dayal Meshri, President & CEO Applied Research Chemicals, Tulsa OK., Harendra Mangrola CEO of Summit Construction and President IADO, Dr. Sheri Merchant of Women's Doc Inc. and Mr.& Mrs. Crasto Gen. Manager of Midwest (Air India), Mr and Mrs. Kantibhai Patel President of Gujarat Cultural Association and Mr and Mrs Iftekhar Shareef former president and trustee of FIA plus prominent community leader.
Deep Praagataya ceremony was performed by Chief Guest Shri Naren Patel CEO Medstar Laboratories and prominent members of the community leaders lightened the lamp.
Welcome Speech Was given by M.C. Mina Purohit subsequently, the speakers were Mr. Naren Patel Dr. Dayal T. Meshri and Dr. Sheri Merchant,
Mr. Naren Patel thanked everyone for attending and making the event successful. Mr. Naren Patel paid tribute to some of well known sons of Gujrat namely Father of Nation Mahatma Gandhi, 'Ironman' Sardar Patel, Jivraj Mehta, Morarji Desai Indulal Yagnik and Current chief minister and much-loved Narendra Modi representing today's outstanding leader. He emphasized unparalleled achievement of late Sardar Patel who single handed united and created one nation of India from divided chaotic and fractured nation. He further stated that we are all proud of our past and current hero's, their sacrifice and contribution to create largest democratic nation. This is one of the main reasons that Gujarat has progressed immensely within last 50 years following its creation.
Next, after 'Deep Praagataya' ceremony, cultural program followed starting with Pushpanjali dance or Puja Nrutya. Pushpanjali is an offering of flowers to Indian Gods. In Sanskrit, pushpam means "flower" and Anjali means "offering with folded hands". So Pushpanjali means offering of flowers with folded hands. This dance is generally a lead dance, to welcome all attendees.
Nrutya Kalashree Dance Academy presented 2 subsequent Gujarati folk dance. The first performance was based off a story of Lord Krishna and his devotees. This dance was performed to "Kanuda Ni Morli" . and the participants were Toral Chaudhari, Bhavna Kalaria, Harshika Patel, Madhurika Patel, Madhu Patel, Mamta Patel, Rita Patel, Rupal Patel Swati Patel, Sonal Shah, Heena Shymani, Dimple Thakkar and Anisha Patel dressed as Bal Krishna.
Second performance from Nrutya Kalashree Dance Academy was a traditional Gujarati folk Garba dance. This dance was performed to a variety of songs including "Ude Re Gulal", "Radha Gowalani" and "Gheru Gheru Nagaru". This Garbo combined four different folk dances such as Garbo, dandiya/Raas, Thali dance, and a Matli dance. This performance took the audience through the journey of Gujarat's various colorful folk dances. The participant's names were Shruti Anantutmula, Nikita Khara, Shrutva Parikh, Aashna Patel, Binita Patel, Jayna Patel, Kinjil Patel, Kreena Patel, Anjali Shah and Pooja Shah.
Kalapadma Dance Academy presented 1 dance with a variety of traditional Gujarati folk dance. The dance was a composition of Gandhiji's much loved Bhajan by Poet Narsimha Mehta "Vaishnavajan to tene" choreographed by Artistic director of Kalapadma Dance Academy Smt. Ruth Varghese. The participants were Parul Patel, Komal Joshi, Anjali Varghese, Trisha Modi, Hiteshree Patel, Kalai Guruswamy, Kelly Kurian, Foram Patel, Anjali Patel, Maya Mathew, Vanessa Pillai and Rani Patel
Mudra dance Academy performed next three dances which included fine traditional Gujarati folk dance.
Award Ceremony was next. Some of the recipients of this were Naren Patel, Bhagubhai Patel, Dayal Meshri, Harendra Mangrola, Sheri Merchant, Mr. Crasto, and many more well qualified community leaders, Ruth Varghese, Toral Chaudhari and Kshama Shah also received awards.
The musical concert was presented by Rohit Parekh and his group. Nehal Acharya on keyboard, Ajay Modi on Tabla, Kalpesh Modi on octopad, Shivram on Dhol, Ashwin Acharya, Gayatri Patel and Rohit Parekh
The songs that were sang in Gujarat Din by Rohit's group were:
Divaso Judaina Jay chhe, Gazal written by Shri Gani Dahiwala and sung by Mr M.Raffi. ( Rohit Parekh sang that night)
O neel gagan na pankheru and Nazarna zam chhalkavine were sung by Ashwin Acharya
Odhaji and Savario re maro sung by Gayatri Patel
Mara Bhola dil no hayre shikar karine, and Tari ankhno afini were sung by Rohit Parekh and the program ended with " Zarukho"
Gayatri Patel and Rohit Parekh held the audience spellbound with their singing of Gujarati traditional Lok Geet. Entire program was marvelous, with repeated thunderous applause and vocal endorsement and repeated demand from the spectators as "once more" after almost each song. Despite lateness of the evening, hardly a soul departed from the Gala before end of the unforgettable evening, another sign of the dazzling program.
The program was completely in Gujarati; however, there were many Non-Gujarati people who attended and enjoyed the celebration. Asian Media USA Chairman Suresh Bodiwala ask question to audiences regarding persons behind outstanding success of the event? Majority of audiences strongly believes that Purohit family for the success by giving all of their hard work, emotional and organizational support Gujarati community for over these past years.
"Nrutya Kalashree Dance Academy would like to show their gratitude to Kishore & Meena Purohit for giving all these talented dancers a chance to express their knowledge about our Gujarati culture. On behalf of Nrutya Kalashree Dance Academy, Guru Shree Toral Chaudhari would like to thank the Purohit family for all of their support over these past few years" said by Toral Chaudhari Director of Nrutya Kalashree Dance Academy to Asian Media USA Chairman Suresh Bodiwala.
Photographs and Press release by: Asian Media USA
Suresh Bodiwala
Chairman
Asian Media USA
Bus: (847) 679-8583
Fax: (847) 679-5336
Cell: (847)420-4789
sbodiwala@sbcglobal.net
Copyrights (c) 2010 – Asian Media USA
No one shall download or otherwise duplicate the graphics, images, press release and written content from the PDF without our express written permission. Likewise, no one shall reuse the aforesaid things, as the same are the intellectual property of the Company, we hereby reserve all rights
Disclaimer: – Asian Media USA
"The information in this e-mail and any attachments is confidential and may be legally privileged. It is intended solely for the addressee or addressees. If you are not an intended recipient, please delete the message and any attachments and notify the sender of misdelivery. Any use or disclosure of the contents of either is unauthorized and may be unlawful. All liability for viruses is excluded to the fullest extent permitted by law. Any views expressed in this message are those of the individual sender, except where the sender states them, with requisite authority, to be those of the Asian Media USA