Leading domestic violence agency Apna Ghar's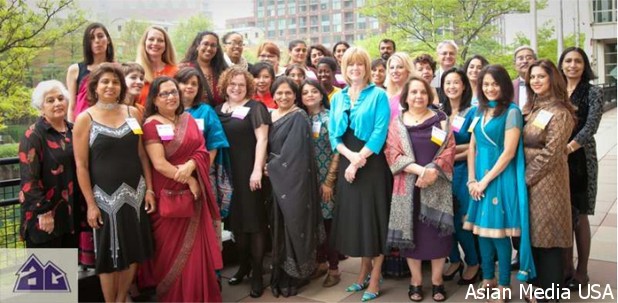 Chicago, IL: On Wednesday, May 25, 2011, Chicago's top restaurants, community leaders and five hundred guests will join hands at the River East Art Center, 435 East Illinois Street, Chicago, IL 60611 to support the milestone achievements one of Chicago's leading domestic violence agencies – Apna Ghar Inc. Apna Ghar's 3rd annual Taste for Life event to raise over $63,000 for women and children facing domestic violence.
Janet Davies, of ABC 7 Chicago, served as master of ceremonies and rocked the River East Art Center with her wit and enthusiasm. Entertainment included dancers from Taol Fusion, Chicago Dhamaal, Trinity Irish Dancers and DSSProductions.
"This is one of our most popular events of the year. It is the time when our supporters come out to celebrate Apna Ghar's groundbreaking work with survivors of domestic violence. Join us for an evening of the best international food and wine that Chicago offers" said Rambha Radhakrishnan M.D. President of the Board of Directors.
Apna Ghar provides culturally-appropriate, multilingual services, including emergency shelter, to survivors of domestic abuse with a primary focus on the South Asian and other immigrant communities
Apna Ghar was started by five Asian American women activists, who established a domestic violence hotline in response to unmet needs in the community. Incorporated in January of 1990, the agency became one of the first domestic violence agencies in the nation to address the cultural and linguistic barriers that prevent many South Asian victims of family violence from reaching out for help. Today, all services are open to families irrespective of ethnic origin, socioeconomic status, or racial identity.
Rambha Radhakrishnan President of the Board of Directors of Apna Ghar, Inc. welcomes the audience and explained the aims and objectives of the Apna Ghar.
Serena Chen Low, Executive Director of Apna Ghar, Inc. in her brief remarks said that this year alone they served women and children from five continents, Asia, Africa, North America, South America and Europe Philippines, Mongolia, China, Korea, Taiwan, Russia, France, Iran, Iraq , Congo , Belize , United States , Canada , and many other countries.
Featured restaurants donated food and staff to make the evening truly delicious with tastings in the event's theme of flavors from Around the World. Participants included Emilio's Tapas, Ras Dashen, Metropolis Coffee, Gaylord's Indian, Rishi Tea, Edible Arrangements, Radhika Desai, Entertaining Company, Barrio Urban Taqueria, Thalia Spice, Vermilion, Tuscany, Inchi's Bamboo Garden, Tommy Nevin's Pub, Veerasway, The Peacock, and the Distinct Palette which provided delectable truffles. Other sponsors of the event included Pepsi, Indian-Wine.com and other wines selected by Master Sommelier Alpana Singh of WTTW Channel 11's.
Chicago Dhamaal performed at the Apna Ghar "Taste for Life" event to support the Foundation's great cause and help take on the fight against domestic violence and injustice. Dhamaal's routine incorporated various styles of dance, such as Bhangra, Bollywood, and classical Indian Dancing. Chicago Dhamaal is a South Asian fusion dance team that incorporates dancers from all Chicago Universities, such as The University of Illinois at Chicago, DePaul University, and Loyola University. As a travelling dance team, Dhamaal competes at nationwide competitions and performs for numerous miscellaneous events throughout the year such as private parties and community foundations.
Members of the Mexican Dance Ensemble, Luz Lemus and Eduardo Cortez, performed dances from the region of Jalisco, Mexico. The songs, titled La Negra and El Gavilancillo were the pieces performed and they are a representation of the people of the region. It can be considered a recognition of the women of the region whom have become known for their sun-tanned skin; it is almost praising these women for their beauty through this first dance. The second dance is a reference to the predator bird, the sparrowhawk and its very precise hunting ability. The birds hunting demeanor is a reference a male finding a beautiful women and never taking his eyes off of her until she becomes his. The determined chase and the attempts to impress the women are a reference not only to the sparrowhawk, but also to the men of the region whom have been known for their determined women chasing.
Trinity Irish Dancers (MacKenzie Holland and Maggie Doyle) performed Irish dance.
There were many generous supporters of the evening including the Million Dollar Round Table Foundation, Air India, New York Life Insurance, National Republic Bank, Dhanji Foundation, Lakeside Bank, Club of Indian Women, EJ Coyne Insurance, and Mona Travel LLC.
Apna Ghar, Inc. (Our Home) wishes to thank its many supporters who ensure that critical services are available to domestic violence survivors. More information – visit www.tasteforlifechicago.com or www.apnaghar.org
Letters of Greetings received from Governor Pat Quinn as Governor of the State of Illinois , Richard J Durban (United state Senator), Jan Schakowsky (Member of Congress, 9th Congressional District of Illinois) and Lisa Madigan (Attorney general) were read out.
Board of directors and the office bearers are as follows:
Officers: President Rambha Radhakrishnan, MD, Vice President: Sameer Chhabria, Treasurer: Vasanthi Seeras, Secretary: Monika Sharma, and Immediate Past President: Surinder Nand , MD
Suresh Bodiwala
Chairman
Asian Media USA
Bus: (847) 679-8583
Fax: (847) 679-5336
Cell: (847)420-4789
sbodiwala@sbcglobal.net
Copyrights (c) 2010 – Asian Media USA
No one shall download or otherwise duplicate the graphics, images, press release and written content from the PDF without our express written permission. Likewise, no one shall reuse the aforesaid things, as the same are the intellectual property of the Company, we hereby reserve all rights
Disclaimer: – Asian Media USA
"The information in this e-mail and any attachments is confidential and may be legally privileged. It is intended solely for the addressee or addressees. If you are not an intended recipient, please delete the message and any attachments and notify the sender of misdelivery. Any use or disclosure of the contents of either is unauthorized and may be unlawful. All liability for viruses is excluded to the fullest extent permitted by law. Any views expressed in this message are those of the individual sender, except where the sender states them, with requisite authority, to be those of the Asian Media USA