Chicago Vaisakhi Parade on Devon Avenue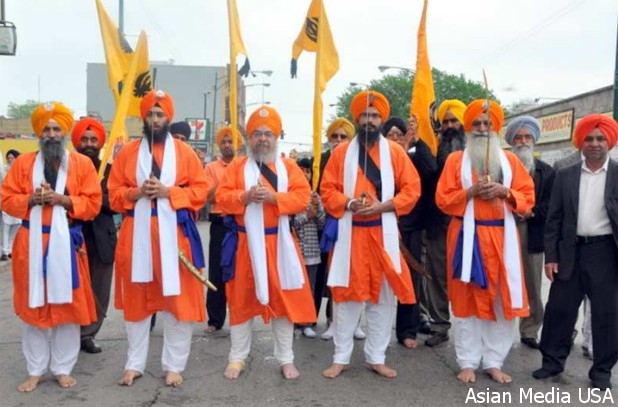 A Sikh Community Vaisakhi Parade (Nagar Kieran) was organized by the Gurudwara Sahib of Chicago on Saturday May 28, 2011. The parade was to observe a belated Vaisakhi Day which is in mid April, but was delayed due to the Chicago outdoor weather. The parade ended just in time about an hour before it started to rain heavily.
Several hundred Sikh community memebrs participated in the parade. A sea of orange turbans and dupattas was visible on Devon Avenue East of Westeren Avenue. Men, women, and children of all ages dressed in ethnic dresses marched in the parade singing Gurbaani hymns, and raising slogans of "Jo Bole So Nihaal……Sat Siri Akaal," (whosoever believes that God is True…is a happy and contended person).
Members from Palatine Illinois Gurudwara led by president Harkirat Singh Sandhu, members from Wheaton Illinois Gurudwara, Oak Creek Wisconsin Gurudwara, Crown Point Indiana, and Indianapolis Indiana Gurudwara members came in to march in the parade with decorated floats and marching units.
The parade was led by the "Panj Pyare" (The Five Beloved Ones) carrying Nishan Sahib (Sikh Community Flags), and a float carrying "Guru Granth Sahib" (Sikh Scripture) on a "Palaki" under a canopy. The Keertan (singing of hymns) was going on all through the parade route.
A contingent from the Punjabi Cultural Society of Chicago (PCS) led by the president Balwinder Singh Girn also took part in the parade.
There was a youth "Gatka" (Sikh Martial Arts) performance group which demonstrated various forms of martial arts including sword fighting and bamboo stick fighting all along the parade route.
The parade assembled at Devon Avenue near Ridge Avenue, stepped off shortly after noon time and marched West on Devon Ave, to end at Western Avenue.
The "Guru Granth Sahib" was respectfully taken off of the float and carried on head to the Gurudwara Sahib. An all day Keertan Darbaar (singing of Gurubaani hymns) by several Raagi Jathas (hymn singers) continued at the Devon Avenue Gurudwara where many of the members sat in to listen and worship.
Langar (free community kitchen meal) was available to all. Enthusiastic volunteers served delicious Indian snacks (Pakauar, Samosa, Jalebi, Gulab Jamun) and mango juice bottles to all free of cost along the parade route.
The parade was organized by Balwinder Singh, Happy Heer, Lakhwant Singh Kolmal, Nick Gakhal, Sunny Kular and many other humble volunteers. Sikhs are a religious community immigrants from NorthWestern State of Punjab in India. About 500 years old, Sikhism is the fifth largest religion in the world with about 25 million followers.
Press release by: Rajinder Singh Mago
Photographs by: Asian Media USA
Suresh Bodiwala
Chairman
Asian Media USA
Bus: (847) 679-8583
Fax: (847) 679-5336
Cell: (847)420-4789
sbodiwala@sbcglobal.net
Copyrights (c) 2010 – Asian Media USA
No one shall download or otherwise duplicate the graphics, images, press release and written content from the PDF without our express written permission. Likewise, no one shall reuse the aforesaid things, as the same are the intellectual property of the Company, we hereby reserve all rights
Disclaimer: – Asian Media USA
"The information in this e-mail and any attachments is confidential and may be legally privileged. It is intended solely for the addressee or addressees. If you are not an intended recipient, please delete the message and any attachments and notify the sender of misdelivery. Any use or disclosure of the contents of either is unauthorized and may be unlawful. All liability for viruses is excluded to the fullest extent permitted by law. Any views expressed in this message are those of the individual sender, except where the sender states them, with requisite authority, to be those of the Asian Media USA