Hurricanes beat Rowdies to claim championship in a thrilling finale
Asian Media USA ©
Chicago IL: Rowdies have been victorious in six out of eight of their league games that got them a berth directly into the final with 12points for Chicago Premier League's finals. Hurricanes however seeded number 3 on the top three and have been beaten twice in their encounter with Rowdies. Hurricanes managed to get 10 points by winning five of their eight games to qualify for their finals
The final was played between Chicago Rowdies and Chicago Hurricanes at the Skokie Sports Park amidst much fanfare. The event was sponsored by Nirav Foods, Usmania Fine Dining, Sabri Nihari, and Bawa Sports. Amongst dignitaries that attended the event were Mr. Sikander Iqbal (Deputy Director- Cook County), Mr. Pramod C Shah (Clerk-Village of Skokie) Masood Chick (Former President USACA & Former Pakistan Player). Owners of Nirav Foods, Manishkumar Patel and Arif Patel from Bawa Sports were also present at the event. President of (UCL & CPL) Mr. Adil Azeem Khan welcomed all the fans and dignitaries to the match proceedings.
Rowdies won the toss and decided to bat first same as the last encounter with Hurricanes. The ground was a little on the damp side from the rains Chicagoland had seen over the weekend, and September is susceptible to dew at the night approaches, and this makes it harder to score runs in the second inning.
Ahsan Syed and Sajid Patel opened the innings for Rowdies against the bowling attack of Pruthvish Patel from Hurricanes. Ahsan was caught at deep covers by Salman Ahmed within the first over providing and excellent start to the Hurricanes. Suhel Patel who came in next could only survive until the 3rd over and was dismissed by Pruthvish again but caught by Neel Patel this time. Nazim Patel came in next and tried to stabilize the situation with Sajid who was continuing his attacks from one end. Sajid scored 28 of 16 balls but was sent back to pavilion by a catch taken by Salman again, but this time to Prakshesh Patel's excellent cutter. Javid Patel came in next but was unable to hold on and was dismissed by a catch by Sargam Patel of Manan Patel's bowling. At the end of Power Play Rowdies looked bleak with a mere 42 runs at the loss of 4 wickets.
Ayaz Patel the mastermind, who plays in a very calculated way was next to come to the crease. With Nazim he managed to steady the innings and together they put up 50 runs. Pruthvish returned the favor to Salman by taking Nazim's catch and dismissed him for 30 runs of 29 balls. Viral Tailor came in next. Viral looked like he would take the game away in a blink with his blistering batting and Ayaz on the other side only boosted his confidence. Ayaz was caught by Manan of Pruthvish's bowling but not before he had managed to put up a 50 for himself and another partnership of 59 runs with Viral. Truly a captain's innings. Mohsin Detraliya supported Viral for the 1.3 overs that he was in the middle and Viral capitalized on the loose balls. Viral hit 3 sixes in a row of Salman's 18th over. Viral was run out on the last ball of the inning for an extraordinary 38 runs of 17 balls, while Mohsin remained not out with 9 of 7 balls. Rowdies wrapped up the inning with 167/7(20.00 overs).
Hurricane had managed to score a close 210 while chasing 216 in their previous encounter with the Rowdies and even though this did not look like a big total, the weather was the primary factor that would have a huge impact on the ability to get the 168 runs. Urvish Desai and Salman Ahmed opened the innings for Hurricanes. Urvish is very flamboyant in his approach to opening an inning and you can see some creative shots coming off his bat, however it looked like he held on to his urge to play creatively and stuck to the basics at least until he felt comfortable enough. Salman on the other hand is more textbook in his approach but he had only scored a high of 19 runs coming into this final. This combination looked promising enough since Dhairya Mistry had to miss this game for a medical leave. Javid opened the bowling attack for Rowdies but did not look his regular self. He started off with 3 wides in a row and then a four and one more wide. Saeed Gantiwala looked more promising with only conceding 7 runs in his first over. Javid conceded 16 runs in his second over and 15 of those went to Salman. Liyakat Raja and Asif Desai controlled the runs, but Urvish and Salman managed to get at least 10 runs per over. Asif, Liyakat, Sajid, and Viral were all bowling well but were unable to contain the flow of runs to under 10. The required run rate kept falling as Salman and Urvish carried on their crusade to get more than the required run rate in almost each over. Salman and Urvish together put a total of 89 runs before Salman got out on 47 trying to hit a maximum of Viral's bowling and was caught by Liyakat.
Pruthvish Patel the captain for Hurricanes was the next batter at the crease and he provided ample support to Urvish while running for 2 runs whenever possible. Urvish scored 54 runs before he was run out by Nazim. Manan Patel who was a late addition to the team was the next batter in. Manan is known for his quick uptick in run for the team and rarely does he stay at the crease for too long. However with much of the work being done by Salman and Urvish it did not look like he would need to be at the crease for long. Hurricanes were already at 120 runs when they lost the wicket of Urvish. Pruthvish got bowled LBW by Liyakat soon after Urvish and Sargam came in. Sargam has been in great form and had scored a blistering 75 in his last game against Rowdies. Manan finished off the game in the 17th over with a four over the point boundary off Liyakat with 2.4 overs to spare.
Overall, this turned out to be an excellent story of the underdogs coming back with a vengeance and winning. True to Chicago roots this was a game to be watched. Urvish Desai was adjudged the player of the match and Hurricanes were declared the 2022 Chicago Premier League Champions! President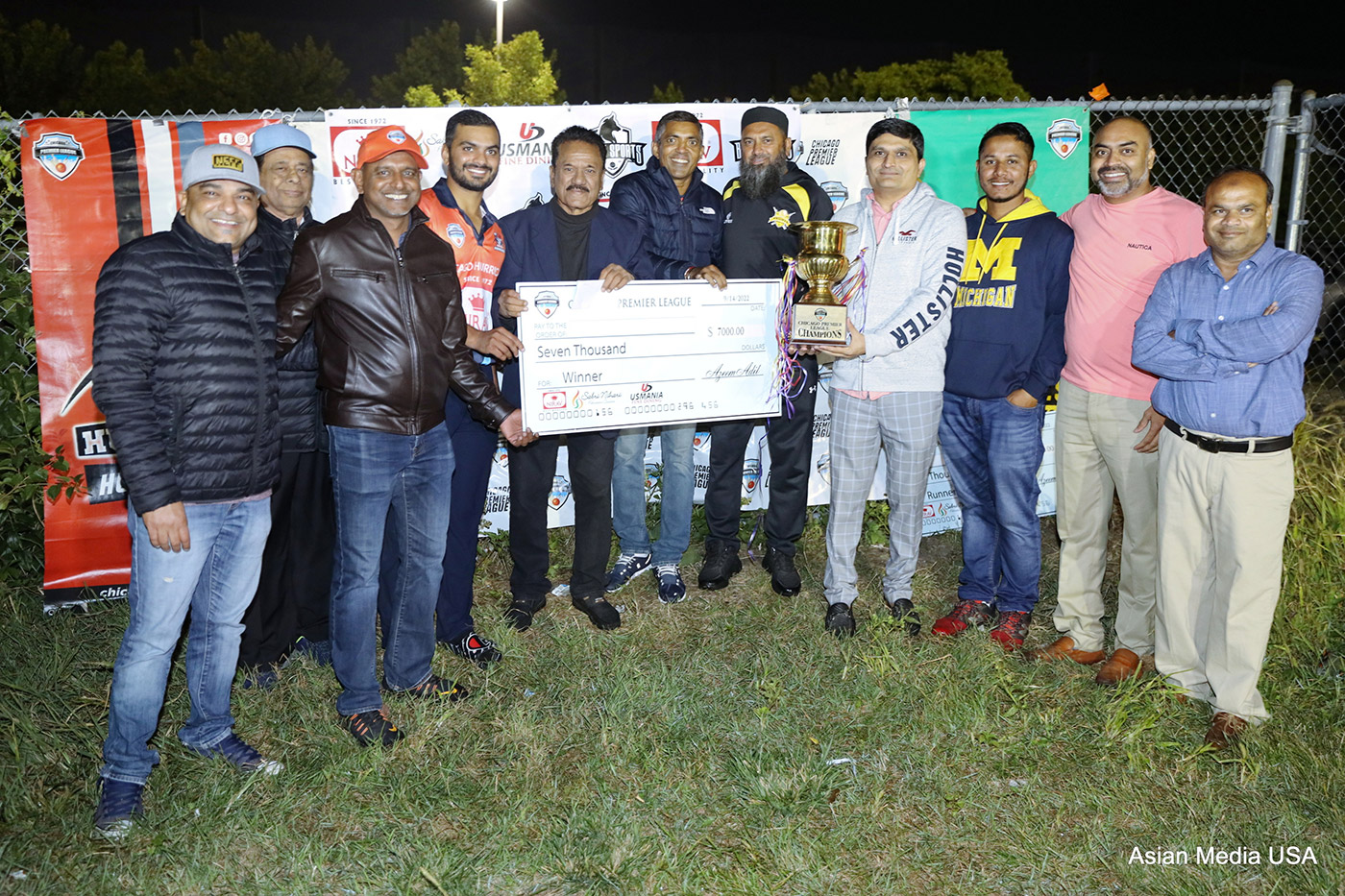 Score: Chicago Rowdies: 167/7(20.0 overs) Chicago Hurricanes: 169/3(17.2 OVERS)
Result: Chicago Hurricanes won by 7 Wickets
Player of the Match: Urvish Patel
Photographs by: Asian Media USA
Press release by: Staff writer
Suresh Bodiwala
Chairman
Asian Media USA
Cell: 847-420-4789
E-Mail: bodiwalasuresh@gmail.com
Copyrights ©: Asian Media USA
No one shall download or otherwise duplicate the graphics, images, press release and written content from the PDF without our express written permission. Likewise, no one shall reuse the aforesaid things, as the same are the intellectual property of the Company, we hereby reserve all rights
Disclaimer: Asian Media USA
Asian Media USA press releases are event oriented and published after careful review and examination of the contents without bias or without being influenced by race, color, nationality or religious persuasion. In other words we are completely neutral according to generally accepted journalistic principles and long established conventions governing Newspaper reporting. Any use or disclosure of the contents of either is unauthorized and may be unlawful. All liability for viruses is excluded to the fullest extent permitted by law. Any views expressed in this message are those of the individual sender, except where the sender states them, with requisite authority, to be those of the Asian Media USA. If for any reason including but not limited to prior written authorization, Newspaper or similar entity do not give the credit for the content and photographs, Asian Media USA reserve right to take legal action to prosecute for violating copy right law to the fullest extent of the law.