The 4th Annual Dulhania Bazaar Expo Draws Impressive Turnout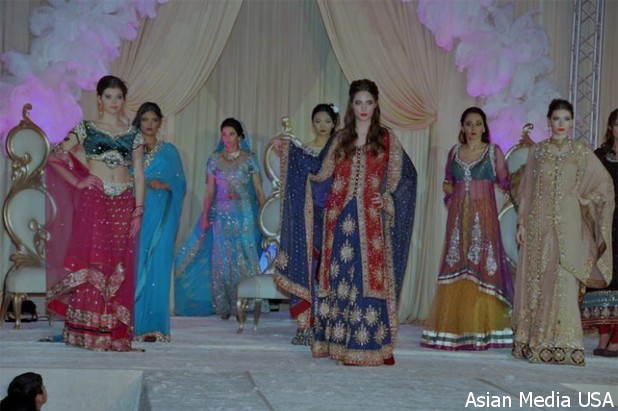 Chicago IL: Dulhania Bazaar Expo has done it again! An extravagant display of wedding canopies, colorful sarees, sparkling jewelry, tasty food samples and floral arrangements adorned the exhibits at the 2012 Dulhania Bazaar Expo. The event began at 11:00am and concluded at 5:00pm on Sunday, February 26, 2012 at the Renaissance Schaumburg Convention Center Hotel, located at 1551 North Thoreau Drive, Schaumburg IL. The Dulhania Bazaar originally debuted in Chicago. This was their 4th Annual South Asian Bridal Expo which was organized by Shy Khan, Prameet Bhargava, Hannya Janjua, and Ehreema Nadir. With more than 4000 attendees, 90 plus vendor booths, and 70 plus vendor companies, the expo was organized to meet the growing stylish tastes of the consumers. The Dulhania Bazaar Expo undoubtedly showcased the best wedding paraphernalia and event planning services in recent times.
Invited dignitaries were: Mayor Al Larson, Mayor of Schaumburg, and Mr. Raja Krishnamurthy (candidate for US Congress 8th district).
Nothing occupies the collective mindset of Indian Culture as the subject of wedding does. Come wedding season, if you aren't getting married, then you're probably attending a wedding! For all of us who want to be part of a very big wedding, Dulhania Bazaar Chicago Expo 2012 was the perfect solution. The Expo aimed at providing the community a one-stop shopping experience for wedding planning, meeting various vendors, building relationships and networking with the vendors all under one roof. It provided the brides, grooms, and their families what they were looking for. It was a great place for them to come and have access to all the vendors they need for their wedding or any other special event! The range of vendors, both Indian-American and mainstream, added their bit to making the event a one-stop-shop for brides to be. The wedding essentials included: decorators, florists, event planners, fashion, jewelry, henna, makeup services, DJs, lighting, photographers, and restaurants. The vendors made sure to showcased their products and services effectively and artistically.
The Expo was designed to give opportunities not only to numerous businesses but also to all the brides & grooms. All the attendees, guests, and vendors were given opportunities to taste, touch, feel, and see all the exhibits first hand. The goal was to bring all the ingredients, which make up an entire wedding event available all under one roof and to offer a stunning experience to the Brides & Grooms of tomorrow.
"Weddings are a representation of status. And today, everyone wants the best of everything – thanks to broader exposure. Flowers, fruits, gifts, venue and décor do matter," says, Sonia Desai, event and wedding planner. Of course, the Indian wedding is a huge hit with Westerners. Robert Miller, an American who is betrothed to an Indian, says, "To me, it's meant to be the ultimate celebration of a sacred institution, weddings – across communities – showcase the grandeur of Indian culture."
There Fashion Shows were presented during this event.
Bridal Fashions Forever presented at 1:00 pm
Forever Fashion, is a multi-brand discount designer clothing boutique. Forever Fashion's online store offers marvelous collections of fashionable trendy men's and women's designer clothes, shoes and accessories created by the best designers, modern fashion houses, and brands. It's the right and easy place to buy cool and stylish things for less. Just consider the opportunity to become the lucky owner of trendy Dolce & Gabbana tops, evening and classic Roberto Cavalli dresses, perfect style Gucci long sleeve tops, wonderful Prada shoes, cool Armani underwear, Versace denim blue jeans, Diesel sport clothes, or funky Dsquared2 shirts.
Tabarruj presented at 2:30 pm
In order to bring a change to the philosophy and to add more color and warmth to the Islamic world, Tabarruj became the first major Abaya/hijab fashion designer. Tabarrujs' Abayas, modest yet more stylish and colorful became a friendly notion to the world. Women who wear Tabarrujs' Abayas send messages of peace and friendship to the entire world while keeping their modesty and values safe. Today the Tabarruj Designer team has grown to 25 designers, spreading into different Tabarruj stores, including well renowned designer labels also working for Tabarruj. Every Tabarruj store in addition to its huge variety of products is also equipped with fashion consultants and designers to help customers with their suggestions. As a giant designer, Tabarruj stands today, spreading the message of peace, modesty, colors, and smiles. Style as an approach, Trend Setter by motto, and fashion as in passion, Tabarruj caters its customers in every field they can think of. From dresses, to jewelry, to shoes, to a range as wide as bridal to party wear, to men's and kids wear, and to Abayas wear. Tabarruj excels in all departments and looks forward to serving its customers with high end fashion.
Charisma Design Studio presented at 4:00 pm.
An upscale Chic boutique, carrying one of a kind collections crafted with perfection and precision, is located in Westmont, IL. Ethnic Indian outfits with traditional and modern embroidery put together with a variety of fabric combinations make their clients stand out from the rest. Fashion Show was coordinated by, Asha Spacek from UR Super Models. The Fashion Show featured models of UR Super Models.
MAFS (Metropolitan Asian Family Services)
had a booth at this event with the main purpose of reaching out to the ethnic Asian population of Chicago land area and offering their services to needy families. Fliers and brochures explaining their social service programs were distributed by the MAFS staff members who actively interacted with people visiting their booth. It was an excellent opportunity to provide information about free programs and services which are available to income eligible persons in need of social service assistance. MAFS has 7 locations around Chicago land area where services are offered. For more details, visit: www.mafsinc.com
Free Raffle prizes worth thousands of dollars were sponsored by participating vendors. Etihad Airways gave away 2 International Pearl Business Class Tickets. Other Sponsors were New York Life, Vannie design studio, Shukan, Rami's Mandap, Tabla Dhol and Lasting Memories. Free food tasting- Participating restaurants provided delicious samples of food items for tasting to all the attendees.
Tabla Dhol Entertainment wowed the audience with two special performances at the 2012 Dulhania Bazaar Wedding Expo at Renaissance Schaumburg. During their first performance, singer Rinki Talati sang an energetic version of Sajana ji Vaari Vaari accompanied by live dhol from Dholis Nishad Parmar and Vimal Prajapati,. In their last performance, the two Dholis performed a drum solo, and got everyone out of their seats, clapping and dancing to the beat of the drums. Tabla Dhol Entertainment is a Chicago-Based entertainment provider, focusing on providing entertainment for Sangeet/Garbas, Baraats, Weddings, and Receptions. They specialize in live DJ, live Singer, Dhol, Tabla, Sound, and Lighting. For more information about them, please visit their website, www.tabladhol.com, or email them at info@tabladhol.com.
Mehdi designs, in India, Pakistan, and other countries of South Asia, is traditionally used from centuries for tattoo decoration of brides & other ladies on occasions of marriage. It is also used during other social and religious occasions such as Eid, Nikah, Baby Showers, Tummy Blessings, Karva Chauth, Holi, and housewarming Parties. Today the list is ever expanding. Today's families invite Mehdi design experts for similar purposes to add extra charm and joy on occasions of Christmas, Birthday & Graduation parties, Summer Barbecue, Sweet Sixteen, etc. In modern days this is also used on occasions like Valentine's Day, girls' night out, and other social parties. You name any occasion and this tradition can be appropriately used for adding beauty, charm, and joy into the celebrations. From little over a decade this traditional art has become popular for many similar purposes in the western world too. Mehdi decorations mainly involves drawing, from coarse to the finest lines to produce intricate and attractive designs, figures, objects on body part(s) as per an individual's choice. Traditionally, these are drawn on the exposable parts of extremities, at times, also on face, neck etc. The designs, after darkening in a day or two, slowly start fading naturally. Within a week or two, designs disappear completely without help of any external chemical or painful laser. http://www.unnatizart.com/
Suresh Bodiwala, chairman of Asian Media USA had an opportunity to interview Jitubhai Patel, Janki Patel, Samina Khan, and Shital Daftari to hear their perspective of the Dulhania Bazaar Expo.
Shital Daftari, Dulhania Bazaar was an amazing experience. It was a one-stop shop that brought together various wedding vendors under one roof. It was attended by brides, grooms and their families as well as many other people. It featured fashion shows and food tastings from wedding caterers. As an online Sari Rental Boutique, it was a great opportunity to network with other wedding vendors as well as reach out to brides and grooms via the Dulhania Bazaar magazine. Saris and Things is a fabulous online boutique, where you can rent or buy Saris, Blouses and Accessories. We know that planning a wedding can be a very overwhelming and expensive affair. Saris and Things lets you rent Exclusive Saris and Bridal wear at a fraction of the retail cost so you don't have to spend a fortune every time you get an invitation in the mail and you don't have to worry about repeating the same outfit ever again. Check out our website at www.sarisandthings.com
Rinki Talati:
A renowned singer from India who is now settled in the U.S. had a blast in the Dulhania Bazaar Expo event. "I got an opportunity to perform prior to the fashion show. I sang Sajanaji Vari Vari " with members of Tabla Dhol. We made an indo- western fusion mix of live Dhol and singing. We really had a great response from the audience and they showered many compliments. As an artist this was an honor and a great opportunity for me and my group to perform in Dulhania Bazaar. It was really a memorable performance" she said.
Janki Patel
one of the visitors at the exhibition, said, "The exhibition has everything that one would require while planning a wedding. I came here to look at clothes and accessories for my wedding."
Samina Khan
who was one of the visitors at the exhibition, said, "The exhibition is very convenient for people like me who are going to tie the knot soon. I came to look at clothes and jewelry for my trousseau. AIM'S Jewelry- displayed beautiful & unique contemporary and traditional style American diamonds, high quality cubic zirconia topped with high quality simulated precious gem stones and many more varieties.
American Elegance Pageant
(Dawn Frison Cook), posed with other pageant royalty at Tiara Magazine's booth at Dulhania Bazaar. The magazine's editor-in-chief, Sherrie Gearheart (not pictured), was a featured model during Dulhania's three fashion shows. Tiara Magazine, the premier magazine for the pageant, modeling and talent industries, will feature the American Elegance National Pageant in its Spring Issue and showcase the pageant's queens on its cover. Now in its 14th year, the American Elegance Pageant believes that every woman is elegant and beautiful and provides a venue for teens and women of all ages, races, nationalities, sizes and marital status to showcase her inner and outer beauty through pageantry. The 2012 National Pageant will be held November 2-4, 2012 in Schaumburg. American Elegance believes a pageant should be a fun affordable event that makes a woman feel like the queen that she already is. Each person is unique and that in itself makes you the symbol of elegance and true beauty. Tiara Magazine, along with Live Out Loud Charity (LOLC), hosts an annual fashion show to raise awareness and funds to achieve LOLC's mission to understanding and preventing suicide through research, education and advocacy. Ms. Gearheart is also the founder of LOLC, a non-profit organization focused on suicide awareness and prevention through core character development.
For more information, please visit these websites:
American Elegance Pageant: www.msamericanelegancepageant.com
For More Information, Contact:
Motise Jones, Founder and National Director, American Elegance Pageant, at 773.487.7343; and Sherrie Gearheart, editor-in-chief, Tiara Magazine, at 815.914.8602; and Dawn Frison Cook, National Executive Producer, American Elegance Pageant, at 708.218.1681
Photographs and Press release by: Asian Media USA
Suresh Bodiwala
Chairman
Asian Media USA
Bus: (847) 679-8583
Fax: (847) 679-5336
Cell: (847)420-4789
sbodiwala@sbcglobal.net
Copyrights (c) 2010 – Asian Media USA
No one shall download or otherwise duplicate the graphics, images, press release and written content from the PDF without our express written permission. Likewise, no one shall reuse the aforesaid things, as the same are the intellectual property of the Company, we hereby reserve all rights
Disclaimer: – Asian Media USA
"The information in this e-mail and any attachments is confidential and may be legally privileged. It is intended solely for the addressee or addressees. If you are not an intended recipient, please delete the message and any attachments and notify the sender of misdelivery. Any use or disclosure of the contents of either is unauthorized and may be unlawful. All liability for viruses is excluded to the fullest extent permitted by law. Any views expressed in this message are those of the individual sender, except where the sender states them, with requisite authority, to be those of the Asian Media USA