Mandala South Asian Performing Arts Launches New Headquarters at National India Hub Devon Avenue
Asian Media USA ©
Chicago IL: Mandala South Asian Performing Arts Lanches New Headquarters at National India Hub on Thursday – May 19 2022 at 2642 W. Devon Avenue, Chicago IL.
Devon. Devon Avenue has long been a site for cultural exchange and South Asian diasporic community. Since those like Jagdish Khatwani opened the first South Asian business on Devon, India Sari Palace, in 1972, and the Patel Brothers opening their trademark grocery store in 1974, this region has become a home for the largest community of South Asian residents in Chicago, Illinois and the broader Midwest. With the waves of the South Asian diaspora also came the businesses, cuisines, and arts of ancestral traditions. But, as many of us have learned, particularly with the trials of the pandemic, making space for tradition has become challenging. Mandala Arts has moved its headquarters where we believe South Asian arts are already deeply rooted; the arts need and deserve an advocate, supporter, and leader. With current and future artistic partnerships and collaborations, Mandala believes that Devon can grow and thrive.
Invited guests Alderwoman Debra Silverstein, Alderman Andre Vasquez Jr of Chicago's 40th ward, Mr. Ranjit Singh Consul Chicago, Mandala Board President Dr. Umang Patel and Paragi Patel, Pranita Nayar an Indian classical dancer, choreographer, company director, curator and producer, officials from the West Ridge Chamber of Commerce and Rogers Park Business Alliance, and senior officers from the Gaylord and Dorothy Donnelley Foundation, the Richard H. Driehaus Foundation, and the John. D. And Catherine T. MacArthur Foundation.
Mandala will use this space, beginning June 1, for community classes, open rehearsals, and special programs. Among the first activities will be the Mandala Makers Festival, which runs June 16–26 indoors and outdoors in the Devon Avenue community. For more information about that event, visit makersfestival.mandalaarts.org.
Nayar says, "Since its inception in 2014, Mandala has successfully engaged Chicagoland audiences in the rich diversity of South Asian Performing arts traditions through professional performances, artistic education, and community engagement. Still, Mandala cherished its deep connection to the community of artists, students, and audiences of Devon, where Mandala has steadily increased programming over the last several years. Having established its place as a force in the Chicago arts scene, Mandala Arts is committed to supporting and empowering the South Asian diasporic community whose traditions, identities and practices that the organization represents. Finally, with the opening of this space, Mandala is able to call Devon home, both in our hearts and in our organizational roots."
Prominent Physician and well known community leader Dr. Umang Patel, President of Mandala Arts welcomed the guests and said I am delighted to be a part of the team in bringing the South Asian Cultural Hub on Devon Ave and added it will regenerate the vibrancy of Indian culture through arts, dance and music while resurrecting the ideals of Gandhianism.
Alderwoman Debra Silverstein of the 50th ward in her address welcomed the establishment of India's cultural center on Devon Ave and said she is honored to see the revitalization of not just the development of the ward, but revitalization of arts and culture of South Asian heritage. Alderwood Debra Silverstein said the 50th ward is home to a large population of South Asians and through the Mandala Arts center, we will be able to connect with each other in celebrating the colorful diverse cultures.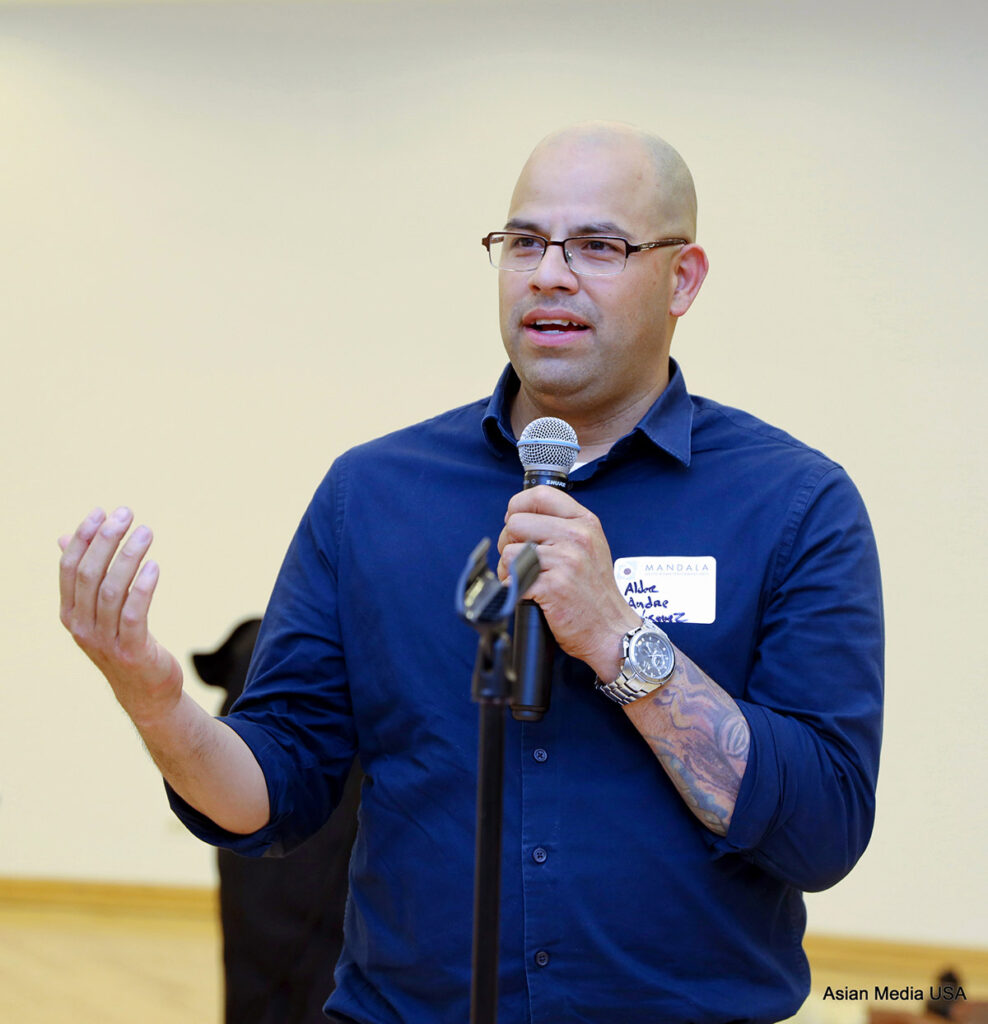 Alderman Andre Vasquez Jr of Chicago's 40th ward in his address said that it warms his heart to see the showcasing of India's rich cultural heritage on Devon Ave brought by Mandala Arts and added this cultural center transcends language, it transcends culture, and it allows us to tell the beautiful stories that depict the enduring culture of South Asia.
Photographs and Press release by: Asian Media USA
Suresh Bodiwala
Chairman
Asian Media USA
Cell: 847-420-4789
E-Mail: bodiwalasuresh@gmail.com
Copyrights ©: Asian Media USA
No one shall download or otherwise duplicate the graphics, images, press release and written content from the PDF without our express written permission. Likewise, no one shall reuse the aforesaid things, as the same are the intellectual property of the Company, we hereby reserve all rights
Disclaimer: Asian Media USA
Asian Media USA press releases are event oriented and published after careful review and examination of the contents without bias or without being influenced by race, color, nationality or religious persuasion. In other words we are completely neutral according to generally accepted journalistic principles and long established conventions governing Newspaper reporting. Any use or disclosure of the contents of either is unauthorized and may be unlawful. All liability for viruses is excluded to the fullest extent permitted by law. Any views expressed in this message are those of the individual sender, except where the sender states them, with requisite authority, to be those of the Asian Media USA. If for any reason including but not limited to prior written authorization, Newspaper or similar entity do not give the credit for the content and photographs, Asian Media USA reserve right to take legal action to prosecute for violating copy right law to the fullest extent of the law.