Famous Punjabi Singers Sarbjit Cheema and Dolisha electrifies the audience at "Rangla Punjab"
Famous Punjabi Singers Sarbjit Cheema and Dolisha electrifies the audience at "Rangla Punjab"
Chicago IL: The Punjabi Cultural Society of Chicago (PCS) flagship annual event "Rangla Punjab" to celebrate (belated) Vaisakhi festival, was held on May 21, after an hiatus of couple of years due to the covid19 pandemic, at the Yellow Box Theater, Naperville, Illinois. This was the 28th year of this event by PCS.
More than 800 attended. Nearly 200 children and adults from Illinois, Indiana and Wisconsin performed Punjabi folk dances Bhangra and Giddha, played music, and socialized.
Prominent Punjabi Singer and film artist Sarbjit Cheema with many smash hits like his evergreen song "Rangle Punjab Di Sifat Sunnava," along with Miss Dolisha a rising star in Punjabi singing and their live orchestra from Canada electrified the audience to be dancing wherever they were, in their seats, on the floor all over the auditorium and made it a memorable evening. Everyone was ecstatic enjoying togetherness after covid19 lockdowns and social distancing.
Dr. Param P. Singh a cardiovascular physician from Moline Illinois, who won "The Young Investigator Award" from AACIO in 2010, was the chief guest.
"Rangla Punjab " is the single largest annual Punjabi cultural event in the Chicago area that promotes the local community talent and showcases the Punjabi performing arts to a family audience since three decades.
Punjabi Cultural Society of Chicago volunteers train and provides a platform to the local Punjabi artists to nurture and grow their talents.
"Rangla Punjab" event helps Punjabi youth come closer to their heritage, Punjabi language, culture and community. This indeed is a great community building effort," said Parvinder Singh Nanua, the P.C.S. President.
Rangla Punjab 2022 event was organized by the PCS Board with the help of dozens of youth coordinators and volunteers. PCS Vice president Bhupinder Singh Dhaliwal welcomed the attendees and started the evening program with the U.S. National anthem sung by Mini Singh, followed by singing of Sikh prayer hymns by the children of Wheaton and Palatine Gurdwaras.
The evening event was divided into two halves where the first half included 17 performances including Bhangra and Giddha Punjabi folk dances and music recitals by the local talent. Esha Kaur Singh played Punjabi tunes on Viola while Jaskaran Sangha played the Dhol.
Dance items were prepared by the efforts of Neha Sobti, Kiran Bhalla, Kiran Grewal, Gia Dhaliwal, Avneet Kaur Aujla, Jasleen Kaur, Navneet Kaur & Sonia Kohli, Kiran Grewal, Amandeep Kular, Mankirth Singh, Kiran Grewal & Rajbir Dhillon, Neetu Singh, Navtej Sohi & Gurshaan Sohi, Rajpreet Dhaliwal, Kawaljeet Kaur and Payal Virdi.
This part was emceed by the local youth who were encouraged to speak in Punjabi. The first half was divided into four segments which were emceed by Karan Gill & Gurneer Sidhu; Gurkiran Kaur, Mankirth Singh & Harnoor Singh; Gia Dhaliwal & Guru Dhaliwal; Simran Bhalla & Manpreet Bhalla.
Navtej Singh Sohi and Rajinder Singh Mago provided backstage support to the youth. Surinder Palia, Jasbir Palia, Manjeet Bhalla, Gurlal Bhattal, Iqbal Saini, Rajinder Singh Dyal, Thakar Singh Basati, Jaskaran Saini, Gurpreet Girn, Harleen Saini, Bikram Sahota along with several other volunteers helped with the costumes, turban tying, and bringing the young performers back stage for performance line-ups.
PCS President Parvinder Singh Nanua welcomed the audience, thanked the participants and the sponsors, and introduced the PCS Board of Directors, Advisors and Governors.
Rajinder Singh Mago introduced the PCS Honorary Chairman Kevindeep Singh Atwal and Chief Guest Dr. Param P. Singh, who distributed awards to the Bronze, Silver, Gold and Platinum sponsors.
"I am the third generation being part of PCS and Rangla Punjab," said Kevindeep Singh Atwal the PCS Chairman.
The outgoing PCS Presidents Harwinder Paul Singh Lail (2019), Balwinder Singh Girn (2020) and PCS Chairman Gurdeep Singh Nandra (2019) were honored with plaques, by the Chief Guest, for their excellent services.
"After a couple of years of pause and loneliness caused by the covid19 pandemic, I am proud to say that P.C.S. is back with a bang tonight, I feel ecstatic," said Gurdeep Singh Nandra, who was accompanied by his wife Rajneesh Nandra.
Counsel Ranjit Singh of Indian Consulate in Chicago attended with his family and was also recognized.
"I congratulate Punjabi Cultural Society of Chicago for their prolific achievements in promoting Punjabi Culture and Language, which is quite evident from the number of young children nearly 200 participating in the program tonight, and this is your 28th year doing this," said Counsel Ranjit Singh.
Kimi Mehta, Director South Asian Outreach Chicago Board of Election Commissioners spoke to encourage South Asian communities including Indians and to vote.
The second half of the program was conducted by Navtej Singh Sohi and Vick Singh where the famous Punjabi Singer Dolisha and Sarbjit Cheema sang and danced to entertain the crowd involving the audience with them to constantly clap and dance creating a very happy and celebratory mood like a huge party. Hundreds of young and old danced to their heart's content on every song they sang making it an unforgettable event.
Many parents congratulated and expressed their appreciation for PCS for continuing to provide opportunities, free coaching and a platform to keep their kids connected with our Punjabi culture.
The event was organized by the PCS Officials, with the help and support of many item coordinators, volunteers, and community sponsors.
The security was handled by Mohinderjit Singh Saini, all the graphics design art work and Information Technology work was done by Gurpreet Sidhu, the stage sound systems and coordination by Jigerdeep Dhillon, Tickets and seating by Balwinder Girn and Gurpreet Girn, all financial matters by Bikram Sohi, Awards and the guest artists coordination by Vick Singh, food arrangements by Sukhmel Singh Atwal, Paul Lail , and Bhinder Pamma. Amarjit Kaur Atwal coordinated facilities for team practices, and over all supervision by President Parvinder Singh Nanua and Vice President Bhupinder Singh Dhaliwal.
Photography by Asian Media USA. Delicious VIP dinner was catered by the Cuisine of India Restaurant of Naperville.
The Grand Sponsors were,
S. Darshan Singh Dhaliwal – Bulk Petroleum Inc.,
Dr. Bhupinder Singh Saini – Advance Pain Management Milwaukee, and
Dr. Narinder Singh Grewal – Advance Pain Management Los Angeles
The Platinum Sponsors were Raj Dhaliwal and S. Pritam Singh Nanua
The Gold Sponsors were Kevindeep Singh Atwal, Dr. Virkramjit Singh Gill (Midwest MindCare)
The Silver Sponsors were Balwinder Girn, Mr. Avtar Singh Bhaura (Bhaura Transport Indianapolis), Nick Balwinder Singh, Amritpal Mangat (Pawa Trucking Inc), Amrik Singh (Amar Carpet), Iqbal Singh Saini, Rajneesh Kaur Nandra, Venessa Anand, Mr. Amrit Mittal (New York Life), Lakhvir Singh Sahota, and Jaidev Singh Bhattal.
The Bronze sponsors were, Dr. Amrik Singh Sohi, S. Amolak Gidda, Jagjit Singh Dhindsa, Davinder Singh Rangi, Swaran Singh Sekhon, Parminder Banga, Harbhajan Singh Kalyanpur, Dr. Amrit Virk (Lakeland Dental), Lakhbir Singh Sandhu, Amrik Pal Singh (Solution Financial), Parminder Singh Goldi, Rajinder Singh Dayal, Harinder Singh (MITS), and Jasdeep Singh Saran.
Upcoming PCS events is Thanksgiving Day Parade on Thursday November 24, 2022 at State Street, Chicago.
P.C.S. is a non-profit 501(c)(3), all volunteer community service organization, devoted to promoting Punjabi culture, performing arts, education, sports, and good citizenship in the Chicago Metropolitan area and beyond.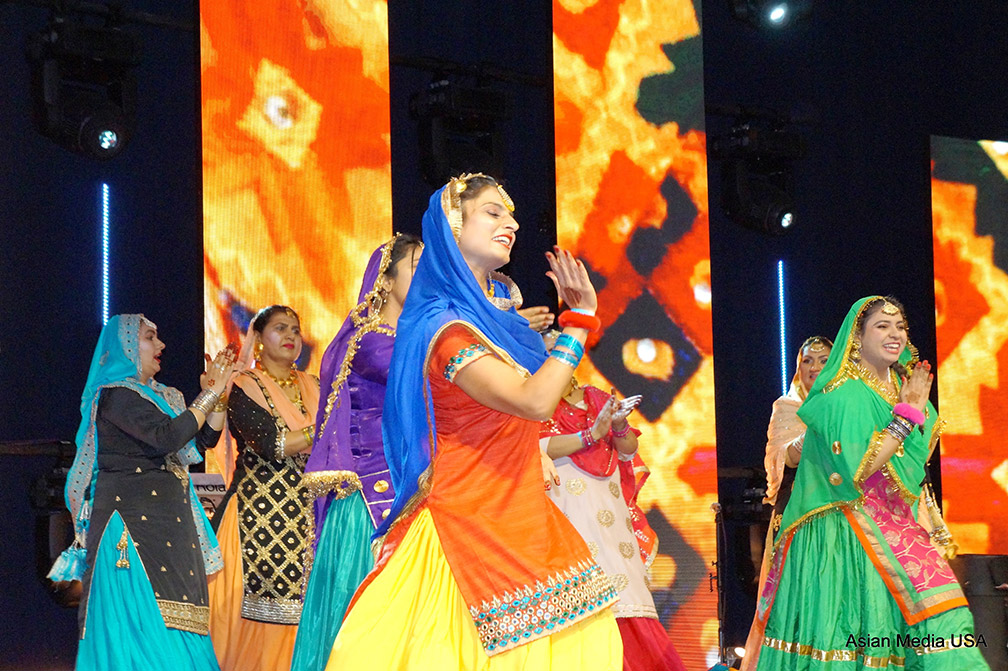 Photographs and Press release by: Asian Media USA
Suresh Bodiwala
Chairman
Asian Media USA
Cell: 847-420-4789
E-Mail: bodiwalasuresh@gmail.com
Copyrights ©: Asian Media USA
No one shall download or otherwise duplicate the graphics, images, press release and written content from the PDF without our express written permission. Likewise, no one shall reuse the aforesaid things, as the same are the intellectual property of the Company, we hereby reserve all rights
Disclaimer: Asian Media USA
Asian Media USA press releases are event oriented and published after careful review and examination of the contents without bias or without being influenced by race, color, nationality or religious persuasion. In other words we are completely neutral according to generally accepted journalistic principles and long established conventions governing Newspaper reporting. Any use or disclosure of the contents of either is unauthorized and may be unlawful. All liability for viruses is excluded to the fullest extent permitted by law. Any views expressed in this message are those of the individual sender, except where the sender states them, with requisite authority, to be those of the Asian Media USA. If for any reason including but not limited to prior written authorization, Newspaper or similar entity do not give the credit for the content and photographs, Asian Media USA reserve right to take legal action to prosecute for violating copy right law to the fullest extent of the law.