Uttarakhand Samaj of Greater Chicago Hosts Its Traditional, Colorful, Musical Baithaki Holi !
Author: By Richa Chand
Chicago, IL, March 15, 2022 – USOGC (Uttarakhand Samaj of Greater Chicago), a 501c3 status charitable organization, hosted Kumaoni style Baithaki Holi on March 12th 2022, 12pm to 4pm at Hoffman Estates, IL, with full josh and fervor with Uttarakhandi family & friends.
In Uttarakhand, there's a unique tradition to celebrate Holi, in the Kumaon region and now the entire state has adopted this tradition of Baithaki Holi (बैठकी होली), (literally Sitting Holi), which is a form of musical gathering starting from the day of Basant Panchmi held all across Kumaon till the Dulhendi (or the last full moon day of the lunar month Phalguna).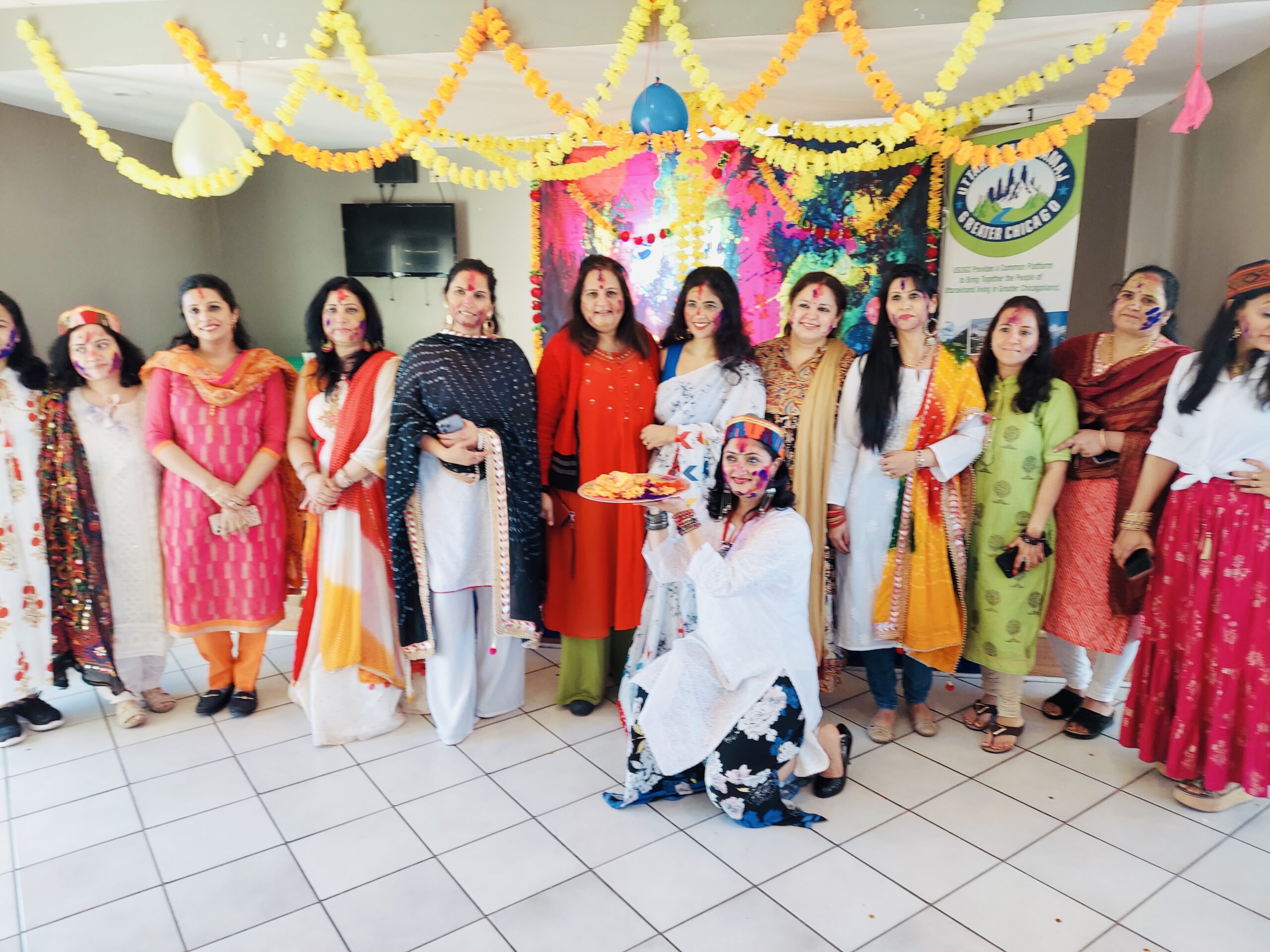 It was a bright and beautiful day, and guests came from near and far to celebrate Holi together, dressed in their traditional pahari attire. The ladies were seen wearing ethnic clothing in white and red traditional Holi colors and men in Pahadi kurtas and topis. Beautiful colorful Holi decorations adorned the walls of the Banquet Hall. The guests were greeted and welcomed with a Holi Teeka and splash of colors. In any Baithak, gutka, raita and chai are a must, and so keeping up with the Pahadi traditional 'Gutka' dish (made up of potatoes), pahadi raita and masala chai tea was served along with the other pahadi delicacies, food and snacks.
Holi cultural Program was promptly started at 2pm by emcee Richa Chand, who invited the USOGC President Shailendra Rawat and his wife Mrs Rajni Rawat for a Welcome address to the audience. Next, Vice President Chandan Singh was invited for his welcome remarks. The other USOGC Board members, Ruchi Dabral, Vikram Negi, Smita Pant, Rashmi Joshi, Renu Negi, Prashant Pant, Krishnand Mohan were invited to join for a quick introduction round and group pictures. Special Guests Vandana Jhingan (Bureau Chief TV Asia) and Deepti Suri (Founder Yogveda and Yoga Habitat) were also invited to speak.
Soon the 'Musical Baithak' was initiated by a beautiful rendition of Ganesh Vandana, 'Gaiye Ganpati Jagvandan' led by singers Susheela Kandpal & Richa Chand, and supported by Deepa Pant, Tara Bhandari, Deepa Bhatt, Swati Pant, Deepti Mehta, Anita Sharma and Deepak Pandey. They also sang, 'Ghar Kaise Bharu Jamuna Gahri', 'Hari Dhare Mukut Khele Holi', 'Haan Haan Haan Mohan Girdhari','Tak Taka Tak Kamla', 'Bedu Paako',' Rang Barse' and many more songs. Baithak was concluded by an Uttarakhandi Dance by Kiran Rawat, followed by a 'Jhoda' group dance performance by USOGC Board ladies, along with all the pahadi members joining on the dance floor and rejoicing the festival of music and colors together!
Uttarakhand Baithak Holi celebration was a very successful and well attended event. People left with a huge smile on their faces and said that they are looking forward to next year's Holi even more eagerly now! USOGC believes and preaches.. "Garv se kaho hum Uttarakhand se hain".
USOGC thanks all guests, sponsors, supporters and organizers, and the emcees. Also thanks, food caterers, Rasoi Restaurant and its owners Nanda Rawat & Hukam Singh Rawat for providing delicious food. And extends special thanks to Mr Suresh Bodiwala for event coverage.
New members are encouraged to register online at www.usogc.org. For more information, please check our FB page, or you can also send an email to info@usogc.org.