Hindi cultural and literary programme Sandarshika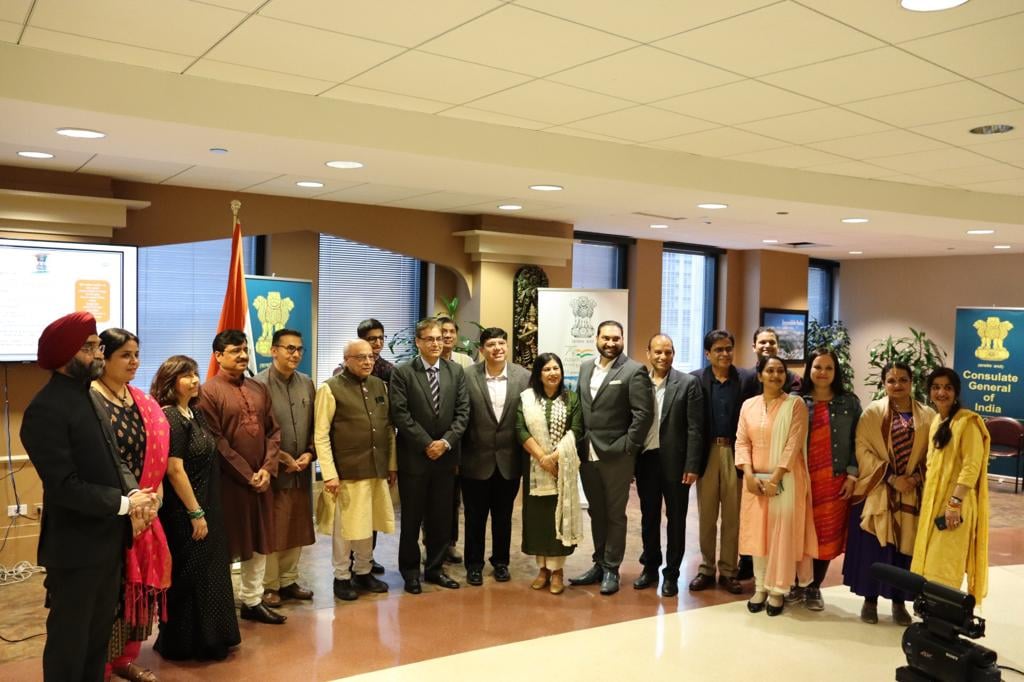 As part of the Azadi ka Amrit Mahotsav, the Consulate General of India, Chicago and the Hindi Coordination Committee (HCC), Chicago, jointly organized a Hindi cultural and literary programme Sandarshika on 5 March 2022 at Consulate premises. Hindi academics and diaspora with interest in Hindi from Chicago, neighbouring areas and a few other states of US Midwest attended this event. The program was also live streamed through the Facebook page and the YouTube channel of the Consulate.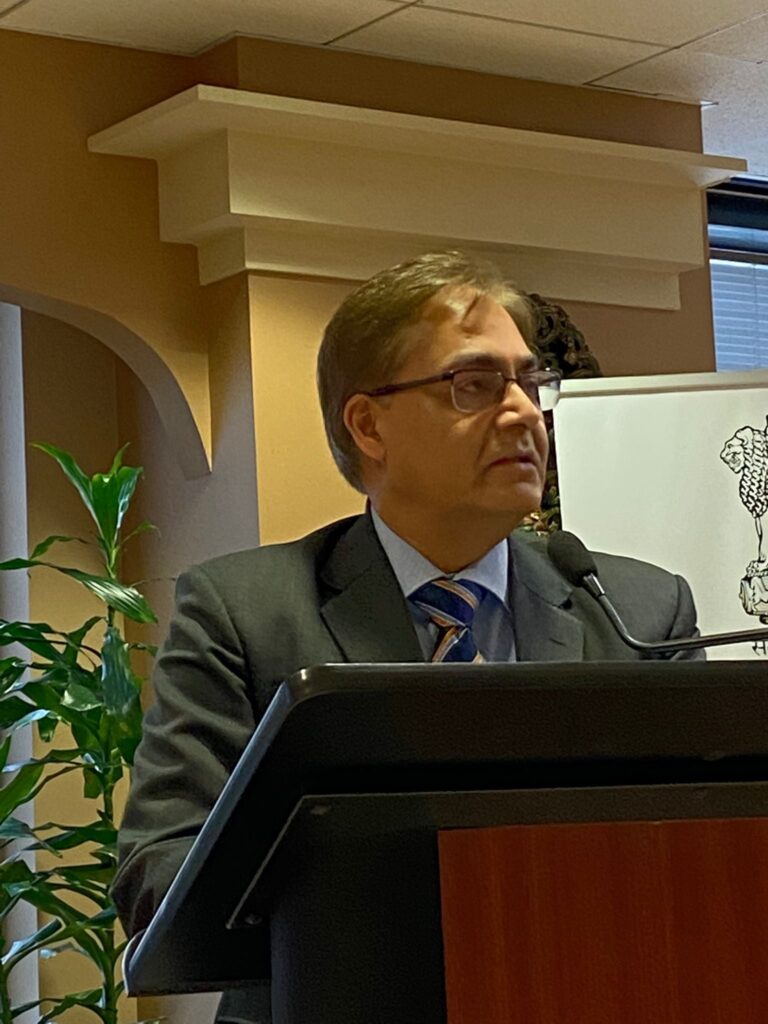 Consul General Amit Kumar delivered the inaugural remarks at the event. Dr. Mithilesh Mishra from University Illinois Urbana Champaign (UIUC), Dr. Rakesh Kumar, President of International Hindi Association (IHA)-Indiana Chapter, USA, and Mr. Rakesh Malhotra, HCC Chief Coordinator also joined the event.
Consul General, in his remarks, provided a brief overview on Consulate's activities in context of Azadi ka Amrit Mahotsav. He said that HCC has consistently been working since 2019 to bring together Hindi volunteers, academicians and organization on a single platform and has thus enabled strengthening promotion of Hindi language across the US Midwest. He appreciated the important contribution of International Hindi Association (IHA)-Indiana Chapter, Hindi Club of Illinois and the organizations like Hindi Gurukul, Aurora, Hindi USA-St. Louis Chapter, Bal Vihar, Chicago, and the Hindi School of Wisconsin, which have regularly been organising Hindi classes.
HCC Chief Coordinator Mr. Rakesh Malhotra, while explaining the objectives and programmes of HCC, underlined that three elements are very important in the concept of any nation – language, culture and geographical boundary of the country, that is, motherland. In fact, language is the basis of culture, and its role is undeniably important for progress of the country.
During the course of this programme, a discussion was organized on the topic "Indigenous language advancement is the basis of every advancement" in which Dr. Mithilesh Mishra and Dr. Rakesh Kumar presented their views. Ms. Anica Dubey along with Mr. Ajay Jain, Hindi Gurukul, Arora, Mr. Mayank Jain, Hindi USA, St. Louis and Ms. Shubhra Ojha, Roots to Hindi participated in the second panel discussion of the program on the topic "Contribution of Hindi in connecting new generation to its roots and traditions".
In the poetry session of Sandarshika, Mr. Rakesh Malhotra (Prarthna), Ms. Shikha Mehta (Pehal), Mr. Sanjay Sharma (Bairin Kamar), Ms. Shubhra Oha (Ham Pardesi) and Sangeeta Singh (Matribhasha Hindi) recited their poems.
Dramatech USA team presented a short play "Samay Samay kee Baat" directed by Mr. Sanjay Savkur and Mandi Theater presented a classical dance performance by Ms. Sonali Shani on the poetry of Mahadevi Verma.
****