FIA Chicago IL Celebrated 63rd Indian Republic Day with Nationalistic zeal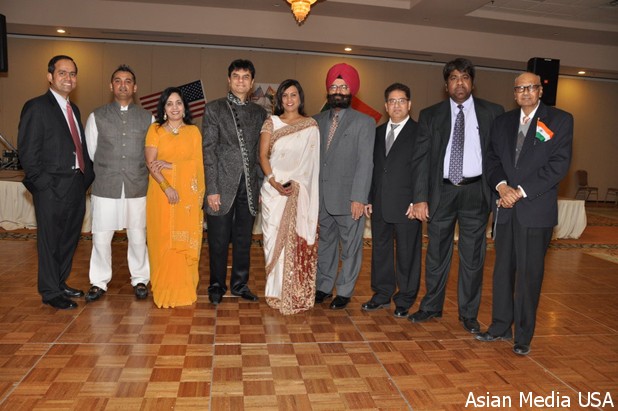 Chicago IL: Federation of Indian Associations, Chicago, successfully hosted 63rd Indian Republic Day celebration and banquet dinner at Waterford Banquet in Elmhurst, IL on January 29, 2012. This colorful event was attended by around 400 people including prominent state government representative, political candidates and community leaders. The prominent personalities who attended the event are Illinois State Treasurer Dan Rutherford, State Senator Kirk Dillard, candidate for State Representative Michelle Mussman, Candidate for U.S. Congress Raja Krishnamoorthy, Judge Ketki Steffen, Elmhurst Mayor Peter DiCianni, Hanover Park Mayor Rodney Craig, Dupage County Circuit Court Clerk Chris Kachiroubas, Candidate for U.S. Congress Farah Baqai, Judge Aurelia Pucinski and Candidate for State Representative William R Adams.
Emcee for the gala event was Sanjeev Singh . The evening began with American national anthem sung by sole American Idol contestant from local Indian American community Ms. Ashika Sachdev followed by Indian national anthem by Shreelekha Mohanty.
In continuation of long cherished tradition, program formally began by lamp lighting ceremony. During the lamp lighting the entire board of FIA including Founder of FIA Chicago IL and Former President Sunil Shah, current President Onkar Singh Sangha, Executive Vice President Rita Singh, Vice Presidents Monty Syed, Dhitu Bhagwakar, JB Singha, Secretary Shahid Rizvi, Jt. Secretary Sam Azeem, Jt. Treasurer Bharti Desai were present on the stage along with the invited state representatives. To show the solidarity and support for FIA-IL, many prominent community leaders were present at the stage including Narenbhai Patel President AIA and Vishwa Gujarati Samaj of USA, Suryakant Patel of Gujarati Samaj of Chicago, Mrs. Dina Modi, collector of Nile Township, Dilip Patel of Six Gaam Patidar Samaj, Ram Saini of Rajasthan Association, PCS
President Baljit Singh Sidhu, Babu Verma president of Indian Christian federation of Midwest, Ramanbhai Patel president of Senior Parivar, Usha Kumaria President Indian community of Niles Town ship , Brij Sharma President of Hari OM Mandir, Nand Kapoor Past President of AIA , Mr. John Miller Attorney Representing Indonesian Community and Counsel To AACC and Chief Guest Harinder Singh to name a few.
After lamp lighting ceremony, emcee for the evening Sanjeev Singh introduced FIA outgoing President Sunil Shah. Mr. Shah welcomed the audience, and enumerated what FIA-IL achieved last year during his term having organized number of events, celebrating beautiful festivals of India, supporting several candidates who are now elected officials. Deep gratitude was expressed towards sponsors & media people as they were the true backbone of such successful events. "It was solely due to support of my family and FIA executive board members that I was able to lay a strong foundation to this association," said Mr. Shah. With great pride and excitement he invited the FIA-IL 2012 Executive board members on the stage and welcomed Honorable judge Ketki Steffan on the stage to administer the oath ceremony.
As per constitution of FIA-IL, office bearers are elected every year for the tenure of one year. Based on the election held in Dec. 2011, new office bearers have been elected by FIA-IL to lead FIA-IL in 2012. Judge Ketki Steffan administered the Oath and pledge of office to new board including President Onkar Singh Sangha, Executive Vice President Rita Singh, Vice President Monty Syed, Vice President Dhitu Bhagwakar, Vice President JB Singha, Secretary Shahid Razvi, Jt. Secretary Sam Azeem and Jt. Treasurer Bharti Desai.
Rajinder S. Mago, a well known Indian American community leader, was invited as a guest emcee to announce introductions, recognitions, and speeches of all the dignitaries and political candidates present at the program. The Illinois State Treasurer Dan Rutherford congratulated the organizers and said that he has visited India several times, he loves to attend the Indian American events like this one, and always tries his best to attend as long as enough advance notice is given to adjust his schedule.
The State Senator Kirk Dillard, also a candidate for reelection from 24th district, said that he is connected with Indian American community since childhood through personal friendships and medical care professionals. Mayor Peter DiCianni of Elmhurst welcomed the Indian American community to Elmhurst and wished them happy republic day. He also presented a republic day proclamation plaque on behalf of the village of Elmhurst to FIA President Onkar Singh Sangha.
The chief guest of the evening Mr. Harinder Singh, CEO of Management Information Technology Solutions (MITS) congratulated the FIA-IL program organizers for a job well done and expressed joy that our community here remains connected to their roots and heritage through events and gatherings like these.
The incoming President of FIA-IL Mr. Onkar Singh Sangha gave a welcome speech which was followed by scintillating Kids Dance performance The evening was filled with patriotic songs and colorful dance performances. Mr. Mago, also a veteran artist himself, emceed the cultural performances segment of the program.
Bhangra Dance: "Sardar Amrit Saab" (By: Anusha Amin, Shivani Darji, Kavina Munshi, Krupa Kadiwala, Nidhi Thakkar Shweta Sneha Thakkar)
Bharti Desai Team: "Garbo" FIA joint treasurer, Bharti Desai, is a famous Indian singer, cultural event emcee, and cultural coordinator in the Chicago land area. Bharti Desai's Gujarati Garba team performed flawlessly at yesterday's event. The performance brought color and excitement to the night. The performers included: Haryali Patel, Ishita Patel, Mira Patel, Nikita Patel, Shefali Mehta, Shimoli Patel, Shivani Patel, Shivangi Pandya, Shruti Modi, and Tina Jacob. Please visit her website at www.bhartidesai.com for more information.
Depaul Bhangra Team (By: Manpreet Kaur,Navneet Kaur, Prabjot Khera, Andrew Johar, Gurveer Raju, Gagandeep Multani, Harita Joshi, Elizabeth Varghese, Sahrish Moyeed, Dhruvish Shah, Pardeep Deol, Puneet Kahlon, Amardeep Deol)
Patriotic dance: "Saare Jahan Se Achha" & Des Rangila was performed by Aunsha Amin, Anisha Bhansi, Shivani Darji, Sonia Gupta, Kruti Kadiwala, Ritaka Rawat which was choreographed by Pika Munshi.
Kids Dance on Badrinath: (By: Arnav Kunde, Nihanth Attaluri, Raunak Magesh, Neha Siram, Avantika Pedamallu, Sriya Alla)
Singers: Following famous Singers entertained the audience by their singing style and gifted voice, namely, Shreelekha Mohanty , Bhupender Singh, Rinki Talati. Prominent singers of Chicago Shreelekha Mohanty, Rinki Talati and Bhupender Singh, mesmerized the audience with their melodious voice and popular sound tracks. Rinki Talati sung "O Mera Vatan Ke Logo, Jara Ankh Mai Bhar Lo Pani". With her harmonious voice she enthralled the audience, entire audience was very emotional, she received standing ovation.
Executive Vice President Rita Singh proposed a vote by thanks followed by delicious dinner. With vast experience in entertainment and show business both Rita singh and Monty Syed, who are the pillars of FIA-IL, have shown once again that when it comes to organizing events, FIA-IL, Chicago is the best.
Photographs and Press release by: Asian Media USA
Suresh Bodiwala
Chairman
Asian Media USA
Bus: (847) 679-8583
Fax: (847) 679-5336
Cell: (847)420-4789
sbodiwala@sbcglobal.net
Copyrights (c) 2010 – Asian Media USA
No one shall download or otherwise duplicate the graphics, images, press release and written content from the PDF without our express written permission. Likewise, no one shall reuse the aforesaid things, as the same are the intellectual property of the Company, we hereby reserve all rights
Disclaimer: – Asian Media USA
"The information in this e-mail and any attachments is confidential and may be legally privileged. It is intended solely for the addressee or addressees. If you are not an intended recipient, please delete the message and any attachments and notify the sender of misdelivery. Any use or disclosure of the contents of either is unauthorized and may be unlawful. All liability for viruses is excluded to the fullest extent permitted by law. Any views expressed in this message are those of the individual sender, except where the sender states them, with requisite authority, to be those of the Asian Media USA