TAGC celebrates Sankranti and Republic Day with a spectacular cultural extravaganza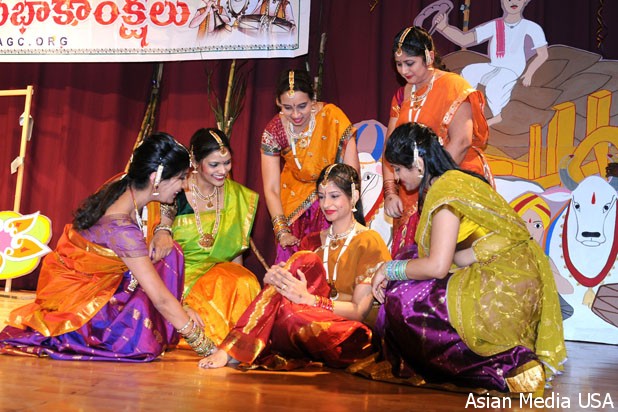 Chicago IL: Telugu Association of Greater Chicago celebrated the harvest festival of India, "Sankranti" with a spectacular cultural program on January 21st, 2012 at the Rama Temple auditorium, in Lemont, IL. Over 800 people were in attendance at this grand event, which was meticulously organized by the executive committee members of the association. Telugu Association of Greater Chicago (TAGC) is a non-profit organization devoted to the awareness and promotion of Telugu Heritage and Culture in the mid-west region headquartered in Chicago. The Association was originally founded in 1971 and incorporated as a non-profit organization by the year 1978. What was once a brain child of small group of individuals, TAGC has grown to be one of the oldest and largest Indo-American organizations in the United States.
TAGC celebrates and organizes various Telugu festivals annually and encourages participation by members and well wishers at these events. As a part of Telugu culture promotion, TAGC organizes three festivals every year: Sankranti, Ugadi and Deepavali in addition to hosting an annual picnic in summer. TAGC Membership is open to all who have common interests. TAGC programs are also open to non-members who will be required to pay a small entry fee. As a leading organization in the Chicago land area connecting people of telugu culture, TAGC is actively involved in various community events. TAGC is run by a board of directors and executive committee who are elected by TAGC members every year.
The evening began with a welcome address by Mr. Kalyan Anandula, President of TAGC who extended his Sankranti and Republic day greetings to all the members in attendance. The cultural programs highlighted the significance of the Sankranti festival and brought to life the various customs and rituals which are part and parcel of this celebration. In Andhra Pradesh, Sankranti is called "Pedda Panduga" or big festival. The whole festival lasts for four days, the first day is Bhogi, the second day is Sankranti, the third day is Kanuma and the fourth day, is Mukkanuma. Some of the common practices during this festival are to decorate the homes with Muggulu (Rangoli) and Gobbemmalu (cow dung balls). It is typical to see a "Gangireddu" or a sacred bull, which is normally decorated with beautiful clothes and bells. A person who takes the decorated bull around the village is called a Gangireddudasu. He wears a special dress on this occasion. Another tradition that is followed in Andhra Pradesh, is the Haridasu, who comes door to door singing. The Haridasu carries a copper vessel on his head, cymbals in one hand and a tambura in the other and goes from house to house singing, "Harilo Ranga Hari", and the glory of Lord Mahavishnu.
The stage was beautifully decorated with artwork which deserves a special mention, as it portrayed a typical village scene in Andhra Pradesh, during this festival season. It was designed and painted by Mr. Ravi Tokala, a member of TAGC.
A variety of dances were performed by children, youth and adults during this event. It included classical Bharatanatyam, Kuchipudi, semi-classical, fusion, folk and movie based items. Students from area dance schools showcased their talents and received great appreciation from the audience. A unique item representing the diversity in India was choreographed by Ms. Lopa Banerjee. Children wearing costumes representing different states of India danced to regional music. During the finale they all performed to Vande Mataram, bringing a sense of unity and patriotism to light.
Another highlight of the evening was a dance item based on a medley of Chiranjeevi Songs performed by Tulasimohan Ramineni, Kiran Abbaraju and Bhavani Bhimavarapu, which brought the house down. It was truly enjoyed by the young and old.
The concluding item was a specially choreographed performance by 28 adult couples, depicted a wedding scene in India. A huge applause was given at the end of this outstanding presentation.
A total of 250 performers entertained the audience during this cultural evening. A brief announcement about TAGC Development Fund was made during the program to bring awareness to the community and encourage charity contributions. More information about this fund can be found on their website at http://www.tagc.org
Suresh Bodiwala
Chairman
Asian Media USA
Bus: (847) 679-8583
Fax: (847) 679-5336
Cell: (847)420-4789
sbodiwala@sbcglobal.net
Copyrights (c) 2010 – Asian Media USA
No one shall download or otherwise duplicate the graphics, images, press release and written content from the PDF without our express written permission. Likewise, no one shall reuse the aforesaid things, as the same are the intellectual property of the Company, we hereby reserve all rights
Disclaimer: – Asian Media USA
"The information in this e-mail and any attachments is confidential and may be legally privileged. It is intended solely for the addressee or addressees. If you are not an intended recipient, please delete the message and any attachments and notify the sender of misdelivery. Any use or disclosure of the contents of either is unauthorized and may be unlawful. All liability for viruses is excluded to the fullest extent permitted by law. Any views expressed in this message are those of the individual sender, except where the sender states them, with requisite authority, to be those of the Asian Media USA