Federation of Indian Associations Chicago [FIA] hosts India Republic Day Gala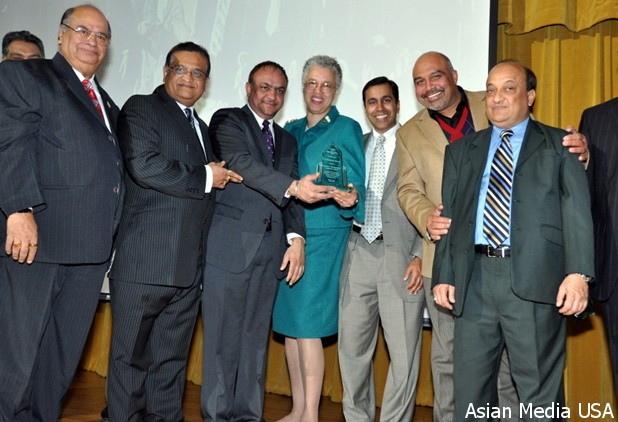 Chicago IL: Federation of Indian Associations-Chicago [FIA] hosted a colorful 63rd India Republic Day Gala that showcased heightened patriotic fervor and nationalism by the packed enthusiastic guests at the Meadows Club Convention Center in Rolling Meadows, Illinois on Friday, January 27, 2012.
The India Republic Gala was set in motion with a string of colorful bhangra, garbo, patriotic, bollywood and american-jazz dance presentations by a group of talented youngsters which was preceded by a grand 'sankranthi' dance presentation from a group of young girls with colorful traditional costumes representing Telugu Association of Greater Chicago [TAGC] which set the tone for a grand festive evening. The evening festivities were presided over jointly by FIA President Satish 'Sunny' Gabhawala and Trustee's Chairman Iftekhar Shareef.
Chief Guest Hon. Toni Preckwinkle, President of Cook County, in her remarks, extended warm India Republic Day greetings and hailed India as a great democracy and commended its people for ushering remarkable progress in all fields. Cook County President Preckwinkle took the opportunity to push the candidacy of Raja Krishnamoorthi, a Democratic candidate for the 8th congressional district characterizing him as the best choice by Indian American community to get Indian presence in the US Congress
President Satish 'Sunny' Gabhawala addressing the packed banquet hall thanked the community for their overwhelming presence in unitedly joining FIA in celebrating the 63rd India's Republic. Satish Gabhawala praised the leadership of FIA for their partnership and support in hosting this event of great significance in the history of post-independent India and its robust march towards democracy.
Satish 'Sunny' Gabhwala recognized several business and community leaders, Trustees, Executive Board members and other dignitaries including Sohan Joshi, Anil Pillai, Sitaram Patel, Bhailal Patel, Prahlad Patil, Harish Bhatt and Dr. Hyder Mohammed. Satish Gabhawala particularly acknowledged the members of the executive board and thanked them for their selfless service through the preceding year. He particularly acknowledged Dr. Kamal Patel, Micky Kahlon, Sher Mohd Rajut, Keerthi Kumar Ravoori, Ajai Agnihotri, Kishan Patel, Devendra Patel, Minhaj Akhtar and Girish Patel.
FIA Trustees Chairman Iftekhar Shareef welcomed the guests and presided over the event. Iftekhar Shareef invited Cook County President Toni Precwinkle on the dais and praised her for her determined devotion to ushering reforms and changes that would make cook county government clean, transparent, accountable and efficient. Iftekhar Shareef thanked Hon. Toni Preckwinkle for her presence which he added significantly elevated the evening's festivities.
Trustee Chairman Iftekhar Shareef said that there are twenty five different states in India each distinctly marked by different cultures and languages, but still there is a remarkable sense of harmony and brotherhood that binds all Indians in unbreakable unity and they all collectively clamor for one Indian identity.
Raja Krishnamoorthi with the shouts of 'Jai Hind' and 'Bharat Mata ki jai' gave warm greetings on the resilience of India democracy and it's Republic. Adding in his remarks, Raja Krishnamoorthi invoked the inspiring spirit of the Indian Americans to help elect the first Indian American to the United States Congress
There was a special acknowledgement of the Event Chairman Ravi Harsoor jointly by Satish Gabhwala and Iftekhar Shareef who praised him for playing a pivotal role in hosting the India Republic day event. Naren Patel, prominent Indian American leader, in his brief remarks, extended warm greetings and praised FIA for their commitment to inspiring patriotic spirit among the Indian Americans by hosting such events of historical relevance.
Chief Guest Hon.Toni Preckwinkle gave away awards to three honorees:
Dr. Harjinder Khaira received the award in recognition of his exemplary contributions to the Indian American community
Mr. Maqbool Khan was awarded in recognition of his entrepreneurial excellence and for his community service
Mr. Suresh Bodiwala and Dr. Chandrakant Modi of the Asian Media USA and the entire team was conferred with the Media Excellence award in recognition of their tireless efforts in showcasing the Indian American community events through their electronic and print media and, further for upholding the causes of the Asian American community. Mr. Suresh Bodiwala in his acknowledgment remarks thanked FIA and thanked his team which included Jitubhai R. Patel, Jagdish Suthar, Jitu Balsara, Parag Chokshi, Katen Chokshi for their outstanding support.
Mrs. Usha Kumaria and Mr. Om Prakash Kumaria of Gandhi Foundation, Skokie, Illinois, praised the efforts of FIA in hosting such a memorable event including the India Independence Day Parades in the past which brings in huge droves of people from the Midwest. Airline representatives from American Airline Mr. Raj Siddu, Mohammed Anwar from Etihad Airways, Shahab from Qatar Airways where present at the event to showcase their support.
Under the choreographic direction of Ms. Pika Munshi, a talented group of youngsters presented some toetapping dance presentations including invocation dance, patriotic dance on "Sare Jahan Se Achha" and "Desh Rangila, Bollywood dance "Laung da Lashkara", Bhangra Dance, Garbo a folk dance from Gujarat, Bollywood dance "Dhika Chika", American Jazz dance, Bollywood dance "Dhoom Tana" from movie Om Shanti Om and prayer dance.
Press release by: Keerthi Kumar Ravoori
Photographs by: Asian Media USA
Suresh Bodiwala
Chairman
Asian Media USA
Bus: (847) 679-8583
Fax: (847) 679-5336
Cell: (847)420-4789
sbodiwala@sbcglobal.net
Copyrights (c) 2010 – Asian Media USA
No one shall download or otherwise duplicate the graphics, images, press release and written content from the PDF without our express written permission. Likewise, no one shall reuse the aforesaid things, as the same are the intellectual property of the Company, we hereby reserve all rights
Disclaimer: – Asian Media USA
"The information in this e-mail and any attachments is confidential and may be legally privileged. It is intended solely for the addressee or addressees. If you are not an intended recipient, please delete the message and any attachments and notify the sender of misdelivery. Any use or disclosure of the contents of either is unauthorized and may be unlawful. All liability for viruses is excluded to the fullest extent permitted by law. Any views expressed in this message are those of the individual sender, except where the sender states them, with requisite authority, to be those of the Asian Media USA