Sandesh Gujrati editions celebrates 16th anniversary with Music and Masti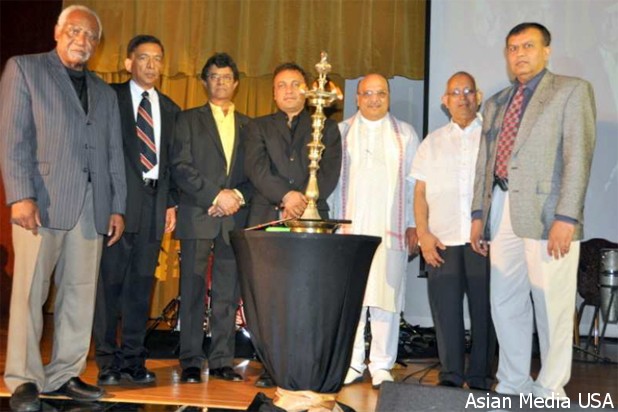 Schaumburg IL: A well known publisher and owner of Hi India, Mr. Hemant Brahmbhatt hosted the 16th anniversary of Sandesh-the Gujrati editions along with the second year of Hi India English editions on 7:00PM, Friday, June 17, 2011at Medows Club, 2950 W. Golf Road Rolling Meadows, IL. The event was extremely successful as it had great Music and food to accompany even greater people-over six hundred from metropolitan Chicago area.
The event started out with a lamp lighting that was performed by Congressman Danny Davis, Nirajan Shah, Mafatbhai Patel, Naren Patel, Roshit Joshi, and Hemant Brambhatt. Such symbolism was used very well as it showed how Sandesh and Hi India is still doing very well even in the darkest of times as the recession and technological advances in media have decreased the popularity of printed media.
The event proceeded to its awards ceremony where three hard working Southern-Asian Americans were honored. The awards were given to Ann Kalayil, Dr. Mohammad Wasiullah Khan, and Mayank Chhaya. Each of these three without any doubt or questioning deserved the award. Congressman Danny Davis presented the award to each of them except Dr. Mohammad Wasiullah Khan as he was absent for the event and a representative for him had collected the award in his place.
Congressman Danny Davis, Nirajan Shah, Ashok Easwaren, Hemant Brambhatt were two key speakers in the night and the two of them were extremely inspirational not only in their speeches, but in their achievements as well. After such great speeches a musical performance overtaking hours of time took place entertaining all.
When the publisher of Sandesh, Hemant Brambhatt started an English weekly about five years ago it took a lot of time and effort as all would probably expect. It took so much time that even though the conception of Hi India was started five years ago, Hi India was only started two years ago! Hi India is a newspaper that shows that great things take time to be produced.
Hi India has made such progress since its beginning. Hi India is expected to start a New York edition by the end of the month! Detroit, however should expect Hi India to arrive by the end of the year.
Sandesh and Hi India are newspapers that have every right to be proud of their achievements and especially on such a memorable occasion. Congratulations all who are involved in Sandesh and Hi India!
Hi India was born at the worst possible time-during the biggest and most prolonged recession after the Great Depression, in an overcrowded market for South Asian print media, and during a sharp slowdown in the US media industry itself.
It is therefore, in order, that we celebrate our survival in such adverse circumstances.
Hi India, has not just survived but has thrived, thanks to the loyalty of thousands of discerning readers.
A community newspaper, bur its very nature, is deeply vested in the community it serves, which has its own set of pitfalls. It is easy enough to be so vested in the agenda of some community organizations, some community leaders, or some business interests as to lose sight of the primary purpose of a newspaper-provide the reader with prompt, credible and dispassionate information.
We have, we believe, successfully balanced these two demands as a newspaper. We have, at times, faced the ire of some community leaders, lost some advertisers, but nevertheless, emerged stronger. Despite our resource constraints, we have attempted to expand coverage. Through our collaboration with the Indo-Asian News Service. We are able to offer news and analysis on issues affecting the Diaspora, well as the South Asian community in the United State.
With the rapid proliferation of television channels and web sites, information is easily available. At Hi India, we try and put news in context, explaining issues which are likely to impact the community in times to come. We have also put a strong focus on local news. Our readers have responded favorably and Hi India's growth has been noteworthy. The paper now goes to Milwaukee, St Louis besides Chicago and the suburbs. We plan to launch a New York edition within a month. Hi India now has a web site www.hiindiaweekly.com, which registers over 17,00 unique visitors today. We plan to upgrade the site soon to make news available in real time.
We are indebted to the South Asian community for making our growth possible. Even in the best of times, publishing a community paper is fraught with the great peril it is tempting to pander to certain individuals in return for advertising revenue, our personal gain. We have steadfastly-some in the community may say foolishly- held on to our editorial independence. Roy Thomson, the late Canadian I media mogul once said that while he was happy to make respectable, he found it a greater challenge to turn respectability into profitability. As we complete our second anniversary, we hope our readers and advertisers will empower us to greater financial independence and editorial excellence.
Photographs and Press release by: Asian Media USA
Suresh Bodiwala
Chairman
Asian Media USA
Bus: (847) 679-8583
Fax: (847) 679-5336
Cell: (847)420-4789
sbodiwala@sbcglobal.net
Copyrights (c) 2010 – Asian Media USA
No one shall download or otherwise duplicate the graphics, images, press release and written content from the PDF without our express written permission. Likewise, no one shall reuse the aforesaid things, as the same are the intellectual property of the Company, we hereby reserve all rights
Disclaimer: – Asian Media USA
"The information in this e-mail and any attachments is confidential and may be legally privileged. It is intended solely for the addressee or addressees. If you are not an intended recipient, please delete the message and any attachments and notify the sender of misdelivery. Any use or disclosure of the contents of either is unauthorized and may be unlawful. All liability for viruses is excluded to the fullest extent permitted by law. Any views expressed in this message are those of the individual sender, except where the sender states them, with requisite authority, to be those of the Asian Media USA