Jain Society of Metropolitan Chicago (JSMC) celebrated 18th Anniversary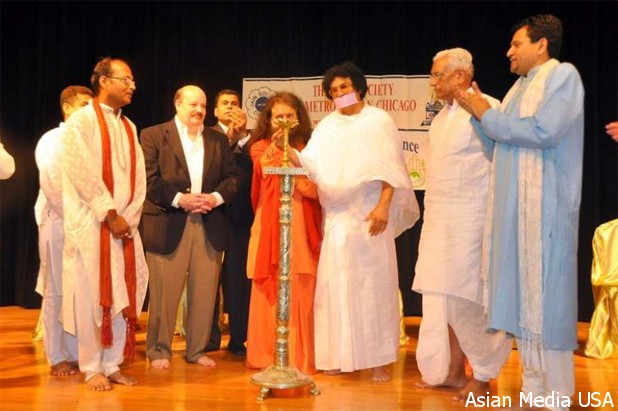 Chicago IL: Jain Society of Metropolitan Chicago (JSMC) celebrated 18th Anniversary at the Jain Temple (Deräsar), 435 N Route 59, and Bartlett, IL on Saturday June 25, 2011. Over 1200 devotees from Jain community joined to participate in this 2 days event. Ceremony started from June 25 Saturday and 26 Sunday was a milestone event as it was the second anniversary of the Temple that was expanded and renovated as part of Temple Pratishtha in year 2009.
Significance of Deräsar (Temple) anniversary is in two main events – Dhwaja Ceremony and 18 Abhishek Ceremony. Dhwaja Change and 18 Abhishek will be conducted under the auspice of Shri Hiteshbhai Vidhikar
Abhishek:
18 Abhishek is a very sacred ritual ceremony of offering 18 different types of holy water that is mixed with sacred substances like "Chandan" (Sandal). This once a year event of Abhishek is a very important event for all the Jains.
Dhwaja Change Ceremony:
On this auspicious day, all the Bhagawan Deri and main Deräsar Dhwaja (Flag) will be replaced with new ones with the chanting and the prayers conducted by a well-known Vidhikär Shri Hiteshbhai Shah from Vadodara, India. Flag (Dhaja) is being kept on temple with a view to let people see it from distance and recognize that there is a temple. One, who performs 'Flag Pooja' is considered righteous (lucky). On account of Wind and Rain flag gets torned, therefore every year, it becomes necessary to change it. Because it belongs to temple, when we perform 'Flag Pooja', our devotion and trust increases that is the fundamental feelings behind this.
Interfaith forum "Peace through Non-Violence":
Peace through non-violence, an interfaith forum and Temple anniversary celebration at the Jain Society of Chicago on its 18th anniversary celebration. It was a great pious moment in an already holy environment, when international religious dignitaries talked in the interfaith forum "Peace through Non-Violence". About 800 people attended the forum, which brought in very high profile religious dignitaries to talk on the subject of peace in the world using non-violence. Following spiritual leaders and dignitaries spoke on a topic of nonviolence "Ahimsa", the core principle of Jainism:
H.H. Acharya Dr. Lokesh Muni Ji of Delhi, India – President of Ahimsa Vishwa Bharti (Jain faith)
H.H. Swami Chidanand Sarshwati Ji Maharaj, Haridwar – President of Parmarth Niketan Rishikesh (Hindu faith)
Sadhvi Bhagavatiji – Parmarth Niketan
Guru Sant Rajindar Singh's Representative Michael Ribet – Science of Spirituality
Dr. Hukumchand Ji Bharill – M.A. , Ph.D, Shastriji, Nyayatirtha, Sahityaratna
Shree Hiteshbhai Shah – Jain Vidhikar
Lokesh Muniji a humanitarian and social worker, who was recently recognized by the Indian government as an ambassador of peace, talked about equality and unity and also said that Bhagwan Mahavir has shown a path of meditation, through which non-violence and world peace can be achieved. "Man is not some machine," he taught, "first learn to talk-to yourself and try to become ideal citizen." "True happiness is within yourself. "
Swami Chidanand Saraswatiji Maharaj, with thousands of followers in USA, UK and other countries and a thousand room aashram in Haridwar and Rishikesh near Ganga in India, stated that the Jains are who have won his own mind. He emphasized the importance of language and time management. "How key of love can open locks of peace", he said and talked on introspection, face your own face book.
Michel Ribeet emphasized on meditation.
Another speaker came in with a surprising background: American-born and raised in high profile family in Hollywood, CAwith a PhD from Sanford University, she has now become Sadhvi Bhagavati. This disciple of Swami Chidanadji, who has learned fluent Hindi over the years, said that non-Violence is only the way to peace. Its like what you sow, is what you reap, the seeds of violence and aggression will only get those and not peace. She also talked about vegetarianism and veganism. She was very emotional while talking about cruelty of dairy industries here in United States.
Dr Hukkamchand Bharril said that Jain Society of Chicago is real temple of knowledge showcasing unity amongst Jains and now joining hands with other religions to get to the world peace.
Shree Hiteshbhai also emphasized on chanting, forgiveness and living for others.
Cultural Program: Along with above forum a beautiful cultural program is planned to showcase great talents of the Jains of the Chicago.
Classical Dance: Navakar Mantra, Choreographers & Participants – Poonam & Priyanka Shah
Qawwali: Choreographer Jalpa Shah, Participants by Manek shah 3yrs, Keval shah 4yrs, Aanya shah 4 yrs, Parin shah 4yrs, Krish shah 6yrs, Saanj shah 7yrs and Arshiaa Ajmera 7yrs
Dalai Lama Interfaith Workshop Interfaith team of Jain Society is also participating in Dalai Lama event in Chicago and preparing and presenting a Dharm Chkra of Buddhism. Participation Aadit Shah, Alpa Gosar, Anand Shah, Darshana Shah, Hansa Momaya, Hemang Srikishan, Janvi Shah, Maahi Shah, Mayuri Shah, Meeta Shah, Meghna Shah, Neha Natarajan, Neki Shah, Pradip Shah, Priyal Gosar, Purva Shah, Raahil Shah, Riana Shah, Samyak Shah, Saroj Reshamwala, Sharmee Shah, Shikhar Shah, Shilpa Shah, Shivali Shah, Shukan Shah, Sunil Jain, Tejal Shah, Tejas Shah, Unnati Shah and Vipul Shah
Musical Band: Choreographer Hemang SriKishan, Participants Alap Shah, Gautam Srikishan, and Hemang Srikishan
Kathak Dance: Choreographer Nisha Shah, Participants Jaini Shah, Preet Shah & Mrunal Shah
Raas- Garbo: Choreographer Sonia Shah, Participants Sonia Shah, Natasha Shah, Bindi Shah, Eisha Vora, Prathi Jain, Vidhi Jain, Aakash Shah, Amar Shah, Shravak Shah, Nishu Shah, Aayush Shah, and Atish Shah
Upcoming event:
Midwest Youth Convention (3 days): August 12 to 14, 2011 – Holyday Inn, Rolling Medows, IL
Explore the power of Non-Violence, your habitat, the forces of Capitalism and Modern Jain
40+ Spiritual Session and 5 Key Note Speaker Sessions
Unique concept of Home Group
Spiritual Guru's like Shramanji Shrutpragyaji and Samniji Bhavit Pragyaji
Beach Garba with LIVE Band performance.
An Entertaining evening with Talent Show and Stand Up Comedy
A worldwide multi ethnic Jain Cuisine with Vegan Options
Registration charges: $200/participant (includes Lodging & Boarding)
For more information on upcoming events of Jain Society- visit www.jsmconline.org / Contact: youth@myjsmc.org / visit: www.jyfc2011.org / or call 630-837-1077
Interfaith forum speakers
H.H. Acharya Dr. Lokesh Muni Ji of Delhi, India – President of Ahimsa Vishwa Bharti (Jain faith)
H.H. Swami Chidanand Sarshwati Ji Maharaj, Haridwar – President of Parmarth Niketan Rishikesh (Hindu faith)
Sadhvi Bhagavatiji – Parmarth Niketan
Guru Sant Rajindar Singh's Representative Michael Ribet – Science of Spirituality
Dr. Hukumchand Ji Bharill – M.A. , Ph.D, Shastriji, Nyayatirtha, Sahityaratna
Shree Hiteshbhai Shah – Jain Vidhikar
JSMC Mela 2011
Day full of fun in the sun!
September 17th, 2011, Saturday
The Jain Society of Metropolitan Chicago
435 N. Route 59 , Bartlett IL 60103
Purchase your Mela Tickets Online at www.jsmconline.org
Photographs and Press release by: Asian Media USA
Suresh Bodiwala
Chairman
Asian Media USA
Bus: (847) 679-8583
Fax: (847) 679-5336
Cell: (847)420-4789
sbodiwala@sbcglobal.net
Copyrights (c) 2010 – Asian Media USA
No one shall download or otherwise duplicate the graphics, images, press release and written content from the PDF without our express written permission. Likewise, no one shall reuse the aforesaid things, as the same are the intellectual property of the Company, we hereby reserve all rights
Disclaimer: – Asian Media USA
"The information in this e-mail and any attachments is confidential and may be legally privileged. It is intended solely for the addressee or addressees. If you are not an intended recipient, please delete the message and any attachments and notify the sender of misdelivery. Any use or disclosure of the contents of either is unauthorized and may be unlawful. All liability for viruses is excluded to the fullest extent permitted by law. Any views expressed in this message are those of the individual sender, except where the sender states them, with requisite authority, to be those of the Asian Media USA