FIA ceremoniously kicks off India Independence Day Events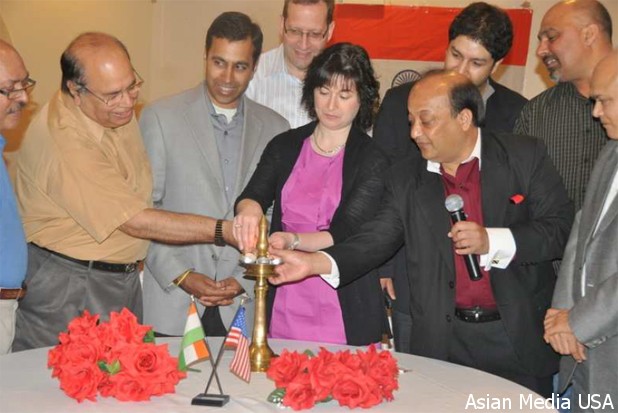 Chicago IL: Federation of Indian Associations [FIA] Chicago hosted a ceremonious 'kick-off' reception to set in motion a series of significant events centered on the celebrations of India Independence Day in Chicago on Sunday June 19, 2011 at the Punjabi Dhaba Banquet Hall in Chicago, Illinois.
The 'kick-off' luncheon reception was presided over by FIA Trustee Chair Iftekhar Shareef who invited the guests of honor to join in unity to light the lamp which was led by Hon. Debra Silverstein, Alderwoman of the 50th ward, State Senator/Committeeman of the 50th ward Hon. Ira Silverstein and Democratic Candidate of the 8th Congressional District Mr. Raja Krishnamoorthi. These guests of honor were joined by FIA's prominent Trustees and board members including Anil Pillai, Sitaram Patel, Sohan Joshi, Bhailal Patel, Sitaram Patel, Ranjit Ganguly, Micky Kahlon, Keerthi Ravoori, Ajai Agnihotri, Sher Rajput, Avinash Desai and Minhaj Akhar.
Following the auspicious lighting, Iftekhar Shareef made an official declaration announcing that FIA will host a series of festivities in commemoration of India's Independence with Grand India Parade as its crown-jewel event on August 20, 2011 on Devon & Western Ave. with series of other significant events including the Gala Banquet on August 19, 2011, Flag-Hoisting ceremony in downtown and possibly Taste of India Festival on Devon Ave.
Hon. Debra Silverstein, Alderwoman of the 50th ward thanked the leaders and trustees of FIA for inviting her to launch these series of events with the ceremonious touch and said she looks forward to participating in the parade. Hon. Debra Silverstein said she is extremely proud to represent a large constituency of Indian Americans in the 50th ward and looks forward to working very closely in addressing the issues of the ward.
Hon. Ira Silverstein, State Senator and Committeeman of the 50th Ward in his remarks expressed great delight being an integral part of the Indian Americans in the 50th ward and conveyed his best wishes to the Indian Americans in hosting in honor of India's Independence.
In his remarks, Iftekhar Shareef said the lighting of the lamp signifies a good auspicious beginning to the celebratory events surrounding the India Independence. Five lamps that were lit bears significance to a hand with five-fingers each representing its own character and nuance of Indian landscape, but stressed that they symbolize unity in one spirit and accord.
Iftekhar Shareef thanked Raja Krishnamoorthi for his chairmanship of the India Independence Day parade last year and said under his leadership the parade showcased India glorious cultural heritage.
Trustee Chair Iftekhar Shareef presented a historical overview and outlined FIA's role in the Indian American community. Iftekhar Shareef pointed out that FIA is marching forward with a renewed sense of unity and spirit of cohesion as more organizations and community leaders are mobilizing their unshakable support to the legitimate FIA of 30 years. Iftekhar Shareef pointed out that two disgruntled former FIA members have
Iftekhar Shareef castigated the efforts of two former FIA members who are falsely using FIA's brand name with the sole purpose of creating divisions in the community. Shareef pointed out that this matter has been refereed to the office of the Attorney General of Illinois. Shareef stressed that FIA has strong credibility and great following in the community and no forces will be able to hijack FIA's brand name.
Keerthi Ravoori, Vice President in his opening remarks welcomed the newly elected Alderwoman Hon. Debra Silverstein and State Senator/Committeeman of 50th Ward Hon. Ira Silverstein and Democratic candidate for the U.S. Congress from the 8th congressional district Mr. Raja Krishnamoorthi. Keerthi Ravoori said there presence at the event represents an auspicious beginning to these Indian events in Chicago.
Ranjit Ganguly, FIA co-founder praised the efforts of FIA in hosting Indian Independence that seeks to show the true inherent patriotic spirit of the Indian Americans.
Photographs by: Asian Media USA
Press release by: Keerthi Ravoori
Suresh Bodiwala
Chairman
Asian Media USA
Bus: (847) 679-8583
Fax: (847) 679-5336
Cell: (847)420-4789
sbodiwala@sbcglobal.net
Copyrights (c) 2010 – Asian Media USA
No one shall download or otherwise duplicate the graphics, images, press release and written content from the PDF without our express written permission. Likewise, no one shall reuse the aforesaid things, as the same are the intellectual property of the Company, we hereby reserve all rights
Disclaimer: – Asian Media USA
"The information in this e-mail and any attachments is confidential and may be legally privileged. It is intended solely for the addressee or addressees. If you are not an intended recipient, please delete the message and any attachments and notify the sender of misdelivery. Any use or disclosure of the contents of either is unauthorized and may be unlawful. All liability for viruses is excluded to the fullest extent permitted by law. Any views expressed in this message are those of the individual sender, except where the sender states them, with requisite authority, to be those of the Asian Media USA