Chicago Christians Inspired by Actor Raja's Spiritual Testimony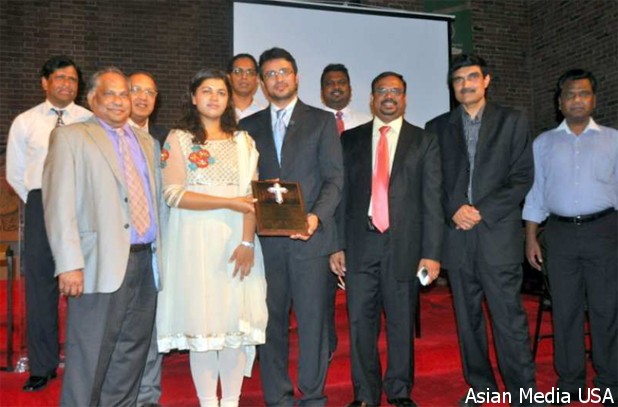 Chicago IL: Tollywood's actor A. Raja who is on a maiden 'Testimony' tour of the United States overwhelmed the Chicago Christian community with his personal testimony rooted deeply in his Christian faith to a packed audience at an event titled "reflection and inspiration" held on July 9, 2011 at St. John's Lutheran Church in Lincolnwood, Illinois.
The church was filled with silent awe as charming actor Raja took the audience through the arduous journey of his life replete with painful tribulations that which eventually transformed into a blissful triumph and joyful victory. Actor Raja –barely holding back tears — poured out his soul through his compelling testimony interspersed with his personal life story to a spellbinding congregation. Actor Raja narrated the transfixing story with intrepid candor describing how he dealt with unbearable pain of loosing his beloved mother at a tender age; then his father later and the painful struggles with his two sisters who faced a parentless life of destitution that followed. Each incident in his life, Raja said, has broken his human spirit and shattered his hopes as he continued to face excruciatingly painful humiliations and rejections from family, friends and the community including a pastor who refused to conduct the last burial rites for his father.
The unabated hopelessness in life, Raja stressed, was unbearable to such an extent that he contemplated demitting his life; until one day most unexpectedly a new beginning dawned in his life with the love of Lord Jesus Christ opening a new chapter in his life by swinging open the doors of extraordinary opportunities that which started with a stint at Lufthansa Airways. Life began to unveil exciting newer opportunities for Raja's and, it is then Raja recalled that he embraced a larger vision in life to do something meaningful which he silently cherished – to act in the movies. He began his new journey in pursuit of this goal and today he is an actor with worked in 32 movies received much accolades, awards and rave reviews for his artistic brilliance both on silver screen and television. Raja celebrity status continues to shine both in the movies and on the television screen.
Raja who now enjoys adulation of scores of fans among Telugu NRIs said he is now a changed person and is elated that he shares a personal relation with the God Almighty, who he added, lifted him and holds him high for the people to see. Actor Raja said he would continue to work in the selected movies once a year.
Keerthi Kumar Ravoori, National Convenor, introduced Actor A. Raja as a quintessentially brilliant actor whose journey was replete with heart-wrenching trials that which led to unfathomable victories. Keerthi Ravoori outlined some of the milestones and accomplishments of Raja and commended Raja's successful testimonial visits to Massachusetts, Rhode Island, New Jersey, Michigan, Illinois and California with his schedule taking him to Minnesota, Texas and southern California for a grand finale, added Keerthi Ravoori.
Dr. Heyer Paul who served as an emcee for the evening earlier welcomed the congregation and thanked for the overwhelming response from the community. Dr. Jayachand Pallekonda earlier in his remarks implored Christians to bond in unity and in strength. Varghese Chacko thanked Raja for his testimony and stressed that his life reflects the piety of Christian faith. Dr. Nandan Thoguru welcomed the guests.
Earlier, Merari Bushpaka and Israel Jude led the choir to a joyful singing of songs in praise and worship setting the right tone for the evening with the musical back-up provided by the Melody Makers group. Johnson Sukka undertook the management and logistical responsibility; while Vasanth Charles, Israel Jude and Dr. Regi Paul made community announcements.
On behalf of the Federation of Indo American Christians of Greater Chicago, Keerthi Ravoori and Dr. Jayachand Pallekonda presented an elegant plaque the inscription of which applauds Raja's distinguished discipleship and his trail-blazing artistic excellence – they were joined on the pulpit by the prominent Christian community leaders including Johnson Sukka, Dr. Heyer Paul, Thomas Polepaka, Vasanth Charles, Merari Bushpaka, Dr. Nandan Thoguru, Varghese Chacko, Isreal Jude and Suresh Maddela.
Raja was accompanied by his wife Monica and the couple were blessed by the pastors including Rev. Vidya Sagar, Rev. Ananthrao Thalla, Rev. Vistor Omega, Rev. Robert Sathuri, Rev. R.K. John, Rev. Sam Boodala, Mrs. Subhadra Vipparthi and Rev. Thomas Polepaka. The event was followed by a full-course dinner.
Press release by: Keerthi Ravoori
Photographs by: Asian Media USA
Suresh Bodiwala
Chairman
Asian Media USA
Bus: (847) 679-8583
Fax: (847) 679-5336
Cell: (847)420-4789
sbodiwala@sbcglobal.net
Copyrights (c) 2010 – Asian Media USA
No one shall download or otherwise duplicate the graphics, images, press release and written content from the PDF without our express written permission. Likewise, no one shall reuse the aforesaid things, as the same are the intellectual property of the Company, we hereby reserve all rights
Disclaimer: – Asian Media USA
"The information in this e-mail and any attachments is confidential and may be legally privileged. It is intended solely for the addressee or addressees. If you are not an intended recipient, please delete the message and any attachments and notify the sender of misdelivery. Any use or disclosure of the contents of either is unauthorized and may be unlawful. All liability for viruses is excluded to the fullest extent permitted by law. Any views expressed in this message are those of the individual sender, except where the sender states them, with requisite authority, to be those of the Asian Media USA