Empowering through Music Fund raising event by Chinmaya Organization for Rural Development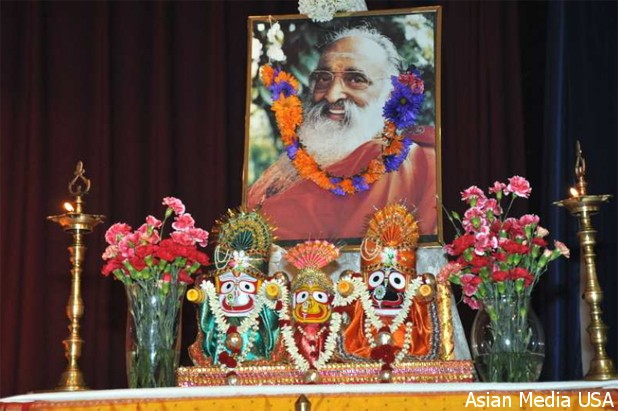 Chicago IL: Chinmaya Mission Chicago, held a fundraiser, "Empowering Through Music," on Sunday, July 10, 2011 at the Hindu Temple of Greater Chicago in Lemont. The purpose of this event was to support the activities of the Chinmaya Organization for Rural Development (CORD). This is an India-based non-profit organization that empowers villagers through different rural development programs under the leadership of Padmashree Dr. Kshama Metre.
The evening featured Suraj Patnaik, a seventeen-year-old Neuqua Valley high school graduate, who is a highly talented and versatile singer. Suraj is an exemplary example of an American-born youth of Indian descent, with strong roots in Indian culture and spiritual values, molded by both his family and the Chinmaya Mission. Suraj has been trained in Hindustani Classical music by President of Music award recipient Guru Smt. Mani Majumdar, and is a recipient of the 2009 Yuva Kala Award from the Orissa Society of the Americas. Suraj has also received training in Geeta Govinda from Padmashree Pandit Raghunath Panigrahi. During the evening's performance, Suraj was accompanied on the tabla and pakhawaj by Mumbai's renowned Guru Pandit Durga Prasad Majumdar. Chicago's popular musician Hitesh Master accompanied Suraj on the harmonium and keyboard, and Chinmaya Yuva Kendra artist Sasidhar Madugula played the violin. Other young local artists who supported Suraj included his brother Saurav Patnaik on drums and bells, Varun Raja and Connor Boyle on guitar, and Florence Lin on the violin.
The program was inaugurated by the lighting of the lamp by Swami Sharananandaji, the resident Acharya of Chinmaya Mission Chicago, and by Acharya Shanker Pillai, the President of Chinmaya Mission Chicago. In his welcome address, Swamiji emphasized the fulfillment one can gain from living a life based on spiritual values and service rather than one driven by the thirst for material objects. Mr Pillai introduced CORD and explained the noble work done by Dr. Kshama Metre, who is responsible for taking the service of CORD to more than 600 villages in India.
Suraj began the evening with a rendition of beautiful devotional music – Bhakti Geet, bhajans, and Geet Govind. Suraj's performance of the classical 'Khayal' was particularly mesmerizing, and had the audience spellbound. The two late afternoon raags, Multan in bada khayal and raag Jog in chhota khayal showcased Suraj's years of classical training and his command in rendering khayal in Vishnupur Gharana. His voice was soulful and pitch-perfect, and he sang effortlessly with the ease and confidence of the prodigy that he is. His audience was deeply moved and highly appreciative of his performance.
Pandit Durga Prasadji's skillful and dramatic playing of the tabla and pakhawaj provided several light and entertaining moments in addition to being excellent. The perfect coordination between him, Sasidhar on violin, and Hitesh Master on the harmonium provided Suraj with the strong accompaniment that made the music so beautiful and melodious. A lively jugalbandi between Durga Prasadji and Sasidhar was a special treat that had the audience captivated and engaged as they sparred back and forth. For this item, Sasidhar played "Vatapi Ganapathim," a composition by Muttuswami Dikshitar, in raga Hamsa Dwani.
Listening to Suraj's rendition of the songs of Hari Haran and Jagjit Singh, the compositions of Pandit Raghunath Panigrahy and Pandit Bhubaneswar Mishra, as well as 'Laga Chunri me Daag,' brought tears to the audience's eyes. And much to their delight, Suraj also performed some semi-classical songs like 'Albela Sajan Aayo re' and 'Mora Saiyaan.' Suraj's final song was a tribute to the homeland; his chorus was comprised of youth and children dressed in white and chanting "Vande Mataram," which means "Hail to the Motherland." As the littlest singers came on stage, waving Indian and American flags, it provided for a truly grand and memorable finale!
In an effort to raise funds for CORD activities, a short video about CORD activities was also presented. Chinmaya Yuva Kendra members Poonam Merai, Pooja Merai and Supriya Nair, shared their personal experience about their time spent in India, working with Dr. Kshama Metre and CORD in the villages of Himachal Pradesh. Guru Smt. Mani Majumdar, Pandit Durga Prasad Majumdar, Mr Hitesh Master and Mr Suresh Bodiwala and his team were blessed by Swamiji and recognized by Chinmaya Mission Chicago for their service to the community and also the evening's success. Supriya Nair and Akshay Mayanil were the Masters of the Ceremony.
The over $18,000 collected through donations and ticket sales is testimony to the grand success of the evening. The packed auditorium was a sign of the love, faith, and pride that the community has for Suraj, both as a person and as an artist. People felt the urge to extend their heartfelt support to this young man in his noble cause. They were rewarded with an evening of divine music and soulful singing.
Photographs by: Asian Media USA
Press release by: Sujata Patnaik
Suresh Bodiwala
Chairman
Asian Media USA
Bus: (847) 679-8583
Fax: (847) 679-5336
Cell: (847)420-4789
sbodiwala@sbcglobal.net
Copyrights (c) 2010 – Asian Media USA
No one shall download or otherwise duplicate the graphics, images, press release and written content from the PDF without our express written permission. Likewise, no one shall reuse the aforesaid things, as the same are the intellectual property of the Company, we hereby reserve all rights
Disclaimer: – Asian Media USA
"The information in this e-mail and any attachments is confidential and may be legally privileged. It is intended solely for the addressee or addressees. If you are not an intended recipient, please delete the message and any attachments and notify the sender of misdelivery. Any use or disclosure of the contents of either is unauthorized and may be unlawful. All liability for viruses is excluded to the fullest extent permitted by law. Any views expressed in this message are those of the individual sender, except where the sender states them, with requisite authority, to be those of the Asian Media USA