Metropolitan Asian Family Services Opens a new senior center in Lake County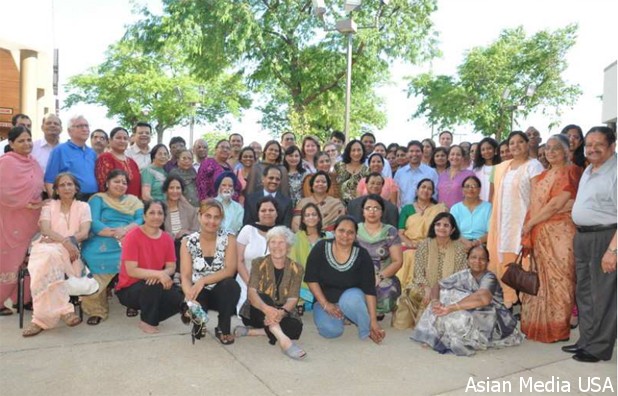 Vernon Hills, IL: Lake County has growing need for elderly care services among the immigrant population of Chicagoland area; Metropolitan Asian Family Services recently opened their 7th senior center in Vernon Hills, IL on July 11th, 2011. A pioneer in the field of senior home care services, MAFS has expanded its horizon to serve seniors residing in Lake County, IL by opening a new center at 60 E. Townline Road, at the Hawthorn Village Commons located in the city of Vernon Hills.
The opening ceremony commenced by offering prayers to Lord Ganesha and Goddess Lakshmi, which was followed by worshipping the Navagraha and seeking their blessings. Mantras were chanted and sacred prayers were recited by Pandit Jagdish Joshi invoking all the Hindu gods for the successful beginning of the center. Staff and community members gathered at this joyous occasion to celebrate the opening and participated with great enthusiasm. Executive Director of MAFS, Mrs. Santosh Kumar along with her husband, Mr. Pramod Kumar welcomed the guests and staff to their new location. The ribbon cutting was performed by Dr. & Mrs. Satyan Singh of Grayslake, IL. The guests in attendance were Dr. Rakesh Asthana of Woodridge, Mr. Ashok and Pramila Bhatia from Libertyville, Ms. Nalini Goyal, Ms. Zeba Siddiqui, Dr. Chandrakant Modi, Sashi and Indu Goyal of Desplaines, and Mr. Krishna Maheja.
Staff members from all the other locations were present at this ceremony. Gira Ethindra, Manager of Naperville office, Promila Mehta, Manager of Chicago office, Prem Jalota, Manager of Roselle, Bharti Virani, Manager of Niles, Avni Thakkar, Manager of Carol Stream and Jahnavi Soni, Manager of Algonquin were joined by staff members from their respective offices.
The religious puja was followed by distribution of prasad and a tasty dinner prepared by MAFS kitchen staff, was served to all the members present. Members were introduced to the new office staff. Neelam Desai, will be the Manager at this location. She comes with a lot of experience in senior home care services and speaks Urdu, Hindi and Gujarati languages. She can be reached at (630)518-8184.
Metropolitan Asian Family Services, a non-profit organization has been serving the community for the past 19 years providing home care service, adult day care program, public benefits for the elderly, ESL classes, computer training, health education and screening, hot lunch program and various social service programs. They have offices in Chicago, Niles, Roselle, Carol Stream, Naperville, Algonquin and now their newest location in Vernon Hills. The goal of MAFS is to enrich the lives of seniors through various social service programs to improve their physical health and to keep them safe and happy in their homes. To solve the problem of access for the seniors, most of them who do not drive, MAFS has opened numerous centers in and around Chicago area. This recent additional new senior center is designed to provide access to needy in Lake county, Illinois area to include Gurnee, Round Lake, Lake Zurich, Long grove, Algonquin Buffalo Grove, Wauconda etc. Just like other centers, this facility is designed to help seniors lead a stress free life in the US and eliminate social isolation and cultural alienation. Last year, MAFS served over 3,500 seniors with the help of 2,170 Home care Aides with an average of 1,201,729 hours of service per month covering 11 counties in the Chicagoland area. A very dedicated team of staff who work tirelessly to assist the elderly have contributed to the success of this organization. Replying question from Dr. Modi, a reporter for Asian Media USA, one of the senior couple summarized opinion of most other seniors, that this type of facilities is God send. Before this type of facility and services, we were like prisoners in our dwelling. We were socially isolated, lonely and depressed deprived of all the pleasures in our golden years. We felt that this is the country of "shytan or wicked evil"! These senior centers have changed our life completely. There is no word to describe what Santosh Kumar has done for all seniors like us. With emotional voice and tears in the eye he added that "We truthfully like to compare and identify Santoshji as Mother Teresa of Chicagoland. May be God will give her long life her to continue and advance her humanitarian compassionate and benevolent selfless work.
For more information about the location and services etc, visit www.mafsinc.com or call (773)465-3105.
Suresh Bodiwala
Chairman
Asian Media USA
Bus: (847) 679-8583
Fax: (847) 679-5336
Cell: (847)420-4789
sbodiwala@sbcglobal.net
Copyrights (c) 2010 – Asian Media USA
No one shall download or otherwise duplicate the graphics, images, press release and written content from the PDF without our express written permission. Likewise, no one shall reuse the aforesaid things, as the same are the intellectual property of the Company, we hereby reserve all rights
Disclaimer: – Asian Media USA
"The information in this e-mail and any attachments is confidential and may be legally privileged. It is intended solely for the addressee or addressees. If you are not an intended recipient, please delete the message and any attachments and notify the sender of misdelivery. Any use or disclosure of the contents of either is unauthorized and may be unlawful. All liability for viruses is excluded to the fullest extent permitted by law. Any views expressed in this message are those of the individual sender, except where the sender states them, with requisite authority, to be those of the Asian Media USA