My Vibrant India" a grand celebration of Indian heritage attributes World's largest Indian flag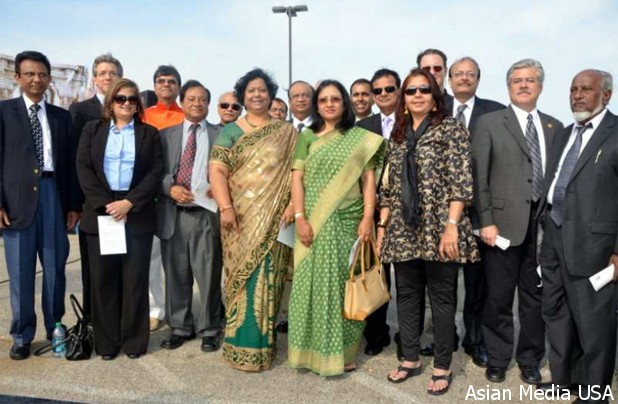 Hoffman Estates, IL: 'My Vibrant India' a grand celebration of Indian heritage took place on July 16, and July 17 at Sears Center 5333 Prairie Stone Parkway, Hoffman Estates, IL 60192, featuring the world's largest India's flag and showcasing the rich heritage of India. This spectacular show exhibited India with its huge diversity. The main theme of the show was to appeal to the Indian as well as the non-Indian community and bring forth a much deeper knowledge and understanding of custom and vision of India.
The event was organized and directed by Mr. Montey Saiyed, president of Shows2u, a premier entertainment management company in the Midwest. The organization is well known by keeping its tradition of bringing some of the biggest names in the Indian and Pakistani entertainment industry to Chicago. For this event Shows2u brought a journey of rich tradition and legacy of India thru Gujarat & Rajasthan that would let people walk through and discover the culture and richness that both states. The show will continue the Journey selecting different two states every year and eventually covering all the Indian states.
Vibrant India festival was incredible according to Asian Media USA Chairman, Mr. Suresh Bodiwala. He further stated that "This type of event will help create a huge awareness about India among Indians as well as non Indians alike". "This event will give an all around boost to India's image and its economy with better social, cultural, academic and economic awareness and cooperation" Said Monty Saiyed, the event organizer. Some of the highlights of the event were Dandiya-Rass competitions, Gujarati Stage Play, melodious old and new songs from popular Bollywood Playback singers, performances from Bollywood actors, and colorful fashion shows.
Replying to question of significance of displaying the world's largest tricolor Indian flag, Mr Montey the principal organizer replied that flag represents the message of strength peace harmony and unity as worshippers of all faiths and beliefs live peacefully throughout the world. One of the VIP visitor Mr. William McLeod, Hoffman Estates Mayor, said, "Flag will be attention grabber and is also spreading Ghandhiji's peace message in the world." According to Mr. Monty Saiyed, this flag is a unique way to deliver the message of Sufism and Mahatma Gandhiji's peace mission to promote peace, harmony and unity among Hindus and Muslims around the world.
The other important part of the event was Desi Bazaar, These multiple independent shops exhibited and sold varieties of bridal supplies including verities of ornaments, wedding dresses Mandap and other wedding supplies. The event also included presentation of multiple Bridal Fashion Shows on both days. In the main staged arena of the Sears Center, there were also live concert with legendary singers Manhar Udhas, Bhumi Trivedi, Naushad Kawa, Apurva, Aavez Darbar. There was pulsating and energetic Dandiya night with Preeti & Pinky, Gujarati play 'Gandhi before Gandhi' (Jain legend Virchand Gandhi) and opportunity to meet-andgreet Bollywood stars, like Vivek Oberoi and Dino Moreo. Admission was very nominal $5 per day and parking is free.
Over the entire event was historical, informative, vibrant, colorful, vivid and lively with very nominal all inclusive entrance fee. I cannot wait till next year to bring back similar larger and superior event again next year said happy and pleased Mr. Montey.
Gandhi Peace Mission:
Saiyed Pir Noor Satgur's ideologies of love, unity and harmony are what sets the foundation for Gandhi Peace Mission founded by Saiyed Muslimuddin Sadruddin Darghawala in Navsari, Gujarat. The aim of Gandhi Peace Mission is to Co-Exist As one…..A Mission to Encourage, Support and Abide to the Universal message of Love, Peace, Unity and Harmony among people of all faiths, religions and beliefs.
A great Sufi who settled in India in 1093, Saiyed Pir Noor Satgur passed down his message of universal love to his family and the people of Gujarat, India. Saiyed Muslimuddin Sadruddin Darghawala has learned these qualities from his father Sadruddin Darghawala who was a great scholar leader in the community and had a soft heart for all the religions and his foundation Saiyed Sadruddin Darghawala is running the foundation of Gandhi peace mission. (www.gandhipeacemission.com)
Photographs and Press release by: Asian Media USA
Suresh Bodiwala
Chairman
Asian Media USA
Bus: (847) 679-8583
Fax: (847) 679-5336
Cell: (847)420-4789
sbodiwala@sbcglobal.net
Copyrights (c) 2010 – Asian Media USA
No one shall download or otherwise duplicate the graphics, images, press release and written content from the PDF without our express written permission. Likewise, no one shall reuse the aforesaid things, as the same are the intellectual property of the Company, we hereby reserve all rights
Disclaimer: – Asian Media USA
"The information in this e-mail and any attachments is confidential and may be legally privileged. It is intended solely for the addressee or addressees. If you are not an intended recipient, please delete the message and any attachments and notify the sender of misdelivery. Any use or disclosure of the contents of either is unauthorized and may be unlawful. All liability for viruses is excluded to the fullest extent permitted by law. Any views expressed in this message are those of the individual sender, except where the sender states them, with requisite authority, to be those of the Asian Media USA