Consulate General of India Chicago Celebrates 63rd Republic Day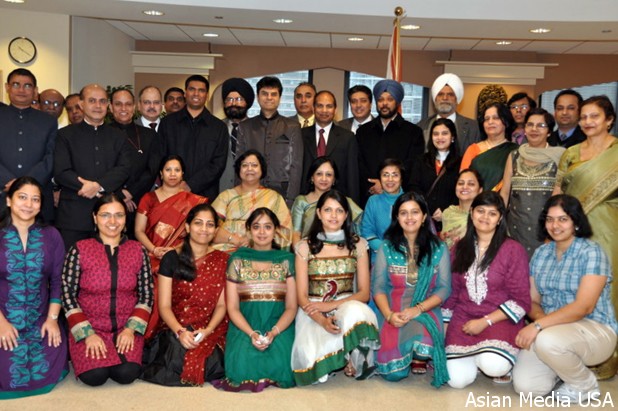 Chicago, IL: Honorable Consul General Mrs. Mukta Tomar celebrated 63rd Republic Day On Thursday, January 26, 2012 with leading Chicago-land entrepreneurs and citizens to honor the sacrifices our freedom fighters have fought and to remember the work of our Founding Fathers, for giving to us a country where our dignity and individual freedom is assured. She also extended her warmest greetings to all across the country and also to those living abroad. Indian Consulate located in the heart of downtown at 455 North City front Plaza Drive, Suite No.850, NBC Tower Building, Chicago, IL. As usual guests gathered from citywide to celebrate India's 63rd Republic Day.
Mrs. Mukta Dutta Tomar implicit charge at the Consulate of India in Chicago in August 2010. Prior to this she served as a Deputy High Commissioner of India to Bangladesh. She also served in Indian Embassies across the world including in cities such as New York, Paris, Yangon, Kathmandu, and Madrid.
The event began at 10am as the Honorable Consul General saluted the Indian Flag as she held the rope to release the Indian Flag called "Dhhwaj Vandan" to respect and honor the Indian Flag followed by singing an Indian National Anthem. She also recited the speech given by honorable President of India Shrimati Pratibha Devisingh Patil on the eve of republic day on 25th January, 2012 in India. While addressing the countrymen, the President Shrimati Pratibha Devisingh Patil did also notably recognize the contribution of the Indians living abroad. She covered every aspect that engaged India and Indians actively in the progress of the country, their achievements, their gains and shortcomings.
In conclusion, President Shrimati Pratibha said that we must build a strong, prosperous nation, based upon a firm system of values. As we remove poverty, let us also enrich our thoughts. As we remove disease, let us all remove ill-will towards others. As our youth study more and acquire more knowledge, let them also learn to be more involved in activities for the progress of the nation, other than only self advancement. As we legislate, let us also understand that the most effective law is the conscience of citizens. As we advance in science and technology, let us realize and understand that it is more for human welfare. As we use the Earth's resources, let us not forget to replenish and renew its vitality. On the eve of our Republic Day, let me once again convey my greetings, to all fellow citizens.
The Republic Day of India commemorates the date on which the Constitution of India came into force replacing the Government of India Act 1935as the governing document of India on 26 January 1950. 26th January is a very significant date in our nation's calendar, when we celebrate the establishment of free India as a Republic based on the ideology of justice and equality. It must also be an occasion when we rededicate ourselves to maintaining harmony, peace and brotherhood. Most of all, it is a time to introspect about how we have fared so far, and in, which direction are we progressing. For our achievements, the foremost credit goes to the drive and the dedicated hard work of millions of men and women of our country.
We are witness to the increasing influence of India and its steady economic growth that has brought prosperity to an increasing number of people. It is also a day to be proud of our successes and to remind of ourselves about many other significant tasks that are yet to be accomplished; In particular the pledge to empower the poor and the marginalized sections of our population so that they too can become a part of the growth story of our nation.
Mrs. Mukta Tomar was the perfect hostess and radiated with hospitality, courtesy and humbleness along with the entire Consulate General team. Concluding her reading of the President's address, the Consul General thanked all the attendees for participating in the Republic Day celebration.
Delicious snack items were also served during the celebration. Mouth watering Tri color Barfi, Bundi Ladoos were served with khamans, Samosa, chatni and Dahi Vada along with a variety of soft drinks on behalf of the Consulate General.
The Consulate Team members, N.J. Gangte, T. Mohanchandran, Mr. S.K. Menon, Ramakrishna Chattopadhyay, N.C. Chauhan, Mrs. Bimla Chaudhri, Sunita Christina, Heena Mehta, Dhara Rawal, Kinnari Shah, Radhika Sethuraman, Neelima Varanasi, Kinnari Shah, Renuka Jain, and Sabu kan with other team members were present to celebrate this occasion. It was a nice and somber event with Chicago land elite, businessmen and community members attending the nearly hour and half event in the morning
Suresh Bodiwala, Chairman of Asian had an opportunity to find out Mrs. Mukta Tomar's perspective on the Republic Day where she would like to "extend her warm Greetings to all and wishes everyone a very Happy Republic Day." On this significant day, we would like to encourage Compassion, non-violence and goodwill, which may always flow in unison. With these words, once again greet all fellow citizens on the occasion of Republic Day. Jai Hind!
Photographs and Press release by: Asian Media USA
Suresh Bodiwala
Chairman
Asian Media USA
Bus: (847) 679-8583
Fax: (847) 679-5336
Cell: (847)420-4789
sbodiwala@sbcglobal.net
Copyrights (c) 2010 – Asian Media USA
No one shall download or otherwise duplicate the graphics, images, press release and written content from the PDF without our express written permission. Likewise, no one shall reuse the aforesaid things, as the same are the intellectual property of the Company, we hereby reserve all rights
Disclaimer: – Asian Media USA
"The information in this e-mail and any attachments is confidential and may be legally privileged. It is intended solely for the addressee or addressees. If you are not an intended recipient, please delete the message and any attachments and notify the sender of misdelivery. Any use or disclosure of the contents of either is unauthorized and may be unlawful. All liability for viruses is excluded to the fullest extent permitted by law. Any views expressed in this message are those of the individual sender, except where the sender states them, with requisite authority, to be those of the Asian Media USA