03-10-2018 Electrifying dance recital by students of Kalapadma Academy
Chicago, IL: Kalapadma Dance Academy Chicago celebrated their 24th Annual day Event with students and their families, friends and prominent leaders of our community on Saturday, March 10,2018 at the North Eastern University auditorium, 5500 St Louis Ave, Chicago, IL 60625. Students of Kalapadma, ranging in ages from 6 to 60 years, adorned in colorful costumes, dazzled the audience of about 600 art lovers of Greater Chicago land area. It was 3 hours of pure entertainment that consisted of Indian classical as well as folk, Gujarati and Hindi Bhajans, Bollywood, tribal and fusion dances which were presented by more than 80 students. Such a grand show was made available to the audience at no cost.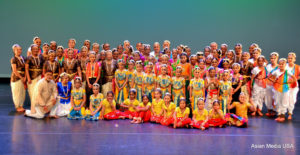 The chief guest Mr. Sunil Shah, president, FIA. Many other dignitaries and VIPs who graced the show were Mr. Ravi Raju, Dr. Jayshree Raju and many other community leaders and business leaders. The event marked the sheer celebration of Indian heritage, culture, dance and music. The students, the Artistic Director, Ruth Varghese, the President, Santosh Varghese, and all those who were involved in the presentation of the show deserve esteem.
Sunil Shah along with Mr. Ravi Raju, Dr. Jayshree Raju and the students who performed their Arangetrams last year inaugurated the show with the lighting of the lamp. The show started with the American national anthem followed by Indian national anthem.
Dr. Jayashree Raju and her husband Mr. Ravinder Raju, were instrumental in helping Kalapadma establish its roots in Chicago about 24 years ago. Also, Dr. Jayashree Raju, was a medical intern at that time and she helped emcee the first annual show of Kalapadma at the Taft high School Auditorium in 1993.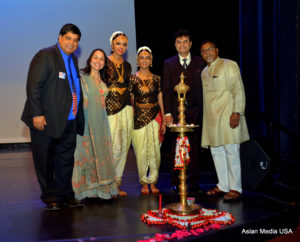 Emcee Santosh Varghese did a wonderful job of narrating the stories associated with each festival of India. It made the show much more interesting and meaningful to watch. Dance numbers were performed in 8 different languages of India, including the Christmas number in English. As always, the show ended with the patriotic number, paying homage to the ultimate sacrifices of the great souls of India. As expected, the choreography of Mrs. Ruth Varghese and her talented daughter Anjali Varghese was outstanding.
About Kalapadma Bharatanatyam Dance Academy
Dr. Shankar Dayal Sharma was not the president of India when he inaugurated Kalapadma in 1960. He was Education Minister of Madhya Pradesh at that time. Later in the 90's he Became President of India. "It was founded by Guru Shri Shankar Hombal and Smt. Vishalakshi Johri, the sister of well-known dancer and the founder of internationally acclaimed institution for classical arts, Kalakshetra, where Guru Hombal studied dance. Kalapadma Chicago is run under the Tutilage of Smt. Ruth Varghese daughter of Shri Hombal.
Santosh or Ruth Varghese, 2498 E Church Street, Desplaines, IL 60016