03-03-2018 Umiya Mataji Temple Chicago celebrates Holi with Colors of Umiya Ma devotion
Chicago IL: Umiya Mataji Sanstha Chicago Midwest (UMSCM) Celebrated colorful legendary Festival of  Holi, symbolizing victory of God over Evil by Hindu's all over the word, by sprinkling  colors with Dancing & Chanting,.
This occurred on Saturday – March 03, 2018. It is unusual for any event to be held outdoors in Chicago is this time of year in month of March due to the unpredictable freezing cold weather. Believers in trust faith and miracle of the Mataji ignored the standard and against the odds of snowy weather, held the celebration outdoor at Umiya Mataji Temple Chicago, 1800 Joliet Street, West Chicago, IL 60185. Over 500 community members braved the weather and showed up in big turnout including prominent community leaders, sponsors, committee members, volunteers, friends, and well-wishers, participating in half day event.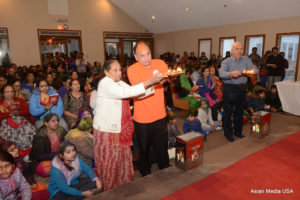 Holi is a Hindu festival that marks the arrival of spring. Known widely as the Festival of Color, it takes place over two days, and is a celebration of fertility, color, and love, as well as the triumph of good versus evil. Holi split into two events: Holika Dahan and Rangwali Holi. Holika Dahan takes place the night before Rangwali Holi. Wood and dung-cakes are burned in a symbolic pyre to signify good defeating evil (in Hindu Vedi scriptures, the God Vishnu helps burn the devil Holika to death).The next morning, people gather in public spaces and take part in Rangwali Holi. This is a raucous affair where people chase each other around, throwing handfuls of colored powders (known as gulal) at one another, while getting drenched in water.
Holi celebration was aimed to garner the spirit of giving and scattering joy, commencing with variety of delicious food. The event started with appetizer including Hot Bhajiya (Pakora), Gota &Teaserved as light refreshments.Subsequently at the end of Holi celebration, Steamy hotDinner was served with Khichadi, Kadhi and Thepla. This event was free of charge for participants by Umiya Mataji Sanstha Chicago Midwest.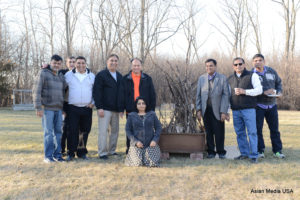 It was a great joy to see the children having a good time in the woods playing with colors with their friends and family as well as participating in the community enrichment activities of Holi. Whole area was covered with clouds of vibrant colors. It was a memorable breathtaking celebration.
Shree Umiya Mataji is a Kuldevi of all Kadva Patidars Samaj. It was a heart touching religious moments eclipsing with Aarti & Bhajans. All the devotees prayed at Mataji in temple with a great gusto by dancing and singing devotional songs. The audience repeatedly chanted 'Shree Umiya Mata Ki Jai!!' and the whole atmosphere was festive devotional saintly and spiritual.
 "We celebrate this festival to forget the outgoing year's pains and begin the New Year with feelings of love, sympathy,cooperation, equality andpositive energy. Occasions like this are a good opportunity to introduce kids tothe cultural aspects of our tradition,"said by Lalbhai Patel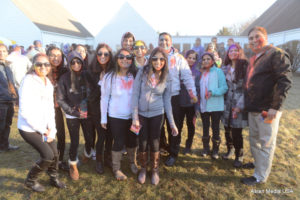 "Holi solemnizes the love of Radha and Krishna. The spraying of colored powders recalls the love dance of Lord Krishna and His devotees. The color, fun and frolic that accompany the celebration of Holi are the witness to a feeling of oneness and sense of brotherhood. The festival brings home the spirit of cultural and social harmony"Said by Khodabhai (Ken) Patel.
Umiya Mataji Sanstha of Chicago Midwest (UMSCM) plans to build Umiya Mataji Mandir. They purchase Church with land acquired at $ 1. 4 million at 1800 Joliet Street, West Chicago, IL 60185, Lot Size is 8 and ¾ acres, Current Pre-existing Building size is 8000 sq. feet attached house of 3 bed room house. UMSCM is a not for Profit,501 3 (c), organization was establish in 2016 with an objective to build a first ever Temple of Mataji along with great Community center.The main purpose of theassociation is to provide a platform for Cultural, Educational, Social, Religious and spiritual needs of Kadva Patidar Samaj.
UMSCM executive board: Jayantibhai P. Patel (Chairman), Shailesh R. Patel (Vice Chairman), Lalbhai M. Patel (President), Dipal G. Patel (Vice President), Devandra Patel (Secretary), Jignesh H. Patel (Jt. Secretary), Saurabh Patel (Jt. Secretary), Piyush Patel (Treasurer) and Hasmukhbhai P. Patel (Jt. Treasurer)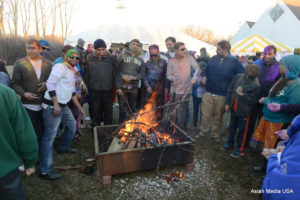 UMSCMworking team: Ashok S. Patel, Ashvinkumar A. Patel, Vishnubhai G. Patel, Dashubhai R. Patel, Girishkumar Patel, Jagdish N. Patel, Jayesh V. Patel, Jitendra Patel, Mahendra R. Patel, Navnitkumar Patel, Pulkitkumar N. Patel, Rajendrakumar Patel, Sanjay G. Patel, Bharat Patel Kantibhai (KS) Patel, Kishan Patel, Jitubhai Patel and Rasik Patel.
 Volunteer's team did excellent Job and made this event memorable.