Arousing Divine Experience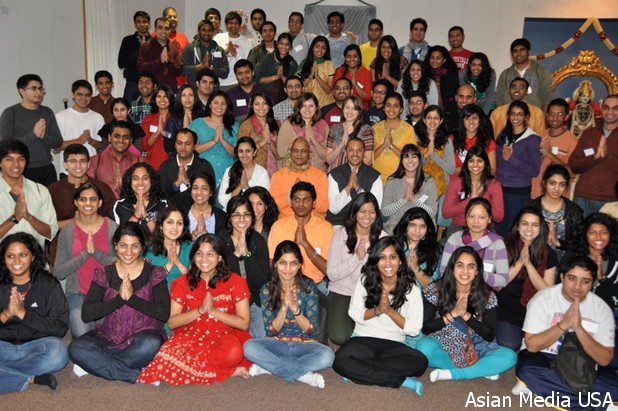 Chicago IL: "If you want to get what you have never gotten, you have to do what you have never done". These are the words of Acharya Vivekji at the latest Chinmaya Yuva Kendra (CHYK) retreat2012 in Chicago. Chinmaya Yuva Kendra, is a branch of Chinmaya Mission focused on spreading a message of spirituality to youth. It was founded in 1975 by Swami Chinmayananada with a mission to "empower youth with the vision, values, and dynamism for success in all fields".
CHYK is present in over 120 cities on four continents and has made its mark on youth in the world today. CHYK discussions are held on college campuses and are very popular with university students. CHYK retreats are also held across the nation during almost every month, with the number of retreats and camp attendees increasing with each year.
The spiritual retreat conducted in Chicago Badri Center, 11 S. 80, Rt 83, Willowbrook, IL, on January 13 to 15, 2012 brought over 90 people from around the country with a practical theme. "Holistic Habits: Make, Break, and Sublimate" read the poster for this camp. During those three days, we learned how exactly to achieve the making, breaking, and sublimating of habits. We focused on forming habits such as selflessness, devotion, prayer, and focus and breaking habits such as procrastination and materialism. Through the focus on Yajnas (sacrifices) we learned how to break each bad habit and replace it with a good one. We formed smaller discussion groups and analyzed our own lives, formulating Yajnas directed towards breaking our own bad habits.
With yoga at seven in the morning and breakfast in silence, we began each day on a good note. We had enlightening question and answer sessions with Swamiji Sharanananada and Brahmacharini Vibhooti Chaitanya, with questions ranging from "what is the most important habit to get rid of?" to "how does one deal with a loss?". Discourses where delivered by Vivekji everyday as we progressed through the Fourth Chapter of the Bhagavad Gita, studying it verse by verse and applying the messages to our lives today. We were then divided into small discussion groups where we had the opportunity to share thoughts and ask questions. We were able to enjoy the snowy Chicago weather as we sledded down hills and made snow angels. At night, we concluded with games such as Charades and Bhangra relay races. Afterwards we were engaged in an open mic
session where all the camp members were able to display their various talents from singing to dancing.
"A person is defined by his or her habits", says Vivekji. Over the span of those three days, through profound discourses and inspiring discussions, we learned that modifying our habits and remedying our attitudes will bring us to the "infinite, unconditional, constant joy" that we all inherently seek. By calming our minds through yoga, meditation, and periods of Mouna (silence) we were able reflect deeply, a necessary practice which is not done often enough in college students' and working individuals' busy lives. Through learning habits such as selflessness, prayer, humility, and gratitude, we sought to better ourselves. Immersed in such an experience with 90 other likeminded seekers for three days, the insights shared and the lessons learned from each other as well as Vivekji were invaluable. With a focus on fixing our habits in this camp, we learned how to incorporate spirituality into our daily lives and actions. Games that created laughter and joy, and bhajans which fostered devotion enriched the atmosphere as each individual strived to learn and change. With Chapter Four of the Bhagavad Gita as our guide, Vivekji as our teacher, and each other for support, we turned a normal weekend into something priceless.
About Chinmaya Mission
Mission Statement:
The purpose of Chinmaya Mission is to provide to individuals, from any background, the wisdom of Vedanta and the practical means for spiritual growth and happiness, enabling them to become positive contributors to the society. Chinmaya Mission makes available the ageless wisdom of Vedanta, the knowledge of the One Reality, and provides the tools to realize that wisdom in one's life. "To give maximum happiness to the maximum number for the maximum time" is the tenet that drives Mission workers to uplift humanity beyond selfish and sectarian attitudes and activities. Each person's gain is manifold: personal growth, heightened efficiency, contentment, and the ability to live with others in peace and harmony. There are over 300 Chinmaya Mission centers throughout the world, and close to 35 centers in the United States.
Activities:
Gynana Yagnyas (Vedanta lecture series, seminars, workshops), Bala Vihar (Vedanta forum through weekly, classes for children and youth, grades Preschool through High School), Study Groups (Vedanta forum for adults), Devi Groups (Vedanta study and discussion forum for women and homemakers), Spiritual Retreats and Camps, Language Classes, Stuti Vandana and Vedic Chanting, Music and Fine Arts Classes, Yoga Classes, Interfaith Dialogue and Prayers, Community Health Fairs and Seminars, Blood Drives, Shrimad Bhagavad Gita Recitation and Vedanta in Practice (Community Service Programs).
Badri – 11 S. 80, Rt 83, Willowbrook, IL, 60527
Badri Phone: 630-654-3370
email: swami@chinmaya-chicago.org
Website: www.chinmaya-chicago.org
Yamunotri – 30877 N. Fairfield Rd. Grayslake, IL, 60030
Yamunotri Phone: 847-740-1215 email: mail@chinmaya-yamunotri.org
Website: www.chinmaya-yamunotri.org
For more information on CHYK and future retreats, please visit www.chykwest.com
Photographs and Press release by: Asian Media USA
Suresh Bodiwala
Chairman
Asian Media USA
Bus: (847) 679-8583
Fax: (847) 679-5336
Cell: (847)420-4789
sbodiwala@sbcglobal.net
Copyrights (c) 2010 – Asian Media USA
No one shall download or otherwise duplicate the graphics, images, press release and written content from the PDF without our express written permission. Likewise, no one shall reuse the aforesaid things, as the same are the intellectual property of the Company, we hereby reserve all rights
Disclaimer: – Asian Media USA
"The information in this e-mail and any attachments is confidential and may be legally privileged. It is intended solely for the addressee or addressees. If you are not an intended recipient, please delete the message and any attachments and notify the sender of misdelivery. Any use or disclosure of the contents of either is unauthorized and may be unlawful. All liability for viruses is excluded to the fullest extent permitted by law. Any views expressed in this message are those of the individual sender, except where the sender states them, with requisite authority, to be those of the Asian Media USA