02-11-2018 Naperville Teenage Singing Sensation Ashley launches her own Music Foundation
Chicago IL: The first ever launch of Ashley's Music Foundation (also known as AMF) took place at the Tall Grass Clubhouse in Naperville, IL. Ashley's Music Foundation, is a non-profit organization that was created by a very talented 16-year teenage singer Ashley Singh from Naperville to promote music programs in underprivileged schools in Chicago land area.
Ashley Singh is a junior at Waubonsie Valley High School in Aurora, IL and has been a prominent member of the Waubonsie music program for the past 3 years. She is incredibly passionate about music, as she started training in Indian classical music at the age of 4. After learning various styles of singing for 12 years, she grew very fondly of music. She is fully convinced about the importance of music learning for young minds such as integration of left and right brain, concentration, self-confidence and self-identity. She herself is the beneficiary of leaning music and changes she has experienced in her life.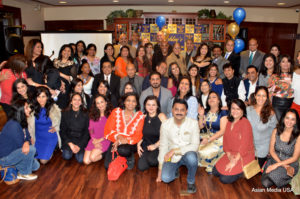 She believes that music education should be an integral part of every child's learning curriculum. Nothing pains her the most when she hears that school districts cut back on music programs due to lack of funding and resources. To make a difference in the lives of children in those school districts who are struggling with their own music programs, Ashley decided to start her own music foundation. This foundation is dedicated to spread the love music education among young children. Ashley made it her mission to implement music programs in schools that did not have one, to inevitably help each student become more in tune with music, education, and their own identity. As a pilot program, AMF has started the music program at Excel Academy of Englewood under the name Matanoia Choir as pilot program in January 2018. She plans to extend the program to other schools on south side Chicago in the academic year 2018-2019.
The AMF launch began around 6pm, when all members of the community who came to support Ashley and her foundation. The event formally started with a lamp lighting ceremony and the honors were done by Ashley Singh, Rita Singh, Sanjeev Singh, MaCassa Johnson, Matthew Obrzut, Sunil Shah, Neil Khot, and Ashfaq Hussain Syed. After the lamp lighting ceremony, Ashley gave a powerful presentation on how music is so important and why every child should have access to music education. She also spoke about AMF and explained her mission for the foundation. MaCassa Johnson, who is the founder and executive director of State of Emerge-A-City and advisor of AMF, and Matthew Obrzut, the principal of the Excel Academy of Englewood also joined Ashley and spoke more about AMF mission, current activities and future plans.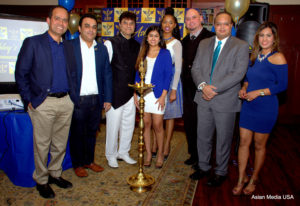 They shared how much the foundation is positively impacting the lives of the students in Excel Academy of Englewood. Following Ashley's presentation, a video by the principal of Waubonsie Valley High School, Mr. JasonStipp, was played. Mr. Stipp unfortunately could not attend the event but wanted everyone to know how supportive he is of AMF and the foundation's mission. The night ended when our community leaders, Sunil Shah, Neil Khot, and Clarence Welton shared their kind words and wishes for the future of AMF.
Ashley's Music Foundation (AMF) was created in June of 2017 and continues to help students in Chicago Public Schools through the power of music. Partnered with the State of Emerge-A-City, a non-profit organization helping students through leadership programs and much more, AMF has already implemented a choir program into the Excel Academy of Englewood. This school acquires students from 15-21 years of age, each either having been expelled from their previous school or had aged out of their grade. Each student faces detrimental adversities like drug abuse, violence, and lack of security on a daily basis. So through the power of the gift of music, AMF strives for each of these misguided students to be geared towards a path of passion, dedication, and retention.  AMF's mission is for every student in the Chicago land area to have access to a music program through their school. AMF emphasizes the importance of music and its goal is to raise awareness of this. Ashley Singh, founder and CEO of AMF, has been deeply affected by the fine arts and aspires to see other students be beneficially impacted in the same manner. For more information, please visit www.amfchicago.org