02-01-2018 Grand opening of Radhika's Kitchen, Taste of Home Style India Food in the heart of Schaumburg
Chicago IL: Radhika's Kitchen, located at 825 W. Higgins Road, Schaumburg, IL opened for Public on Thursday -Feb. 1, 2018 @ 10.30 a.m. The opening celebration started with Ribbon Cutting Ceremony by the VIP guest and followed by Lunch for invited guests.The 72-seat establishment will be serving an Enticing Indian Cuisine that represent various parts of India, serve in a traditionally-decorated Indian environment.Invited guest were from Political, medical procession, education, sports, and business field includingMayor Al Larson (Village of Schaumburg), Raja Krishnamoorthi (Eight District Congressman), Matt Frank (AICP), Mallka Kapoor (IT Connect US) Kent Welch (Higher Ground), Rohit Shah (Pietch).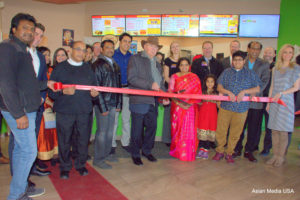 Raja Krishnamoorthi said, small business are the life and blood of this country and majority jobs are created by this small business owners. He added that,small business creates wealth and prosperity in the country. Today we are here to celebrate Radhika's accomplishments and Schaumburg welcomes any business owner to the city.
Raja congratulated Radhika's team and would like to see them succeed and grow high with more employees in the team.
Mayor of Schaumburg congratulated the hotel owners and encourage to do more business in the city. He also wished them great luck for their business in the city.
 With the vogue nature of Radhika's Kitchen and the eclectic demographics and palettes of Schaumburg in mind, the Radhika's family set up shop on Schaumburg's Restaurant Row, understanding that Schaumburg's tourists and local food enthusiasts want high-level, white-glove food that is still affordable, urban and hits the spot.
The traditional, but classic menu, crafted by Radhika's Kitchen's chefs, serves exactly what customers are looking for – an innovative comfort food.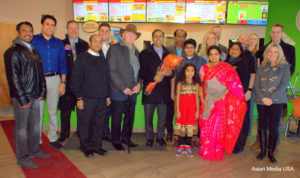 Our menu features freshly prepared authentic regional cuisine, made with carefully chosen and high quality ingredients. It incorporates delicious from Hyderabad (India), Andhra, Tamil Nadu, Karnataka, Kerala & North Indian Cuisines".
Radhika's Kitchen aims to provide its patrons with an enticing collection of traditional and contemporary dishes that represent various parts of India. Our menu features freshly prepared authentic regional cuisine made with carefully chosen and high quality, homestyle ingredients. They are even 100 percent Zabiha Halal.
The right mix of flavor and spices that are carefully crafted by our chefs will not only be a treat for your taste, but also fill your heart with the warm fuzzy memory of a lip-smacking meal you had in India".
Specialties include Eggplant Coconut Fry, Tawa Fish Fry, Chettinad Chicken Curry, Mutton Chukka Varuval, Kothu Parota (Veg/Egg/Chicken/Mutton) and Talapakattu Biryani (Chicken/Mutton), Vijayawada Special Biryani &Hyderabad Chicken Dum Biryani, Appam, Idiyappam, Bisi Bele Bath, Andhra Chicken Curry as well as meals served on Banana :Leaves  (Traditional Indian Style), various types of Fried Rice, Biryani and Dosa.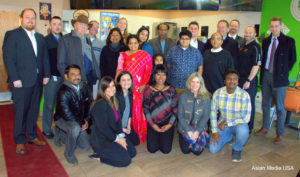 At Radhika's Kitchen. Every Thursday Night – Unlimited LIVE Dosa Night & Every Friday – Unlimited Biryani Night.  We are also well-known for the special Sweets they prepare in honor of Indian festivals.
At Radhika's Kitchen, you are not our visitor, but rather family. We can suit you for lunch or supper and even host your gatherings and social affairs. Come go along with us for your next supper!"
For more details, visit www.radhikakitchen.com or telephone 847-764-8100/847 840 1130
Faisal, Manhor and Radhika Bandla (owner of Radhika's Kitchen) convey thanks to Invited guest.