Association of Indian Pharmacists in America Holds Diwali Dinner Party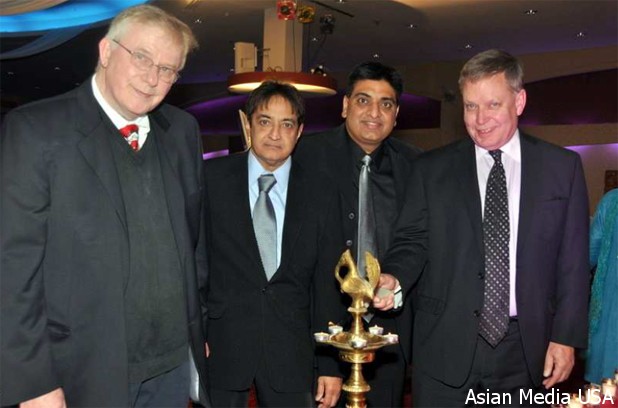 Chicago, IL: The Association of Indian Pharmacists in America (AIPHA) organized an exciting Annual Diwali Party on Saturday, December 3, 2011 in the renowned India House Restaurant, 1521 W. Schaumburg Road, Schaumburg, IL to celebrate Diwali and the holiday season with members and their families. AIPHA also took the opportunity to discuss the progress and outlook of the pivotal group to the over 572 guests in attendance.
Gita Patel, Pharmacist stated, "This organization has been around over 25 years. This is the largest crowd that I have ever seen for this organization. It is a cause for everyone to get together to learn what is going in the pharmaceutical industry and to have fun." Also, first time attendee pharmacy student from Chicago State University, Aarti Shah said, "This is a great event and we, the students are very happy to be invited to help celebrate Diwali and contribute to AIPHA."
The evening started with the Masters of Ceremonies, Jalpa Thakkar and Mayur Shah welcoming everyone to the annual Diwali dinner party. Mayur and Jalpa talked about the significance of Diwali. They spoke about how the Hindu holiday celebrates the triumph of good over evil, about leading us from darkness to light, and may peace be upon you.
Mayur then invited President Rupesh Manek, John Dik, Roger Anderson, and Harish Bhatt to light the diyas and officially start the ceremonies. This was followed by Mayur Shah thanking the evening's sponsors (Grand Sponsor DIK DRUG Company, HD Smith, Nipro Diagnostics, ANDA Pharmaceuticals, and Micro Merchant Systems) for their hard work and support. He also announced the existing AIPHA board and thanked them for a great job.
This was followed by Jivan Vachhani and Rasik Joshi, who were both Election Judges, who turns reading off the election results for the new board for 2012-2013. The new board consists of President Harish Bhatt, Vice President Rajesh Chotalia, Secretary Jitesh Patel, Joint Secretary Haresh Khakhkar, Treasurer Vitthal Patel, Joint Treasurer Jignesh Gandhi and the Board of Directors included Tushar Mehta, Snehal Bhavsar, Jyotin Parikh, Gajanan Trivedi, Manu Patel, Shital Manek, Kishore Chugh, Mahendra R. Patel, Ambalal S. Patel and Ambalal H. Patel. Also, Rasik Joshi stated that "We need more female participation in our board membership."
New President Harish Bhatt then stated his happiness on becoming the new President of AIPHA. He thanked various people (Jake, AIPHA lobbyist, new VP Rajesh Chotlia and board, Mayur and Om) for great election, AIPHA turnout, and for their support throughout the years and is humbly grateful for the coming year. Mr. Bhatt encouraged people to help out through governmental lobbyist, so that Pharmacists can make a greater difference in our communities because cost is going up and AIPHA's need to help with public aid concerns. He stated that AIPHA and pharmacists need to focus on local issues first and then national issues, and need to help to get money back from manufacturers. Mr. Bhatt said, "The average store buying $5 million in brand will lose $250,00 net. DIK gives cost minus 3.5; therefore still have a 4.5 % spread, and need to compensate with generics at 6.35." Mr. Bhatt closed by stating that the next board meeting will be in January and thanked the audience for coming out for Happy Diwali and to have a great evening.
Then Social Chair, Kalpesh Patel's daughter, Dia Patel, who is only five years old, performed an exciting and fun dance to fusion music. Dia was an inspiration to watch for a five year old! Her dancing was very impressive. After Dia's dancing, John Dik and Gary Preston said few words of thanking AIPHA for inviting them to this exciting event, also. This was followed by a wonderful fusion dance performance from pharmacy students (Amisha Mehta, Rita Dharia, and Aditi Chikani) of Midwestern University. Their dance was very free and done with lots of heart. After their dancing, Mayur Shah announced President Rupesh Manek to come and say some words to the audience.
President Rupesh Manek welcomed everyone on behalf of his team. He said, "We are very happy to have everyone here and wish you a very happy Diwali and a very happy and prosperous New Year! I would like to start by thanking you all for giving me the opportunity to be President for the last 4 years. It was my privilege to hold this position. I will cherish this invaluable experience and the wonderful friends I made during my 2 terms. It is again that time of the year when I give you the report on our association's well-being. 2011 has been a very eventful year. I would like to thank all members for the patience and support you rendered to our buying committee during the volatile period of negotiation. It is your support that made our committee stronger for negotiation. We regret it took very long, but with the diligent efforts of our buying committee, we are very happy with the results. I would like to congratulate and thank DIK Drugs Company for becoming our primary preferred vendor. A buying committee's work does not end here. The buying committee has a lot of work still to be done in also reducing the overall cost of doing business. AIPHA is and will always be committed to working for the benefits of our members. I want to personally thank our team of Jyotin Parikh, Tushar Mehta, Harish Bhatt, Deepak Dattani, and Illesh Shah for their dedication and support to our association." He then gave a report on the progress of AIPHA.
This year has been very productive for AIPHA socially. Arti Thakkar, KMART Pharmacist Manager stated, "I have been a part of AIPHA for the past 19 years. I have met a lot of pharmacists through this organization. They have various functions and activities, such as the picnic, Annual Diwali party, and they offer many continuing education (CEs), which are very helpful to the practicing pharmacists." Udeshi Patel and Pinnal Shah are among the students who helped volunteer their time to this great event. Students from first, second, and third years were among the volunteers to make this event successful.
AIPHA started this year with their bi-annual banquet where they had their N.I.P.A, which had its first meeting. Since then AIPHA has had several meetings with this group under the leadership of Vice President, Mayur Shah. Later on, President Rupesh Manek stated, "I would like to congratulate Mr. Harish Bhatt for being our new President and Mr. Rajesh Chotalia for being our new Vice President. I would also like to congratulate all the other board members and to thank them all for volunteering their time to serve our association. THANK YOU. I want to also thank Mr. Jivan Vachchani and Rasik Joshi for their leadership and executing this election." Then Rupesh gave the financial updates that AIPHA had increased their savings by 80% and were funded for another two years. He closed with thanking Premal of Saffron for becoming AIPHA's annual sponsor for their student tables and thanked his family for their support and dedication.
Mr. Bharat Mehta, Accountant for AIPHA said, "The turnout is different every year for this event, and this year the turnout is more than before because people enjoy networking and being involved in providing scholarships. About three to five scholarships are awarded yearly. This Diwali event is good for students and all involved in AIPHA."
The evening's music was provided by the melodious Saaz Aur Awaz Music Group led by Yogen Bajaria and Ajay Bhatia. They were accompanied by other singers, such as Kathakhali Das-Gupta. Popular Bollywood songs from Faana and other movies were sung, which provided beautiful music for the audience to dance to late into the night. President Rupesh Manek thanked Saaz Aur Awaz in providing music for the evening.
About The Association of Indian Pharmacists in America (AIPHA):
The Association of Indian Pharmacists of America is an organization dedicated to increasing cultural awareness and promoting diversity through various pharmaceutical services, promotional, and social events. The AIPHA Parent Chapter has shown its continual support by involving pharmacy students in their monthly board meetings, inviting students to be a part of their annual Holiday Party at India House Restaurant, helping students reach their career goals, providing scholarships, and of course, offering guidance and support. The members of the AIPHA Parent Chapter are role models for the student pharmacists and their presence in our university chapters has been extremely encouraging.
The national organization of the Association of Indian Pharmacists in America (AIPHA) was founded in 1985 by 20 members. Today, there are over 453 members. The student chapter of AIPHA at the University of Illinois-College of Pharmacy was established in 1996 with the same drive and initiative that was shown in 1985. The student chapter of AIPHA has established specific objectives that need to be fulfilled year in and year out. The most important, is to promote the representation of Indo-American practicing pharmacists and student pharmacists in various professional and socio-cultural activities.
The student chapter is very involved professionally in events such as the IV Workshop, Indo-American Health Fair, Relay for Life, Chicago Food Depository, and Apna Ghar. We also have numerous fun social events including ice skating at Millennium Park, garbas, formal dinners, movie nights, and national AIPHA chapter events. We have a well-rounded chapter that can offer a lot to any pharmacy student! Many of the older members received their formal training in India but the group attracts many local graduates from Midwestern University, Northwestern University, and Chicago State University, as well. In fact, current President Rupesh Manek is a graduate of Midwestern University.
AIPHA is heavily involved in community service and members attend various health fairs around the area. Pharmacists offer consultations on not only medicinal usage but also on other health related inquiries at health fairs, their pharmacies and even over the phone for no charge. AIPHA also offers members various networking opportunities.
The 2011 AIPHA Executive Team includes President Rupesh Manek, Vice President Mayur Shah, Secretary Jitesh Patel, JT Secretary Ronak Manek, Treasurer Vitthal Patel, JT Treasurer Jignesh Gandhi, and Executive Director Ambalal H. Patel. The Board Members include Ambalal S. Patel, Haresh Khakhkar, Jyotin Parikh, Gujanan Trivedi, Kalpesh Patel, Mahendra R. Patel, Rajesh Chotalia, Manu Patel, Snehal Bhavsar, Tushar Mehta. For more information on AIPHA and how to join the group, please visit aiphapharm.com.
About DIK Drug Company – Ashco Pharma:
DIK Drug/Ashco Pharma are a regional Independent pharma distributor and been in business for over 95 years in Chicago area. They were awarded "primary vendor" for 2 years by AIPHA for their pharmaceuticals and medical supply needs. They serve to over 11 Midwest and Eastern states. It's owned by John Dik & Edward Dik.
DIK Drug has been serving AIPHA members for over 18 years and has held the primary position for over 10 years. Ashco is its generic division. Gary Preston is the VP of Sales and Jim Krotz its Sales Manager. Kishore Chugh is its Generic Consultant managing Ashco division. Karen Burton and Kathy Mihalek stated, "We are happy to be here and it is an honor to share in this occasion."
We invite you to review our services in greater detail. Email us at info@dikdrug.com or call us toll free at 866- 655-0400. For further information on DIK DRUG Company, please visit http://www.dikdrug.com/ .
About H.D. Smith:
Bill Bodin of H.D. Smith indicated that this is the first year that they have been invited and look forward to many more years with AIPHA. As indicated on their website: H. D. Smith is a national supplier of health products, programs and inventory management technologies. Through the application of historically-acclaimed service, we help our ustomers build sustainable businesses in today's evolving healthcare industry. They provide home healthcare, OTCs, and are a wholesaler. For more information, please call us at 866-232- 1222 or visit H.D. Smith at www.hdsmith.com .
About Micro Merchant Systems:
Ketan Mehta said, "We are pharmacy IT vendor and we over 1200 pharmacies. In Chicago this is our first. We met the President of AIPHA at a convention and were invited to this function. We are honored to be here today." For more information, you can contact Micro Merchant Systems via phone (866-495-3999, ext. 7204) or visit them at www.micromerchantsystems.com .
About Nipro Diagnostics:
As described on their website: Nipro Diagnostics, Inc. is a wholly-owned subsidiary of Nipro Corporation, headquartered in Osaka, Japan. Nipro has been a world leader in providing medical products to the healthcare community for over 50 years. In addition to Nipro branded products, Nipro provides manufacturing support to some of the biggest names in the medical field. With over 20 years of experience and dedication, Nipro Diagnostics has become the leading supplier of co-branded blood glucose monitoring systems to retailers throughout North America and to a growing international audience. Today, our product line is trusted by the nation's premier retail drug stores including Walgreens, CVS, and Rite Aid, as well as many regional and independent pharmacies and mail service providers. You'll see our products sold under the Nipro Diagnostics' name as well as the brand names of your favorite retail store or mail service provider. This allows us to provide high-quality, diabetes management solutions at locations convenient to you and your lifestyle. Equally as important, it enables us to deliver on our promise of providing products of value at affordable prices. For more information, please visit http://www.niprodiagnostics.com/
About ANDA Pharmaceuticals:
As noted on their website: Anda was established in 1992 to service the pharmaceutical purchasing needs for pharmacies and physician offices. Since our inception, thousands of our customers have enjoyed ordering their product needs from us due to our competitive pricing and outstanding customer service. We position ourselves as the fourth largest supplier of generic pharmaceuticals within the U.S. With over 8,000 items in stock, our product assortment also includes brands and specialty pharmaceuticals, vaccines, injectables, medical/surgical supplies and OTCs/Vitamins. We ship to over 70,000 pharmacy related, physician and warehouse locations, to all classes of trade. In order to service various geographic areas throughout the country, Anda uses two distribution centers: A 150,000 sq. ft. facility located in Weston, Florida and a 355,000 sq. ft. distribution center in Groveport, Ohio. Our 190+ dedicated account representatives are available to meet your pharmaceutical and medical/surgical product needs. For further information, please contact us http://anda.andanet.com/
Photographs and Press release by: Asian Media USA
Suresh Bodiwala
Chairman
Asian Media USA
Bus: (847) 679-8583
Fax: (847) 679-5336
Cell: (847)420-4789
sbodiwala@sbcglobal.net
Copyrights (c) 2010 – Asian Media USA
No one shall download or otherwise duplicate the graphics, images, press release and written content from the PDF without our express written permission. Likewise, no one shall reuse the aforesaid things, as the same are the intellectual property of the Company, we hereby reserve all rights
Disclaimer: – Asian Media USA
"The information in this e-mail and any attachments is confidential and may be legally privileged. It is intended solely for the addressee or addressees. If you are not an intended recipient, please delete the message and any attachments and notify the sender of misdelivery. Any use or disclosure of the contents of either is unauthorized and may be unlawful. All liability for viruses is excluded to the fullest extent permitted by law. Any views expressed in this message are those of the individual sender, except where the sender states them, with requisite authority, to be those of the Asian Media USA