Geetha Mandalam Chicago celebrates Vibhava Sandhya with Kerala tradition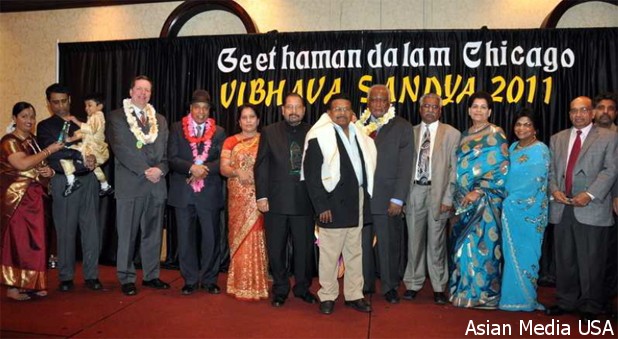 Chicago IL: Geetha Mandalam Chicago celebrated Vibhava Sandhya an evening with dinner and entertainment on Saturday, December 03, 2011 at Holiday Inn Skokie, 5300 West Touhy Avenue, Skokie, IL. On this occasion, More than 300 people attended this program.
The occasion was graced with the participation of dignitaries and high ranking officials along with eminent public figures like Congressman Danny Davis, Secretary of State Jesse White, 49th ward Alderman Joe Moore, Skokie Mayor Van Dusan, Trustee Pramod Shah, Commission member George Mathew, School Board member Shajan Anithottam and various community leaders like Past president of Indio American Center Ashraf Hasim, Collen Sen, David Putrus and various media members.
Geetha Mandalam Board of Director, Suresh Balachandran initiated the cultural programs for the evening after social hour, which commenced with an invocation prayer song by the children of Geetha Mandalam, Nandhini Nair, Ritika Nair, Arjun Nair, Sankar Nair, Nithya Nair, Srihari Nair and Sriram Nair. General Secretary, Sivan Mohamma, introduced the president Mr. Anil Pillai for his welcome address. In his welcome address Mr. Anil Pillai, spoke about organization's future plan, he requested every one's help and support to reach organization's goal, and also he introduced board members and past presidents of the organization.
Key note speaker Mr. Sashidharan Nair in his key note address mentioned how one can serve the community and different method of motivating others to help needy people. Congressman Danny Davis, Secretary of State Jesse White, Alderman Joe Moore, and Trustee Pramod Shah spoke highly of the organization and expressed their happiness towards the organization during their facilitation speech.
Appreciation awards for following people for their community service, the recipients were Sher M. Rajaput, Attorney Steven Crifase, Mr. Sashidaran Nair, Dr. Sunitha Nair & Family, Chandran & Mariamma Pillai, Rattan Kumar & Suma Mittal, Dr. Anandam Pillai & Balasiva Panicker, and Jaibu & Alemma Mathew . Artist Narayan Kuttappan was given a special award, Ponnada by Congressman Danny Davis.
After the award ceremony the next program was a group dance in typical Kerala tradition displaying God's own country's rich heritage in all its color and flavor by Geetha Mandalam Dance group led by Lakshmi Warrier. Dinner was served soon after the festivities which were cherished by one and all, who were in attendance. Variety entertainment programs started as soon as guests settled within their seat after dinner.
Renjith Nair, who was the emcee for the evening and who is also a mimicry artist, entertained the audience. Sivan Muhamma entertained the crowd with standup comedy. Santhosh and Santhi sang old Bollywood songs setting off nostalgia among the audience, and the curtain was drawn by 11pm after vote of thanks to all participants, media and sponsors by Board member, Satheesan Nair.
Sponsors:
Steve Crifasc Andrew P Thomas, Sashi Dharan Nair Joseph Chamakala, Sher RajapuT P S Nair, Chandran Pillai Pious Thotkandam, Dr. Anandam Pillai, Dr. Mathew Joseph, Dr.Sunitha Nair, Dr. Ram Gajjela, Rattan Mittal, Peter Kulangra, Jaibu Mathew, M N C Nair, Pramod Zacharias, David Putrus, First Bank and Trust Skokie, Prince Manjooran, Shankara Pillai, Rama Nair, Dr.priya Pillai, Arun Pair, Narayan Kuttappan, Rajan Kannath, Babu Kurup, Charter One Bank Skokie, Simon Chacko, Baisal Perera, Ashok Kumar, Anil Pillai and Dr. Nishant Pillai
Geetha Mandalam Executive board
Anil k Pillai (President), Dr. Sunitha Nair (Vice President), Sivan Muhamma (General Secretary), Sivaprasad Pillai (Joint Secretary), Aravind Pillai (Treasurer) and Thankamma Appukuttan (Joint Treasurer)
Board of directors
G.K. Pillai, Narayanan Kuttappan, Prasannan Pillai, Sukumari Nair, Vasudevan Pillai, Rajappan Koottanal and Satheesan Nair
About Geetha Mandalam:
Geetha Mandalam is a non-profit Hindu religious organization, which was established in 1978. The members of the association meet regularly on the last Saturday of every month for group prayer, and discussion thereafter. The association celebrates Kerala's grand traditions and festivals. ONAM and VISHU are commemorated every year on a grand scale. Besides, Ayyappa pooja is conducted every Friday, Saturday and Sunday of November, December and January of every year. Ramayana month is celebrated in all fervor by reading the entire Ramayana. Please visit website
www Geethamandalam.org for more information.
Photographs and Press release by: Asian Media USA
Suresh Bodiwala
Chairman
Asian Media USA
Bus: (847) 679-8583
Fax: (847) 679-5336
Cell: (847)420-4789
sbodiwala@sbcglobal.net
Copyrights (c) 2010 – Asian Media USA
No one shall download or otherwise duplicate the graphics, images, press release and written content from the PDF without our express written permission. Likewise, no one shall reuse the aforesaid things, as the same are the intellectual property of the Company, we hereby reserve all rights
Disclaimer: – Asian Media USA
"The information in this e-mail and any attachments is confidential and may be legally privileged. It is intended solely for the addressee or addressees. If you are not an intended recipient, please delete the message and any attachments and notify the sender of misdelivery. Any use or disclosure of the contents of either is unauthorized and may be unlawful. All liability for viruses is excluded to the fullest extent permitted by law. Any views expressed in this message are those of the individual sender, except where the sender states them, with requisite authority, to be those of the Asian Media USA