Hamdard Center's 19th Annual Benefits Gala Funds the Wellbeing of Humanity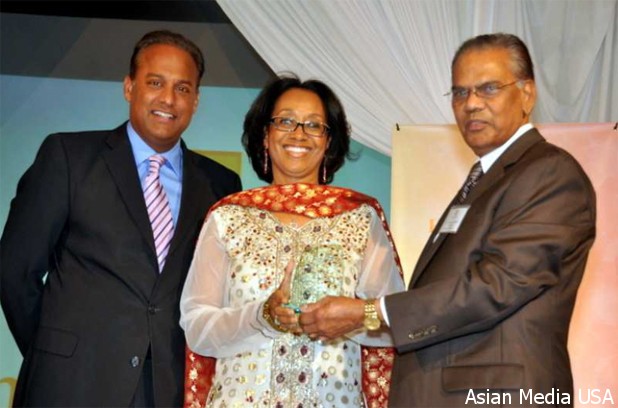 Chicago, IL: On Saturday, November 19, 2011, the Hamdard Center for Health and Human Services held its 19th Annual Gala at the Donald E. Stephens Rosemont Convention Center in Rosemont, IL. It was a celebration of 19 years at with special guest, Ravi Baichwal from ABC 7 News as the Master of Ceremony. Evening highlights included a high couture fashion show by Designer Studio, a live auction, and musical performance by Kavita Khrishna Murthy. 835 people from the South Asian and American Community attended the program.
Pakistani Consul General Zaheer Pervaiz Khan. Hamdard Center raised $235,000 of which will go towards their seven programs including the domestic violence division, transitional housing, senior services, youth services, primary and mental health services, and case management.
The evening started with a warm welcome from Elissa Efroymson. This was followed by a cocktail hour in the lobby area, which was shared by over 18 exhibitors and vendors created a small Bazaar ambiance by displaying their beautiful products such as Indian Clothing, jewelry and paintings. Some of the participants were Sanyaz Photography, Makeup Iglam, I.Khanic, and Brown Hub and numerous others, who participated in making the Gala a successful event.
The admission fee for the event was $125.00 per person and $1,250 a table additional support came from the over 200 sponsors as well as over 15 ad sponsors and an auction which took place during the evening.
The Master of Ceremonies Ravi Baichwal from ABC News Channel delivered the opening speech. Ravi introduced the Chairman and Cofounder Dr. Mohammad Hamid who delivered his message that spoke about the hurdles and hardship the agency had encountered over the last year due to substantial reduction in funding, but also proudly announced the recent purchase of a six unit building as the new domestic violence shelter. Dr. Hamid said, "It is this increasing demand for our specialized services that directed our efforts to acquire a bigger and better shelter facility to accommodate growing number of DV victims. Tonight it gives me a great deal of pleasure to announce that after more than two years of hard work and help from our funders, we have finally purchased a 6-unit apartment building. This will be Hamdard's new shelter facility and a befitting tribute to its founder, the late Dr. Farzana Hamid."
The next highlights of the evening was a fashion show featured by Designer Studio who showcased the exquisite works of renowned South Asian fashion designers Deepak Perwani, Rizwan Beyg, Shameel and Sania Maskatiya. It was a perfect evening of amalgamation of classic and modern fashion fused with Bollywood, Latin and Hip Hop dance forms.
Hamid Community Service award was given to Deborah A. Liverett, a Senior Vice President at The Northern Trust Company, Chicago. Deborah oversees the Community Affairs Division, which manages Northern Trust's numerous philanthropic initiatives. Deborah is also responsible for the development and coordination of senior managers, board placements and employee volunteerism in civic, cultural, educational, social service and community development activities. In 2007, Northern Trust's global charitable giving was $17.5 Million. Deborash serves on the Northern Trust Black Business Resource Council (BBRC) as the Vice President of Professional Development.
The audience was both riveted and mesmerized when Amina Spahic provided the client testimonial entitled "A Big Part Of My Life" spoke about moving with her family from Bosnia and becoming the first client enrolled in the youth Enrichment Program Amina received a thunderous ovation at the end of her speech.
The night ended with Live Entertainment by Kavita Krishna Murthy a very talented Bollywood sin ger who sang her bollywood hits "pyar hua chupke sey" and "dola re dola " and many more. Kavita was accompanied by an orchestra conducted by Hitesh Master of Orchestra Saregama.
Illinois Auctioneer of the Year (2009) Vinnie Zaffarano then began the live auction which featured 5 exclusive packages consisting of airline tickets from Etihad and Lufthansa, New York Weekend Getaway, Ritz Carlton at the Caribbean and a Chicago weekend package.
Hitesh master and orchestra saregama of chicago put together the great show Bollywood singer Kavita krishnamurty for Hamdard on Nov 19th 2011. Hitesh master is well known musicians of Chicago who has worked with kavita krishnamurty in Bollywood for many years in the past, It was a great opportunity for all the audience to listen Kavita live with great band if Chicago conducted by Hitesh master,
Orchestra saregama is well known music group consists of Hitesh master on keyboard, Kafi khan on octapad ,Richard christians on Tabla and Mr Raju ali on Guitar, Kavitaji also honored the singer of Band Like Raju bankapur and Raju ali By singing dutes like aaj main upar, koi meel gaya , jumma chuma and many more. The great sound system was provided by Amit patel of Nupur sound,
Main Sponsors:
Northern Trust, Goldman Sachs, Krisbi Travel, Etihad Airways and Endangered Species Chocolate
Board of Directors
Mohammad Hamid, Ph.D., Chairman, Syed Hashmat Anwar, M.D., Vice Chairman
Kathryn Siddiqui, M.S.W., M.A., Secretary
Adnaan Hamid, M.D, Treasurer
Aisha Jaleel, M.D, Treasurer.
Irfan Sufi, M.A.
Robert Cook, M.A.
Amitabh Kejriwal, M.B.A.
About Hamdard: (Joining hand, Changing destiny)
Hamdard Center for Health and Human services is a not-for-profit health and social service agency whose mission is "to promote the physical and emotional health and psychological well-being of individuals and families by offering hope, help, and healing." Hamdard was established by co-founders, the late Dr. Farzana Hamid and Dr. Mohammad Hamid, in 1992 as a proactive response to address the critical mental health needs of the South Asian and Middle Eastern communities. Hamdard's philosophy is to meet the needs of the underserved through its new paradigm of care, which includes a comprehensive service model to provide culturallysensitive and linguistically-appropriate services to families. Hamdard serves minorities of different ethnicities and faiths. Most under served populations feel comfortable coming to Hamdard because the staff recognizes the importance of cultural sensitivity. Hamdard's uniqueness is demonstrated through its programming of inlanguage services provided to the communities of the greater Chicago Metropolitan area. All of Hamdard's programs and services are licensed and/or protocol-compliant. Hamdard staff can deliver in-language services in the following languages: Arabic, Bosnian, Gujarati, Hindi, Persian, Punjabi, Serbo-Croatian, Spanish, Telegu, and Urdu. Please visit www.hamdardcenter.org / Hotline: 1-866-305-3933
Organizational Achievements 2010
Agency became a recipient of United Way funding for the first time
Chicago site created computer lab thanks to a donation from Youth Technology Corps
English as a Second Language (ESL), citizenship prep, and basic computer literacy classes are introduced at Hamdard's Chicago site.
Hired two seniors through the Title IV program with the Chinese American Service League (CASL) to conduct ESL and citizenship prep classes
Hired seven temporary employees through the Put Illinois To Work Program.
The After-School Youth Enrichment Program reached capacity for the first time in three years.
Chicago office served as a Census Question Assistance Center.
Both Chicago and Addison offices become certified LIHEAP intake sites.
Third phase of capital campaign is implemented. Bids for new building are placed.
Hosted three open houses between Addison and Chicago offices.
Conducted an HINI clinic in conjunction with the Department of Pubtic Health
Hamdard's Addison office conducted a training for women and girls on nutrition and health parenting by
Health Education Advocacy Research Training (HEART) thanks to a grant from Body Works
Hamdard received a community partner award through the South Asian Americans Leading Together (SAALT).
First issue of online newsletter is distributed.
Board and staff appeared in various media such as Voice of America, Chicago Tribune, Sound Vision, Bostel TV and local ethnic print media.
2011
Hamdard was selected by United Way as one of only five APA (Asian Pacific Agencies) to be part ofelective funding for Income & Asset Security Program
New website is unveiled
Grant received to offer specialized employment counseling services from its Addison office
Hamdard established its first Leadership Council. This is a group of young professionals who are working towards furthering the mission of Hamdard through the planning of fundraisers and involvement with consumers. Provision of psychiatric services from Hamdard's Addison site
Partner Abuse Intervention Program begins at Chicago location
Hamdard procures new shelter building! The new shelter will allow Hamdard the capacity to enhance the quality of its shelter services to a larger number of victims in need.
Loyola University makes sizeable furniture donation to Hamdard's youth enrichment program
Photographs and Press release by: Asian Media USA
Suresh Bodiwala
Chairman
Asian Media USA
Bus: (847) 679-8583
Fax: (847) 679-5336
Cell: (847)420-4789
sbodiwala@sbcglobal.net
Copyrights (c) 2010 – Asian Media USA
No one shall download or otherwise duplicate the graphics, images, press release and written content from the PDF without our express written permission. Likewise, no one shall reuse the aforesaid things, as the same are the intellectual property of the Company, we hereby reserve all rights
Disclaimer: – Asian Media USA
"The information in this e-mail and any attachments is confidential and may be legally privileged. It is intended solely for the addressee or addressees. If you are not an intended recipient, please delete the message and any attachments and notify the sender of misdelivery. Any use or disclosure of the contents of either is unauthorized and may be unlawful. All liability for viruses is excluded to the fullest extent permitted by law. Any views expressed in this message are those of the individual sender, except where the sender states them, with requisite authority, to be those of the Asian Media USA